Description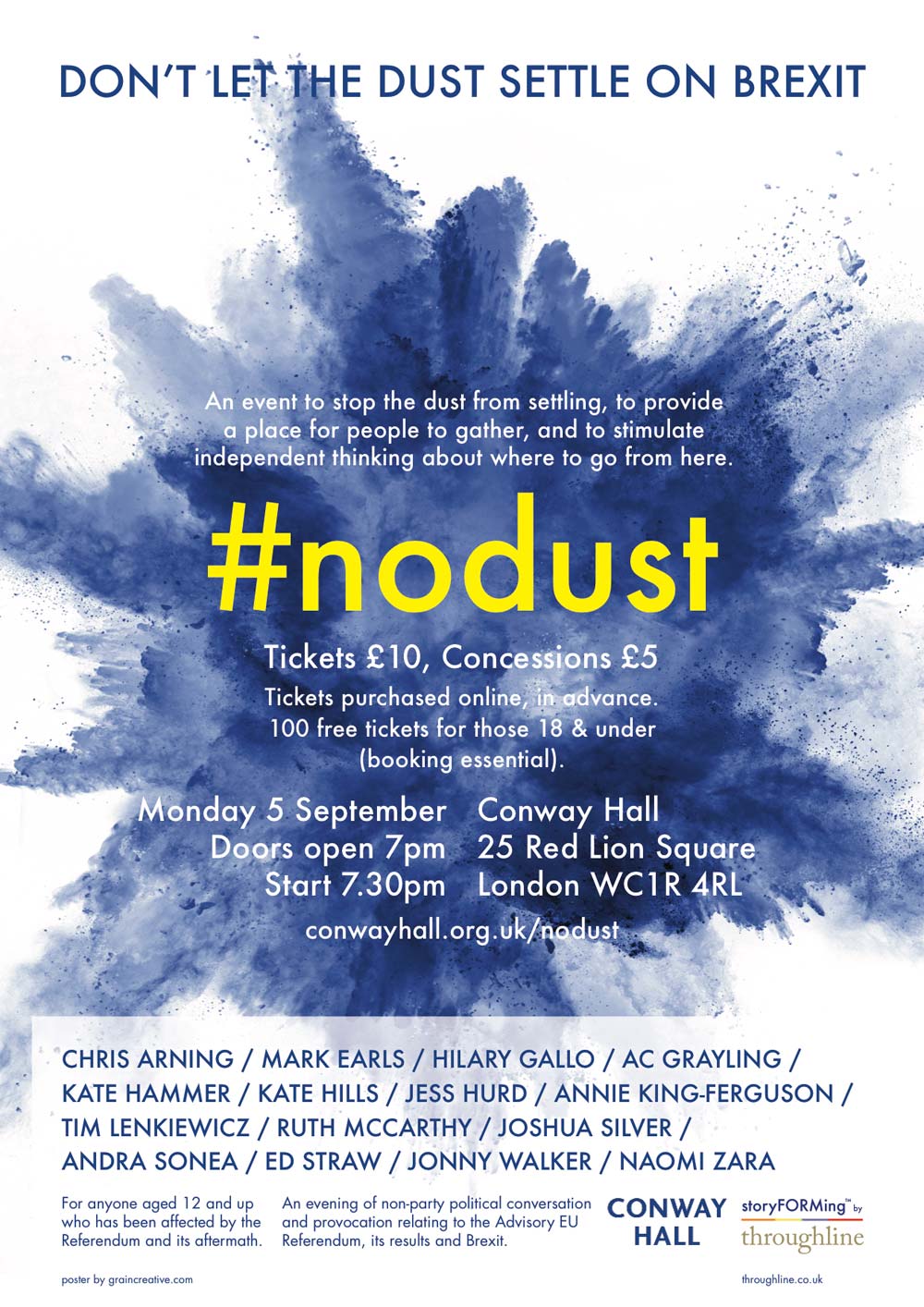 A unique evening to explore the constitutional, cultural, historical and other issues that surround the EU Referendum: through micro-talks, performances and provocations intended to stimulate independent thinking about where to from here.
On September 5th at 4.30pm, Parliament is scheduled to debate the petition for a 2nd referendum signed by 4.1million people. As Parliament debates, we gather to hear other voices, and share in peer-to-peer conversation. A place for the 63% who never consented to Britain's EU exit. Open to all, ages 12 and up, who are affected by the Advisory EU Referendum and its aftermath.
Contributors include:
Hip hop poet/Semioitican Chris Arning

Mark Earls, advisor on how and why people make decisions

Hilary Gallo, ex-lawyer on negotiating well using the #powerofsoft

Philosopher AC Grayling (by video), Open Letter to 650 MPs

Photo journalist Jess Hurd, who is documenting Marches for Europe

Singer/songwriter Annie King-Ferguson, aged 16 and angry

Circus director Tim Lenkiewicz juggling (or not)

Ruth McCarthy, formerly trustee & co-chair of The Ireland Funds of Great Britain

Andra Sonea, immigrant, banker, technologist, author of

When The World Turns Upside Down

And others
Conceived by Kate Hammer, storyteller and author of this Open Letter to MPs, A Dozen Points About Democracy, and Brexit seen through the eyes of a 12-year-old
What this evening is not:
A party-political discussion

A fund-raiser

A debate

A launch, or a platform for a new movement
It's a place where concerns and questions are voiced. What happens after the event is up to you.
If you are on Twitter, please use the hashtag #NoDust

If you are a #NoDust supporter overseas, please contribute using the Donate choice in the Ticket area.
https://conwayhall.org.uk/event/nodust/
Organiser of NoDust: Don't Let the Dust Settle on Brexit
Conway Hall is Where Ethics Matter.
Owned and operated by Conway Hall Ethical Society, Conway Hall is a membership organisation and educational charity (no.1156033) with a history spanning two centuries.
The building is named in honour of Moncure Daniel Conway (1832–1907), anti-slavery advocate, peace campaigner, an early supporter of women's suffrage and biographer of Thomas Paine.
It is also renowned as a hub for free speech and independent thought, hosting suffragettes, political radicals, scientists, philosophers, artists, performers; campaign, charities and other non-profit organisations.

Conway Hall reserves the right to change the programme and personnel of its events without notice in the event of unforeseen circumstances.