Event Information
Location
Hardwick Hall Hotel
Hardwick Hall Hotel
Stockton-on-Tees
TS21 2EH
United Kingdom
Not sure if you're a member of NOF? Contact us +44(0) 191 375 1633
About this event
SeAH Wind Limited has signed a binding agreement to relocate its planned £200-300m UK monopile factory to Teesside.
The South Korean steel manufacturer confirmed that it will start construction of the factory in July on land at Teesworks.
Stage 1: Construction
Electrical works
Groundworks (Civil)
Structural Steel Frame – supply and installation
Paint/fire coating to Steel Structure
Cladding inc. roof
Brise Soleil
Structural slab (RC)
Curtain Walling
Industrial doors
Electrical equipment for substations
E&M (Power station building services)
MEP (Factory)
MEP (LPG Storage)
MEP (Office, other buildings)
Lift Installation
Flooring – for office fit-out
Internal Partitions
Screeding (Inc. Archi)
Cranes
Fall Arrest (Cat walk)
Gantries
Stairs (External)
Industrial kitchen
Office FF&E
Internal doors both office and industrial
Stage 2: Operations
Steel Plate
Steel Flanges
Heavy Duty Bolts
Paint an Grit for Coating
Secondary Steel Fabricated Items
Air Tight Platforms
QA Inspection Services
Accreditations Services
Marking Templates
Maintenance Tools Suppliers
Cleaning Services
IT Support Services
Security Contractors
Fabrication Design Services
PPE Suppliers
Welding Wire and Accessories
Crane and SPMT rentals and support
Uniform Supplier
Stationary and Office Equipment
Fall Arrest (Cat walk
Taxi and Accommodation Partners
Recruitment Partners
Canteen Providers
Join this Networking Lunch to hear from David Jack, Sales and Business Development Manager for SeAH Wind Limited and learn more about potential supply chain opportunities.
Event Programme:
09.00 Exhibitor set up
10.00 Registration & networking
11.15 Welcome to the event by NOF
11.20 Welcome from Ben Houchen, Tees Valley Mayor
11.25 Headline Sponsor welcome
11.30 Presentation by SeAH
12.15 Q&A
12.25 Event close by NOF
12.30 Lunch & networking in the exhibition area
14.00 Event close
Are you based in Tees Valley?
Companies based in Tees Valley can access a free delegate ticket to the event, funded by Tees Valley Combined Authority (one ticket per company).
To check your eligibility, please send your postcode to Philippa Smith, psmith@nof.co.uk.
Exhibit
Exhibit from as little as £295 +vat. This includes
3x1m space (no shell scheme)
Trestle table, cloth & chairs
x2 delegate places
Showcase your company products and services to industry professionals
Contact psmith@nof.co.uk for more information.
Sponsor
Sponsorship gives you the chance to start the 'conversation' early. Raise your brand awareness to a targeted audience and showcase your products and services.
Interested in sponsoring this event?
Sponsorship gives you the chance to start the 'conversation' early, as well as showcase your products and services.
Talk to Kristie for further details on the sponsorship packages currently available
Kristie Leng, Events & Projects Manager
E: kleng@nof.co.uk
T: +44 (0) 191 375 1639
Let's talk
Lewis Abbot, Events Administrator (Apprentice)
E: labbott@nof.co.uk
T:+44 (0) 191 375 1639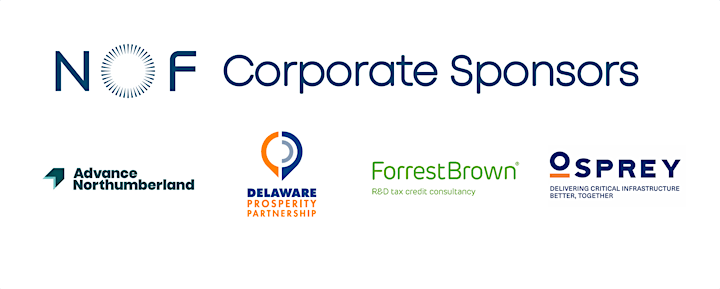 Thank you for your continued support Advance Northumberland & Delaware Prosperity Partnership & Osprey & ForrestBrown
Interested in Corporate Sponsorship?
Corporate Sponsorship provides excellent opportunities to raise brand awareness to a targeted energy sector specific audience with numerous benefits through multiple channels.
Talk to Jenna for further details on what's included and the cost involved.
Jenna Spencer, Marketing & Communications Manager
E: jspencer@nof.co.uk
T: +44 (0) 191 384 6464
Event Terms and Conditions
Please note that all event bookings are subject to our Terms & Conditions and we suggest you review them here before making your booking. If you proceed with a booking, it is subject to the NOF terms and conditions. Please review a copy here:
Date and time
Location
Hardwick Hall Hotel
Hardwick Hall Hotel
Stockton-on-Tees
TS21 2EH
United Kingdom
Refund policy