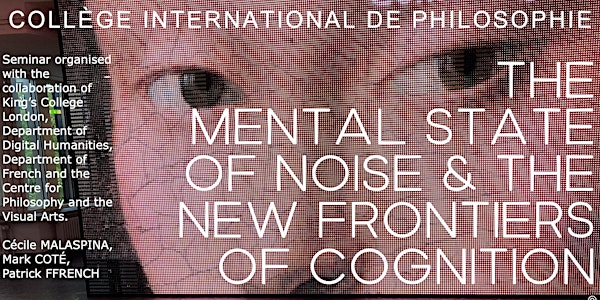 Noise: Prof Monique David-Ménard, respondent Prof Patrick ffrench
Professor Monique David-Ménard, 'The Noise of Madness in the Critique of Pure Reason,' respondent Professor Patrick ffrench
About this event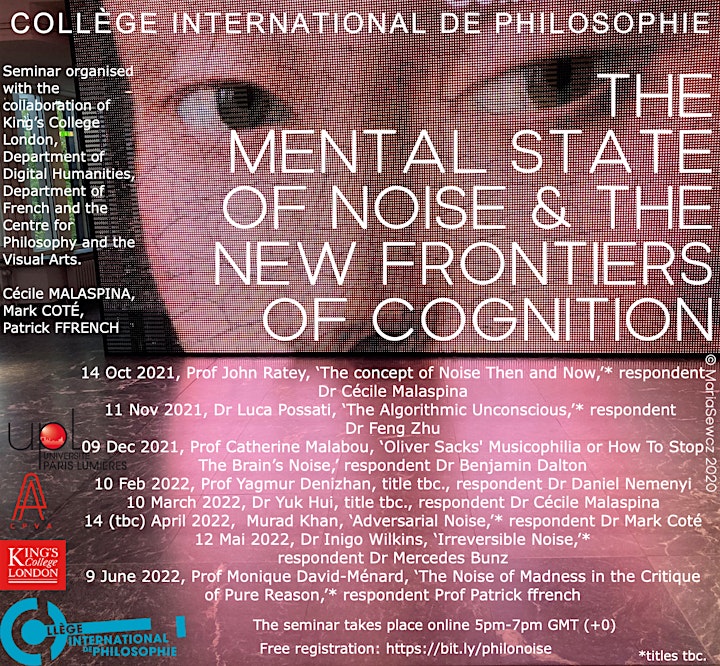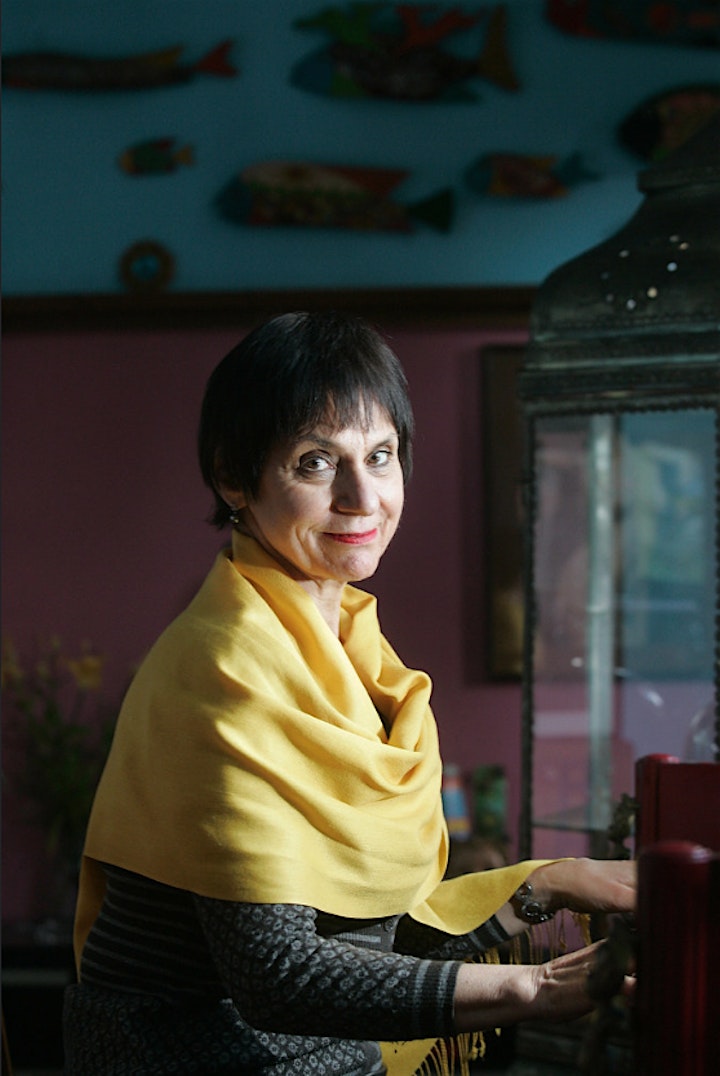 Monique David-Ménard has a double career, as a professor of philosophy and a practicing psychoanalyst. As the Director of the Centre d'études du vivant (2005-2011), she established the field of research "Gender and Sexualities" at the University Paris-Diderot/Paris 7. She has been invited to teach at a wide variety of universities wordwide: Ruhr University Bochum, Diego Portalès, Santiago de Chile, Universitad de Chile, Universitad de Sao Paulo, UNAM, Mexico, as well as Columbia University.
As a psychoanalyst, she has been a member of the Société de Psychanalyse Freudienne since its foundation in 1994. She is also a co-founder of the ISPP (International Society for Psychoanalysis and Philosophy) and a member of the International Network of Women Philosophers (UNESCO).
Selected Publications
Books
La Vie sociale des choses. L'animisme et les objets, collection Totem et tabou (Lormont: Edition du Bord de l'Eau, 2020)
Éloge des hasards dans la vie sexuelle (Paris: Hermann, 2011)
Deleuze et la psychanalyse: l'altercation (Paris: Presses universitaires de France, 2005)
[German as Deleuze und die Psychoanalyse. Ein Streit, trans. by Franziska Schottmann (Berlin: Diaphanes, 2009)]
Tout le plaisir est pour moi (Paris: Hachette, 2000)
Les constructions de l'universel: psychanalyse, philosophie (Paris: Presses universitaires de France, 1997)
[German as Konstruktionen des Allgemeinen: Psychoanalyse, Philosophie, trans. by Hans-Dieter Gondek (Vienna: Turia + Kant, 1999)]
La folie dans la raison pure: Kant lecteur de Swedenborg (Paris: Vrin, 1990)
L'hysterique entre Freud et Lacan: corps et langage en psychanalyse (Paris: Éditions universitaires, 1983)
[English as Hysteria from Freud to Lacan: Body and Language in Psychoanalysis, trans. by Catherine Porter; foreword by Ned Lukacher (Ithaca: Cornell University Press, 1989)]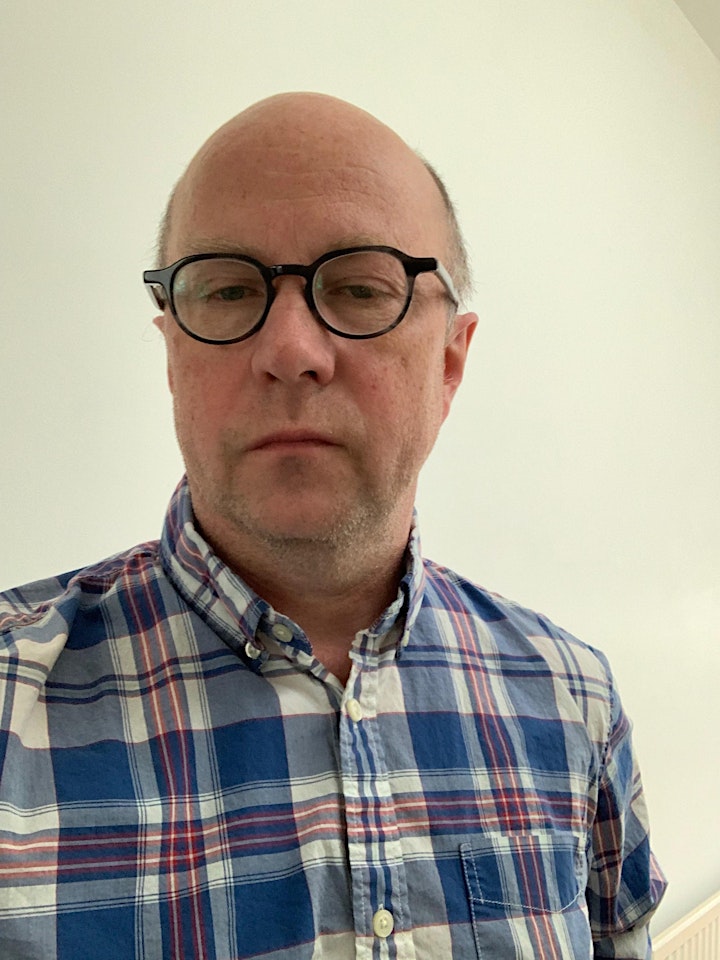 Patrick ffrench is a graduate of University College London, where in 1993 he gained his PhD on the French literary and theoretical journal Tel Quel, under the supervision of Professor Annette Lavers. Following this he was appointed as a British Academy Postdoctoral Fellow at University College to undertake research on the role of Georges Bataille in 20th-century French intellectual history. He moved to King's College London in 1999 as Reader in French and was subsequently appointed Professor of French in 2006.
Patrick's research ranges broadly across French literature, philosophy and culture of the 20th-century, with a particular focus on the interrelations of critical theory, literature and film. He has written on the radical Tel Quel group of the 1960s and 1970s, the texts and legacy of the heterodox French philosopher Georges Bataille, on Maurice Blanchot, Roland Barthes and Jean-Luc Nancy.
More recently his work has turned towards the question of the cinema and film theory; his two most recent book projects focus respectively on the multiple resonances of a cinematographic imaginary in Proust's A la recherche du temps perdu (Thinking Cinema with Proust, Legenda, 2018) and the cinema in the work of Roland Barthes (Roland Barthes and Film, Bloomsbury, 2019). He is also developing a project which explores the inter-relations of post-war French thought and psychiatry.
Patrick welcomes expressions of interest in PhD research in the following areas: 20th and 21st-century French literature and thought (especially Proust, Bataille, Blanchot, Barthes, Deleuze, Beckett), critical theory, literature and cinema, contemporary French film, psychoanalytic theory.
Selected recent publications
Convulsive Form: Benjamin, Bataille and the Innervated Body in What Forms Can Do: The Work of Form in 20th- and 21st-Century French Literature and Thought. Jordan, S. & Crowley, P. (eds.). Liverpool: Liverpool University Press, p. 295-310 (Contemporary French and Francophone Cultures; no. 69)
Roland Barthes and Film: Myth, Eroticism and Poetics, Oct 2019, London: Bloomsbury Academic. (Listen to a podcast about the publication).
Lazarean Writing in Post-war France, Apr 2019, Concentrationary Art: Jean Cayrol, the Lazarean, and the Everyday in Post-war Film, Literature, Music and the Visual Arts. Silverman, M. & Pollock, G. (eds.). New York, Oxford: Berghahn, p. 65-92
Thinking Cinema with Proust, Jun 2018, Oxford: Legenda. (Moving Image; no. 7)
Memories of the Unlived Body: Jean-Louis Schefer, Georges Bataille and Gilles Deleuze, Jun 2017, In: Film-Philosophy. 21, 2, p. 161-187
C O L L È G E I N T E R N A T I O N A L D E P H I L O S O P H I E
S É M I N A I R E S
Philosophie / Sciences et techniques
..................................................................................................................................................................................
ORG.: Cécile MALASPINA, Mark COTÉ, Patrick FFRENCH
Monthly open access seminar organised with the collaboration of King's College London, Department of Digital Humanities, Department of French and the Centre for Philosophy and the Visual Arts.
The mental state of noise & the new frontiers of cognition
Rationality has historically been modelled on the power of calculation (ratio- Lat. reor, to count, calculate). Artificial intelligence, in turn, is commonly mapped onto received ideas of human intelligence. Suggesting a perfect if unequal fit between human and artificial intelligence, this narrow vision of intelligence conflates both with the power of calculation and logical deduction. Speed, volume and variety of forms of information processing have served as a measuring rod, to the extent that one thing is easily forgotten: the concepts of intelligence and of information remain fuzzy. This openness affords a degree of freedom, but it also facilitates the arbitrary imposition of a reductive conception of intelligence.
But what if we turn the question around? Rather than focus on the quantifiable performance of both human and artificial intelligence, we may ask: what qualitative aspects of intelligence are foregrounded, if we look at the specific ways humans and machines malfunction or capitulate before noise? Instead of comparing human and artificial processing power, we may ask more specifically about intelligence's resourcefulness in the face of noise. How does our thinking about learning change, if we take into consideration the way humans and machines mobilise the generative potentials of noise? In this context, we will start with a working concept of noise that shall refer broadly to a source of uncertainty, unaccounted for variation or perturbation, but with a particular interest in the concept of 'the mental state of noise' as developed by S. Sands and J. J. Ratey. [1]
This seminar calls on thinkers from all disciplines, from philosophy to mental health and engineering sciences, to tackle the outstanding conceptualisation of noise specific to the context of cognition. The objective is to foreground aspects of intelligence that are neglected in the traditional focus on the quantifiable power of information processing. To this end, we will adapt the famous remark by the physiologist and surgeon René Leriche: 'health is life, lived in the silence of the organs'. If pathology reveals the hitherto silent functions of our organs, we may ask by analogy what the breakdown of intelligence reveals about its silent functions and that of its organs, be they human or technical, individual or collective entities.
[1] Steven Sands, Jay J Ratey, "The Concept of Noise," Psychiatry 49, no. 4 (November 1986): 290-297.
The seminar takes place online 5pm-7pm GMT (+0)
Attendees will receive an MS Teams link