About this Event
Your experience begins when you & fellow diners are picked up from the station and transported to the middle of our woodland where you are met by your host as well as our executive chef.
Upon arrival you will receive a welcome drink crafted using some of the wild botanicals that grow on the land. This is followed by a guided tour of our estate by our chef where you will first visit our vegetable patch to pick out some of the ingredients that we grow on site for your meal before venturing further afield to gather other wild ingredients which grow in abundance. We will then use the branches and dead wood from the surrounding birch, beech and oak trees to cook your meal on an open flame in the middle of the woods. Your meal concludes with a fresh herbal tea picked from our vegetable patch.
#unique #outdoors #london #weekend #moveablefeasts #food&drink #health&wellness #whatsnew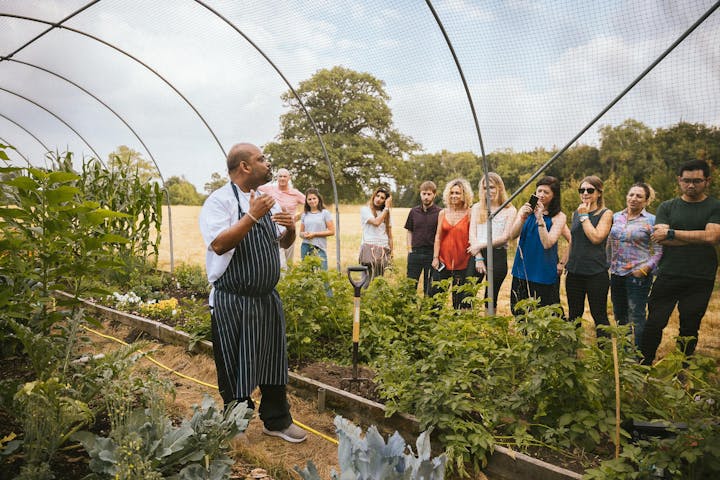 **Terms & Conditions - Please Read Carefully Before Booking**
Where do we meet?
We will meet at Chalfont & Latimer Station (Metropolitan Line Zone 8) which is approximately 30 minutes journey from Marylebone. From here you will be picked up and transported by your host to the venue. If you wish to drive please notify us in advance and we will make arrangements. Transportation from the station to the woodland takes approximately 8 minutes.
You will be invited to join a WhattsApp group after you book where you will receive more specific instructions on arrival.
​
What will I be eating?
The menu is kept a secret and changes according to the availability of seasonal produce growing on site and each of our chefs preferences. We will be sourcing a number of the ingredients from the estate in addition to local produce from nearby farms. We cater for all dietary requirements and will ask you in advance whether there is anything you don't eat.
​
What will I be doing?
There will be a meal cooked in front of you on an open flame in a woodland setting. In addition you will be given a tour of the estate by our chef where you will be helping to pick out the ingredients which will be served to you.
​
How long is it for?
The event lasts between 3-4 hours.
​
When does it start ?
Starting times vary based on the time of year and are specificied on the booking link
​
What is included in the price?
In addition to the meal itself, which is a minimum of five courses, included in the price is transportation to and from the venue from the meeting point, a welcome cocktail and a guided foraging tour of the estate from our executive chef. Additional drinks are available at an additional cost.
​
How many other people will there be?
Group sizes are approximate and range between 12-24 people. Please note if you would like just to have the experience with friends or family this is also possible. Please see the private hire section of our website.
​
What happens if it rains?
We will provide ponchos. Dining will take place under cover in the woodland in one of our tipis. If the weather is extremely problematic the event will be rescheduled at a later date.
What should I wear?
As dining will take place outdoors and you will be walking for some of the time you are advised to wear comfortable loose fitting clothing that you don't mind getting a little bit dirty. We also strongly advise comfortable weatherproof shoes. We will advise you on clothing closer to the time.
What are the age requirements? Is the event suitable for babies/young children?
Due to the nature and timing of the event we advise that the event may not be suitable for young children. Children under the age of 16 are not permitted except in special circumstances.
​
I am booking for someone's birthday, can you make them a gift?
Absolutely, we offer infused botanical flavoured spirits such as rhubarb gin, carved wooden coasters and chopping boards and birthday gift boxes with delicious treats inside. Please contact us directly and we would be happy to discuss your requirements.
​
What level of fitness is required?
We will be walking for a very short period so a low to moderate fitness level is fine
​
Can I arrive late or leave early?
Unfortunately we do not permit late arrivals as it is disruptive to other guests. You are welcome to leave early however you will be required to pay for your own transportation from the venue. Our host will be able to assist you with arranging a taxi.
I am a vegetarian or have a specific food allergy. Is the event suitable for me?
Absolutely. Please notify us in advance and we will do our best to accommodate all dietary requirements.
What is your cancellation policy?
Due to high demand we are unable to accept cancellations however we maybe able to re-allocate you to a future date provided you give us no less than 7 working days notice. If you wish to assign your ticket to a third party please send us an email and we will confirm. In the unlikely event we choose to to cancel an event due to unforeseen circumstances such as a force majeure we will refund you the cost of your ticket in full.