Description
Manage, lead, excel - be the best you can be: Non-verbal communication for talented managers
First impressions are made in the first quarter of a second. Learn how to be 'the best you can be' in an instant. Spend an afternoon with Brian Hill, founder of the Kinesics Method. Learn how to immediately win over your prospects and over-match your competitors.
Supercharge your business with Brian's immediately actionable communication skills training. Get an edge by presenting the best 'you' when entering into negotiations, sealing the deal, understanding your staff, or assessing your competitors.
About Brian Hill:
Brian Hill trains talented managers in the nuances of body language. He is the only practicing Certified Body Language Trainer in the UK who is also a successful, practicing Financial Planner. Brian is the founder of Kinesics Method. After being war pensioned out of the Army, Brian served as a police officer with Avon & Somerset Police in the days before stab vests, pepper spray and fully functioning radios. Armed with little else than his wits and a short wooden truncheon, his interest in nonverbal communications was sparked, mainly out of necessity! Brian's life-long study of nonverbal communications eventually led to him being invited by the Science of People in Portland, Oregon USA to become a Certified Body Language Trainer.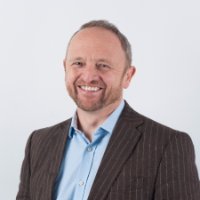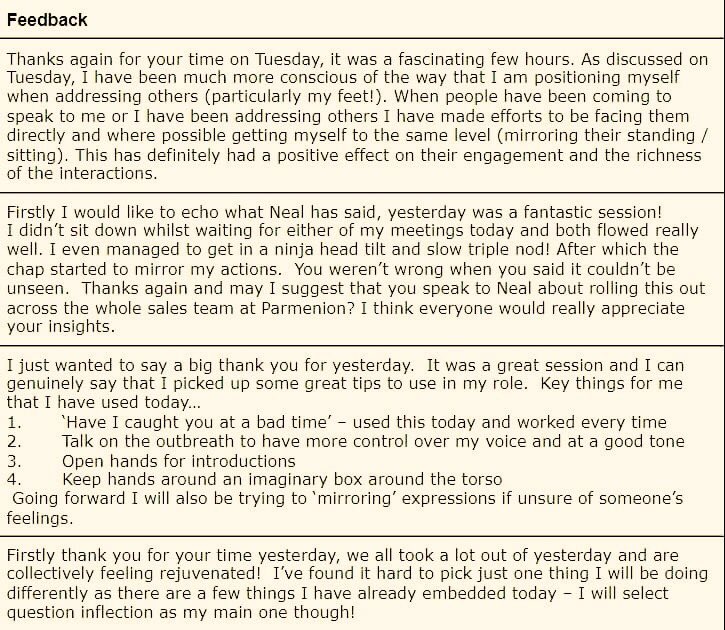 TERMS AND CONDITIONS FOR MANAGE AND THRIVE LTD Non-verbal communication for talented managers TRAINING EVENT
The "Organiser" – Manage and Thrive Ltd, trading as Manage and Thrive Training, whose registered address is at The Guild, High Street, Bath, BA1 5EB
The "Event" – Non-verbal communication for talented managers training event
The "Attendee" - The person booking this event through the Eventbrite website
The "Booking Fee"- £125.00 or as per ticket type
The "Website" – www.manage-and-thrive.co.uk
The "Event Period" – Wednesday 7th February 2018, 13:00- 16:30
1. The Event shall be held during the Event Period. The details of the Event will be set out on the Website for the duration of the Event Period.
2. The Attendee is entitled to entry to the Event in exchange for payment of the Booking Fee. The Booking Fee is payable upfront upon making the booking on the Eventbrite website. Every Attendee has the right to cancel its booking and receive a full refund of the Booking Free up to 14 days from the date of making the booking, but no later than 7 days prior to the Event commencement. After this date no refunds will be made. Cancelation is to be requested through the Eventbrite website or by emailing the Organiser directly using contact details set out on the Website. The target time to respond to compliant cancelation requests is five business days. In the event that the Organiser fails to honour a refund that an Attendee believes is due under this refund policy, that Attendee may request that Eventbrite initiate a refund by contacting Eventbrite as per the Eventbrite website.
3. A full refund limited to the Booking Fee will be made if the Event is cancelled.
4. The schedule and content of the Event may vary from the description set out on the Website and is at the sole decision of the Organiser. Neither the Organiser nor any third parties provide any warranty or guarantee as to the accuracy, timeliness, performance, completeness or suitability of the information and materials found or offered on the Website or at the Event for any particular purpose. The Attendee acknowledges that such information and materials may contain inaccuracies or errors and the Organiser expressly excludes liability for any such inaccuracies or errors to the fullest extent permitted by law.
5. The Organiser reserves the right to withdraw, change trainer, amend number of attendees, otherwise alter, exclude or move the location of the Event at the Organiser's sole discretion.
6. The Organiser may be taking photographs during the Event. By making this booking the Attendee acknowledges and accepts that he/she may feature in those photographs and that they may be used on the Website or in literature for the purposes of marketing. Photographs will not be made available to any Attendee.
7. Although all reasonable precautions will be taken, the Organiser is not responsible for the property of the Attendee or any other person, or for the loss, damage or destruction by any cause of any such property. The Attendee hereby accepts liability for all his/her acts or omissions during attendance at the Event and indemnifies the Organiser against all liability in respect thereof and against all actions, suits, proceedings, claims, demands, costs and expenses whatsoever which may be taken or made against the Organiser or incurred or become payable by it arising therefrom or in respect thereof.
8. The Organiser may collect the names and personal details of the Attendee (including, but not limited to, their postal address, email, telephone number and date of birth). The Organiser warrants that the names and personal details of the Attendee will be held and processed in accordance with the Data Protection Act 1998.
Organiser of Non-verbal communication for talented managers
Manage and Thrive Training
We provide businesses with relevant, time efficient management and leadership training, for new and developing managers.
?  Do you want to reduce frustration and problems arising from inexperienced, under-trained managers making decisions which are below standard?
?  Do you want to develop your people into an efficient, effective and trustworthy team to be proud of – and capable of taking your business to the next level?
Why work with Manage and Thrive Training?
Rob Hart, management and leadership trainer, explains why he wants to help your managers and your business to improve, grow and succeed:
"After talking to family and friends a few years ago, I realised I had a wealth of management and leadership know-how, based on my training and 20 years of wide experience. I discovered that what I take for granted because of my military leadership and management training, and subsequent commercial experience, is not commonplace.
I was inspired to provide management and leadership training to businesses. I don't want to see people struggling and hating their management roles. I don't want to see businesses stalling because they haven't got enough management and leadership expertise within their new and developing managers. Let's see how we can boost your business through training, coaching and consultancy, to take it to the next level. This could be a short away-day or conference course, a programme of related short training courses, a bespoke schedule of management and leadership skills training, and/or on a retainer basis for a longer training/consultant relationship."

Let's get started together:
Book an Eventbrite course now...
...or...
if you would like to talk to us about in-house business training or individual coaching, ask us about a free consultation to see how your business can benefit.
We would love to work with you, to help your new and developing managers, and ultimately assist you in taking your business to the next level.
Email: minerva@manage-and-thrive.co.uk
Call: 07943 030881
About our training modules:
Our training modules are relevant, focussed to ensure best use of time, and available to corporate and individual buyers. Each module is individually developed by our experts exclusively for us. Content is based on our own unique experiences (including military and commercial backgrounds) and draws on useful industry norms and practice. This offers an alternative (although complementary) training solution to longer, more formal training regimes.
Website: www.manage-and-thrive.co.uk
Testimonials:
"Many thanks for the great project management training today. It was extremely useful and have immediately implemented it into my job. I look forward to more." (Lindsay Rocke, National Geographic Partners)
"A truly educational experience, which allowed me to engage with the design of research projects in a more efficient and logical fashion."​ (Dr Dario Cazzola, Lecturer, University of Bath)
"A great session with helpful guidelines, processes and tips! Delivered in a personal and relaxed way that enables you to engage and contribute."​ (Stef M, Service Manager)
Management training | leadership training | team training | business risk training | training for new managers | project management training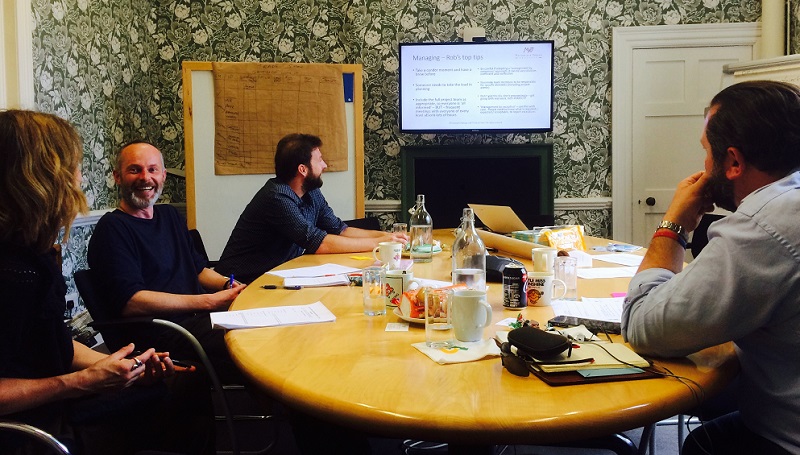 Some more testimonials:

"Just a thanks for yesterday. A great course, well presented, and filled with nuggets of useful info to help me manage more professionally."


"Really useful session, and useful to discuss other peoples' experiences." 
 "With a clear and focused approach this course has helped me to revisit some past management experience, while introducing new strategies, ideas and methods for more successful management practices."