Description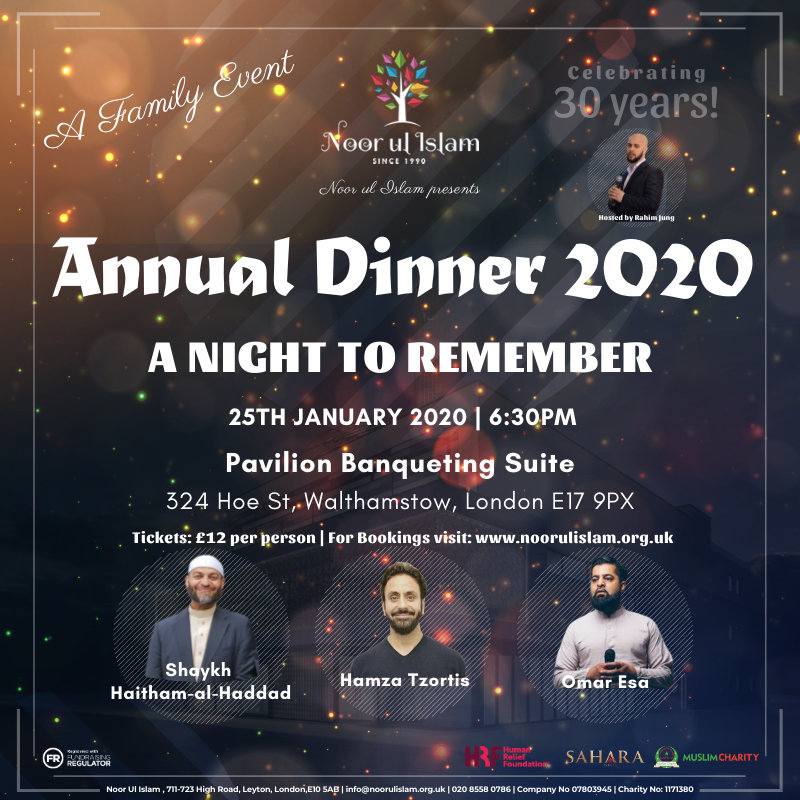 Noor Ul Islam is proud to present its 16th Annual Dinner
Relax. Reminisce. Be Inspired! Commemorate 30 wonderful years with us!
Join us for an amazing evening of inspiration with special guests Hamza Tzortis, Shaykh HaItham Al-Haddad and Omar Esa.
Enjoy some quality time with your family, be inspired by uplifting talks and fabulous entertainment.
Take a moment to reminisce on our past 30 years and celebrate all the good we have managed to achieve, help us look forward to future accomplishments.
Indulge in a tantalising 3 course meal- tasty starters, hearty mains and delectable desserts with complimentary tea coffee and cupcakes to welcome our guests!

Please note the brothers' and sisters' section are on the first floor with no lift access (with screen separation).

Make it a family affair and book a whole table for 10 people at a discounted rate!
---------------------------------------------------------------------------------
Fundraising in aid of Noor Ul Islam's Project Rebuild - Inspired by the Prophet's Mosque (PBUH).
Project Rebuild will cost approximately £11million and will provide a four storey centre for the community with state of the arts facilities, even better services than before and become the hub of education and welfare. It will also allow Noor Ul Islam to continue supporting those in need both nationally and internationally.
---------------------------------------------------------------------------------
No boys over the age of 8 will be allowed in the Sisters section.

The family seating section will be for families to seat together. Please be respectful towards others in the same area.
Ticket price includes three course meal.
Tickets are non-refundable.
Admission by prepaid bookings only. All visitors including children will need a ticket. Only children under 18 months, seated with an adult will be admitted without a ticket.
Parking available on side roads from 6:30pm.
If you have any special requirements please contact info@noorulislam.org.uk.
We look forward to welcoming you!