Description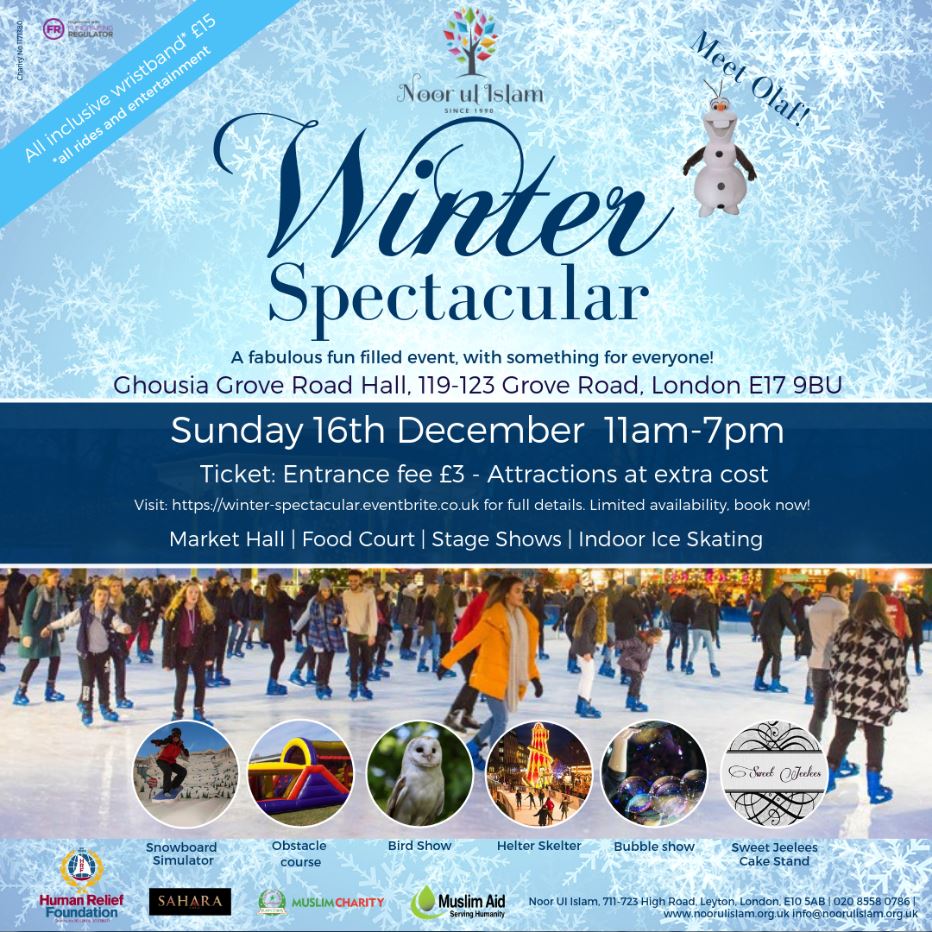 Noor Ul Islam Winter Spectacular 2018
Welcome to the unmissable inaugural Noor Ul Islam Winter Spectacular!
Come along and have lots of fun and raise valuable funds for Project Rebuild.
The event will be held at Ghousia Grove Road Hall, 119 - 123 Grove Road, Walthamstow, E17 9BU.
Doors open at 11am and close at 7pm.
We have a variety of activities and hot food to keep you going this Winter.
Attractions:
- Synthetic Indoor Ice skating rink: 3 years and above. Under 6s must be accompanied by an adult. Minimum shoe size: child size 9
- Snowboard simulator: Minimum height: 1.2 metres
- Inflatable Bumper Cars: Suitable for 3 years old and above
- Assault course: Suitable for 3 years old and above
(Sorry Helter-skelter slide has been cancelled)

Entertainment stage:
- Bubble show
- Live bird show
- Fitness challenge
Face painting and much much more.
International food court:
Including fresh BBQ food from ibbq services, pizza, lasagna, haleem, delicious Biryani, hot savoury treats and much more.
Fancy something sweet? Try our fresh mouth-watering crepes, waffles, milkshakes and for the first time ever, an exclusive one-off cake stand by none other than Sweet Jeelees!
Also there will be a range of select stall holders including toys, sweets, hijabs and abayas as well as lifestyle products.
Tickets:
Limited tickets, book now!
£15 for a wristband (includes entry, stage shows and unlimited rides*)
*Wristband holders will be entitled to unlimited rides on the activities except for ice skating which you may only complete once.
Or
£3 entrance fee (includes stage shows) Free entrance for under 2's
Pay as you go on the rides:
£5 for 30 minutes of ice skating including skates changing time
£2 - assault course
£3 – Bumper cars
£3 – Snowboard simulator
Limited tickets, book now!
Follow our social media pages to keep updated with developments for the event and stage show program:
Facebook - http://www.facebook.com/noorulislamtrust
Instagram - http://www.instagram.com/wfnoorulislam
Twitter - https://twitter.com/WFNoorulislam
Disclaimer:
In the unlikely occurrence that any of our attractions, rides or entertainment have to be cancelled or postponed due to circumstances beyond Noor Ul Islam's control, we cannot be held responsible for any costs incurred by the event attendee.
There may be a photographer/camera crew present at our event and by attending you give us permission to use any general crowd photos or footage you appear in on our website or for marketing purposes.
Noor Ul Islam does not accept responsibility and expressly excludes liability to the fullest extent permitted by law for:

any loss or damage to any personal property left unattended during the event unless caused by the negligence of Noor Ul Islam; or

death or any personal injury suffered by you at the event unless caused by the negligence of the University or its employees.