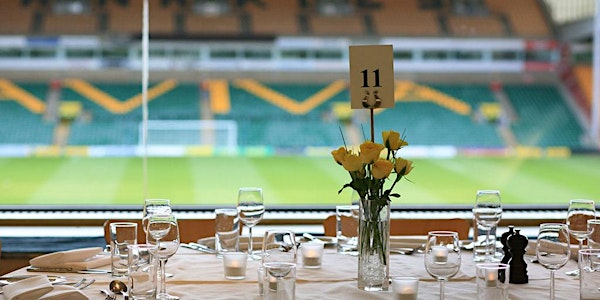 nor(DEV) presents the nor(DEV):biz Big Dinner with Roarr! Dinosaur Adventur...
Description
Norfolk Developers is pleased to present:
The nor(DEV):biz Big Dinner
This event DOES NOT contain Tech!
(It will contain lots of fun though!)
Join the best Norfolk and Norwich tech companies for dinner, while enjoying good food and great company.
Roarr! Dinosaur Adventure
A desire to innovate, with continual reinvestment creating bigger and bolder attractions – this is what our guest speakers have in mammoth (or should I say dinosaur!) proportions.
Owners of award-winning, Roarr! Dinosaur Adventure in Lenwade, Martin and Adam Goymour will be sharing their aspirations to develop this thriving business both in Norfolk and further afield. Not ones to rest on their laurels, they've already rebranded and invested millions so they can appeal to a broader market.
In 2018, they won the Best Large Visitor Attraction award in the Norfolk and Suffolk Tourism Awards. With more projects 'in the pipeline', their hard work and enthusiasm for innovation and redevelopment are evident.
From advancing their green energy strategy by placing solar panels on their indoor play area to a fossil dig and a steampunk-inspired restaurant in the Victorian walled garden, they are delighting thousands of visitors of all ages in Norfolk's very own Jurassic Park.
About nor(DEV):biz
The aims of nor(DEV):biz (Norfolk Developers Business) are:
to be the go-to group for local businesses requiring a technology solution.

to facilitate and increase referrals and collaboration among Norfolk's tech businesses.

to help close the digital skills gap.

to facilitate better collaboration between technology businesses and academic institutions.

to have a great meal with great company
Tickets prices do include a donation to the nor(DEV): chosen charity of the year, for 2019/2020.
Organiser of nor(DEV) presents the nor(DEV):biz Big Dinner with Roarr! Dinosaur Adventure
We are very lucky in Norwich to have a thriving and highly active tech community.
Complementing the existing tech community, Norfolk Developers will be peeling back the high level and going straight to the heart of software development practices and processes. We aim to bring you local, national and international speakers and workshops.
You might want to try something new or wish to take your software development up to the next level. Norfolk Developers wants to jump depth-first into the detail and bring you practical value. We want to make it easy for you to access knowledge, progress and prosper in the highly specialised and valuable field of software engineering.