Norfolk Makers' Festival Quilt Zine Workshop with Common Threads Press
Sales Have Ended
Ticket sales have ended
Ticket sales have now ended for the Quilt Zine Making Workshop on Wednesday 2 June 2021. Thank you for your interest in this event. If you would like to find out more about the C&TA, please visit our website: http://www.ctacostume.org.uk You can subscribe to our email newsletter for regular updates on live and zoom events: http://www.ctacostume.org.uk/email-newsletter.html
Sales Have Ended
Ticket sales have ended
Ticket sales have now ended for the Quilt Zine Making Workshop on Wednesday 2 June 2021. Thank you for your interest in this event. If you would like to find out more about the C&TA, please visit our website: http://www.ctacostume.org.uk You can subscribe to our email newsletter for regular updates on live and zoom events: http://www.ctacostume.org.uk/email-newsletter.html
A practical crafting workshop from Common Threads Press with the C&TA that teaches you about zines and gets you started in making your own.
About this event

Do you enjoy quilting, collage or paper crafts? If so, then you might be interested in learning a new craft - zine-making!
This free zine-making workshop, online via zoom, will teach you: what a 'zine' is, the rich history of zines in activist communities; it explores different types of zines and gets you started making your own. Laura Moseley will guide you through the making process - her workshop has been conceived with total beginners in mind, so please do not worry if you've never even heard of a zine, or zines, before.
All you need to bring is a crafty curiosity and the following materials:
A4 paper (A3 if you'd prefer to work on a larger scale)
Scissors
Old magazines, wrapping paper (or anything that can be re-purposed into collage materials)
Glue
Pens, pencils
Anything crafty that you'd like to work with (textiles, buttons etc)
Zine-making is a practice that sits alongside craft history as a medium to create community and share knowledge. Its central ethos is that it is open to all, so come and give it a go!
This zoom workshop will be an hour and a half, with a five minute comfort break in the middle. If you do not feel like participating or having your camera on, that is absolutely fine.
Common Threads Press is a Norwich-based publisher, creating zines, which are small, self-published booklets, about art and textile history. It is run by Laura Moseley, a freelance arts facilitator who works with organisations such as the Norfolk Museum Service to deliver projects around zines and art history.
The Costume & Textile Association (C&TA) is a Norwich-based charity seeking to promote the nationally-important costume and textile collections of the Norfolk Museums Service through talks, workshops and exhibitions. ​The C&TA works to raise money for the museums service, but is independent of it.
**Part of the Norfolk Makers' Festival Showcase 1 - 11 June 2021, The Forum, Norwich Millennium Plain. Visit Norwich Forum to view the C&TA Coronaquilt on display.**
This is a free online workshop. Donations to the C&TA are welcome.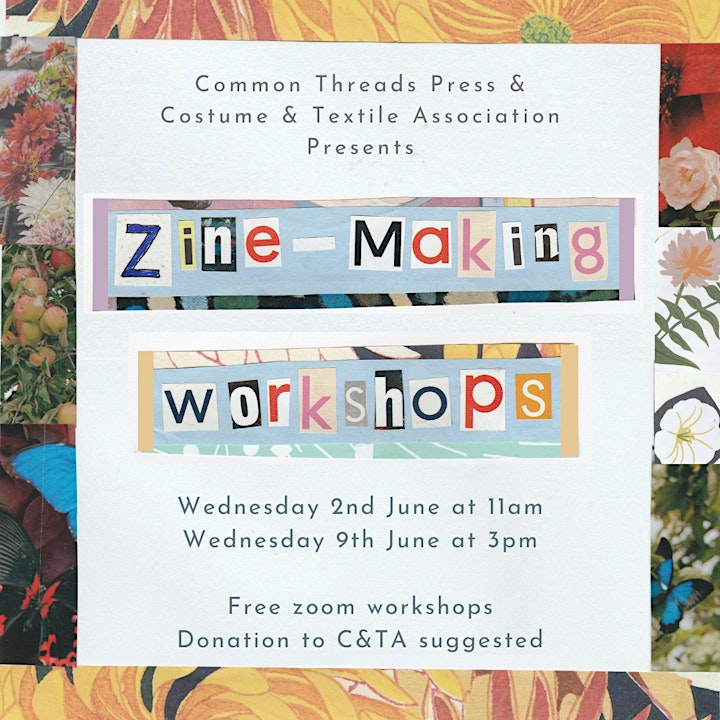 Organiser of Norfolk Makers' Festival Quilt Zine Workshop with Common Threads Press