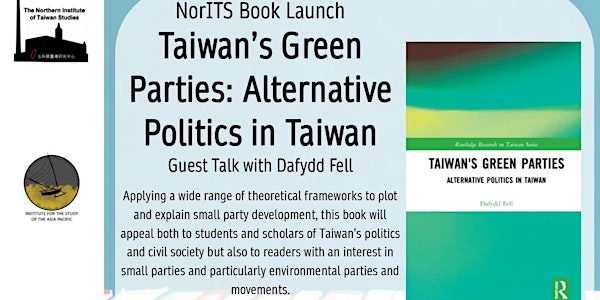 NorITS Book Launch: Taiwan's Green Parties, Alternative Politics in Taiwan
NorITS Book Launch of 'Taiwan's Green Parties: Alternative Politics in Taiwan' with discussion from Dr Dafydd Fell
About this event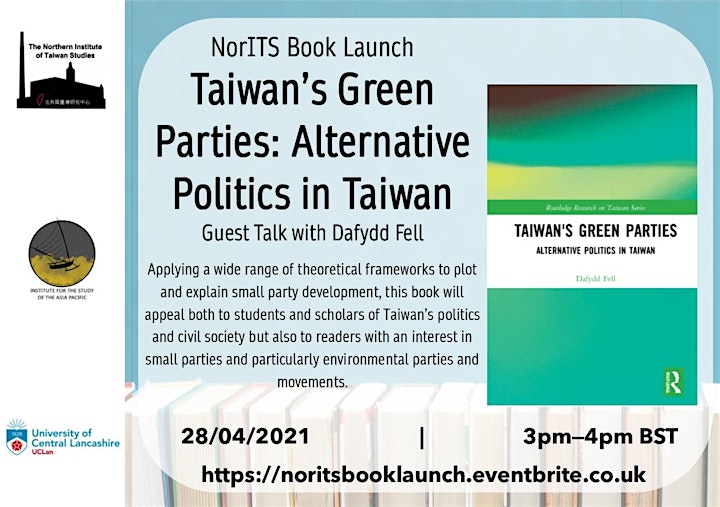 Join us on the 28th April 2021 to discuss Dr Dafydd Fell's recent Book: 'Taiwan's Green Parties: Alternative Politics in Taiwan'.
Book Bio
Examining the Green Party Taiwan (GPT) since its establishment through the aftermath of the most recent national elections in January 2020, this book focuses on Taiwan's most important movement party over the last two and a half decades. Despite its limited electoral impact, its leaders have played a critical role in a range of social movements, including anti-nuclear and LGBT rights campaigns.
Plotting the party's evolution in electoral politics as well as its engagement with the global green movement, this volume analyses key patterns of party change in electoral campaign appeals, organisation and its human face. The second half of the volume concentrates on explaining both the party's electoral impact and why the party has adjusted ideologically and organisationally over time. Based on a wide range of material collected, including focus groups, interviews and political communication data, the research relies heavily on analysis of campaign material and the voices of party activists and also considers other Green Parties, such as the splinter Trees Party and GPT-Social Democratic Alliance.
Applying a wide range of theoretical frameworks to plot and explain small party development, this book will appeal both to students and scholars of Taiwan's politics and civil society but also to readers with an interest in small parties and particularly environmental parties and movements.
Register on Eventbrite to book your place. The roundtable will take place on Microsoft Teams. As such, there is a limit of 250 viewers.
A reminder and link to the talk will be sent to registered viewers a day before the talk!
This meeting will be recorded. By registering you agree to be recorded for the duration of the discussion.
For Enquiries, Please contact ISAPUCLan@uclan.ac.uk
See more about the Northern Institute of Taiwan Studies (NorITS)
See more about the University of Central Lancashire (UCLan)
See more about Dr Dafydd Fell's recent Book: 'Taiwan's Green Parties: Alternative Politics in Taiwan'.
By registering for this event, you accept being added to our event mailing list. You can unsubscribe from this list at any time by emailing ISAPUCLan@uclan.ac.uk.