North Cumbria IMET Exhibition 'Innovate, Motivate, Educate through Technolo...
Description
Dalton St Mary's / Cumbria RTC would like to invite you to the 3rd annual Cumbria IMET Exhibition.
This year the IMET Exhibition has been sponsored by GBM Digital Technologies.
If technology is on your school agenda this year, and you are looking for new products or services, the IMET Exhibition is the place to do your research!
It seems that educational technology companies rarely come all the way up to Cumbria to work with primary schools, so this is a unique opportunity for schools to look at what is on offer all in one place on one day.
Registering on this page will sign you up for The North Cumbria IMET Exhibition which will be in Barrow on Thursday 25th April 2019.
There will be a few changes to the event this year..
* The Exhibition will be bigger than in previous years with over 20 exhibitors. Come along to see exhibitors such as Apple (represented by GBM), Google (represented by GBM), Scholarpack, TrilbyTV, Big Maths, Promote Your School, Showbie, Inventory, National Online Safety, Parotech, System IT, Special iApps,SAM Labs, Discovery Education, Rapid Online, Now Press Play, Pobble and 2Simple, Wonde and Skoog Music.
*For the first time this year, we are also offering 30 minute workshops from some of the above exhibitors. This will be a good chance to get to know the products on offer before you think about investing in them. Sometimes a quick chat as you go around the exhibition isn't quite enough, so exploring the product in more detail can be really valuable. There will be a workshop timetable available so you can choose which workshops you would like to attend. Numbers will be strictly limited though so workshop booking is strongly advised. If you are a local school you may want to think about sending different members of staff to different workshops to get the most out of the workshop timetable.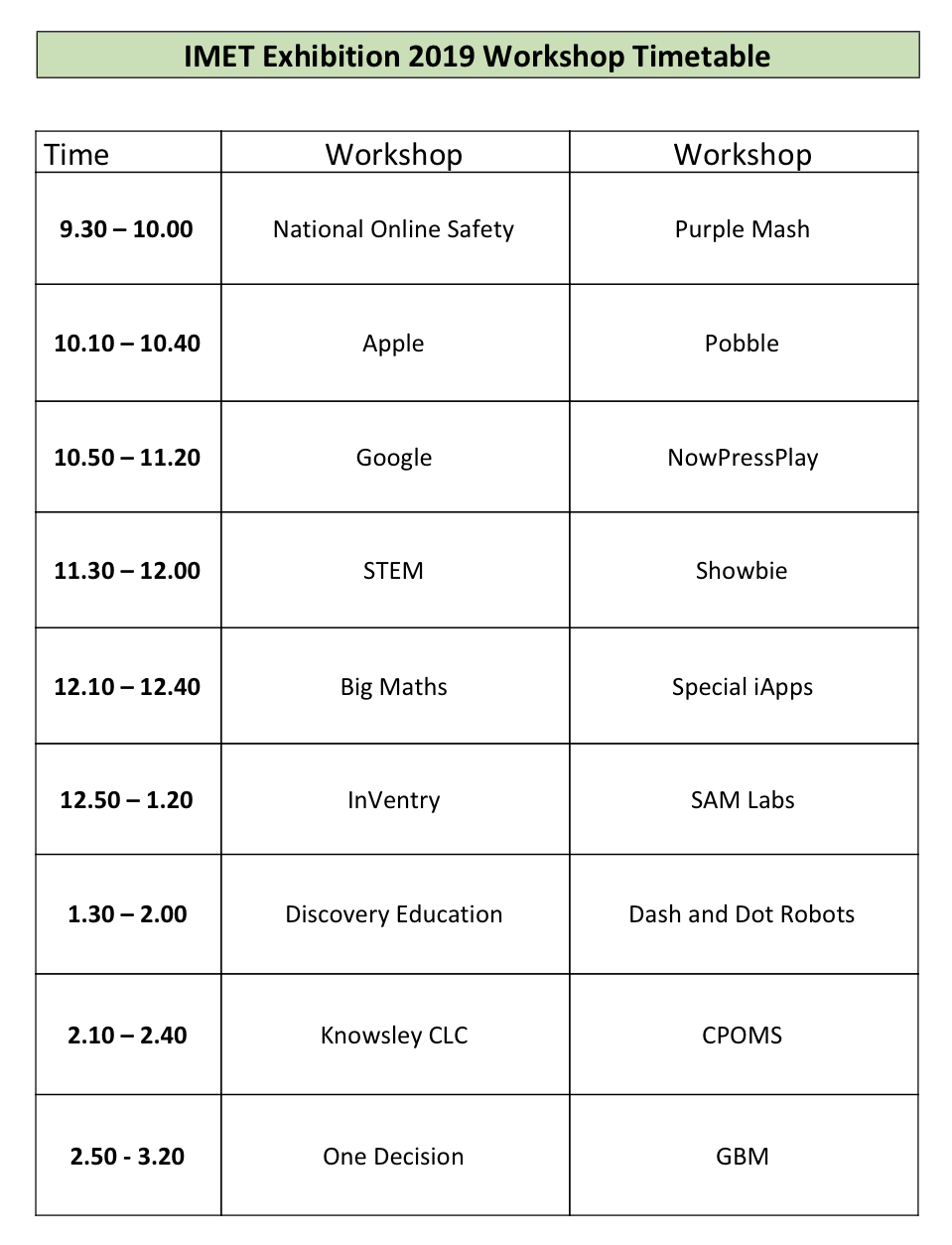 As in previous years though, delegates can come at any time during the day and stay as long they like - whether it is an hour, half a day or the full day - there will be enough to keep everyone busy!
The whole event is free to attend and there is no limit on the number of tickets available per school.
If you would like more details or to see the workshop timetable please email cumbriartc@dsmprimary.com
If you would more information on ways for your whole staff to recieve iPad training, please email h.croskery@dsmprimary.com.