Description
We are looking forward very much to March's free networking event for ladies in business in North Devon. Our venue had full capacity at last month's event and it truly was great to see so many ladies new to the group. This is an opportunity to share skills and talents with a community of like minded ladies open to supporting each other and celebrating our unique position in raising the profile of business in the South West.
We have much to be excited about and I'm sure those who have attended the last few events with our new format, can agree this is not an event to be missed if you are looking to promote yourself and your business in a relaxed and informative atmosphere.
We have pleasure in introducing someone who has recently shone as a new and upcoming young business woman in North Devon, Charlie-Ann Badham-Doyle. Her story is one of pure entrepreurship, having gained a fine art degree, she found herself working long hours for minimum pay in a local opticians. After the birth of her daughter she began to look at work in a different light. Her business journey then began with the Prince's Trust and she faced many obstacles before the launch of her business, Peek 'a' Boo Panda! Inspired by a lack of creativity within the nursery furniture world, she has created a range of individually quirky items, which she markets both locally and via the internet. Born from her love of upcyling everything, she uses eco friendly paints in her designs and you can see that much love goes into every piece.
In her own words "New ideas flow daily and there isn't a moment when I don't get excited about designing, creating and maketing these adorable upcycled nursery goodies" We are looking forward to hearing her story as she shares her top tips relevant to building a business in North Devon.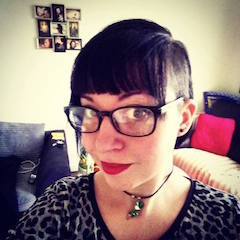 So we would love to see you all again for more inspiration and collaboration at our next event and we are thrilled to be able to bring this group together for the greater good of all. Be sure to register and reserve your ticket and please note our new lunchtime slot to allow more flexibility.
With best wishes,
Dana and Lindsay