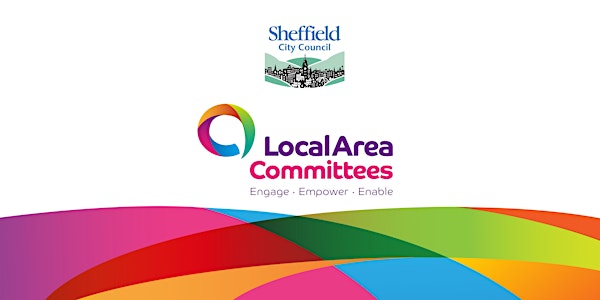 North East Local Area Committee Online Consultation Event
Sales Have Ended
Registrations are closed
The ticket listings have now closed for this event. If you would still like to participate please email Northeastlac@sheffield.gov.uk or contact 0114 4743610 to book your place manually.
Meet your Local Area Committee, hear about plans for your local area and share your views.
About this event
Due to COVID 19, this event will be held online, using Zoom virtual meeting platforms.
Over the last few months, we've been talking to Sheffielders to find out what you think of your local area, and what you would like to see improved or changed.
Your feedback, along with information from partner organisations and community groups will shape a community plan.
We'll be presenting the key findings from what we've learned so far, and an outline of how we're developing the draft Community Plan. We would then like to break up into discussion groups to talk about the themes that have emerged from the responses and ask for your views and feedback.
The 8 themes are listed below. Please select your preferred choice on the next page.
Due to the way the event is set up, we're unable to take live comments during the presentation. Please send any comments, or questions to our team.
Can't make this event?
A recording of the event will be available 24 hours after taking place.
Contact the LAC team:
NortheastLAC@sheffield.gov.uk
0114 474 3610
You can also sign up for North East LAC updates to receive regular updates from your Local Area Committee via email.
If you have any difficulty registering, please get in touch. We expect we'll get quite a few calls, so if we don't answer please leave a voicemail. We'll get back to you as soon as we can.

Themes for North East LAC:
Business, Employment & Skills - Improving shopping and retail businesses, changing the types of businesses in the community, providing more jobs / opportunities, and helping people develop their skills.
Health & Wellbeing - More support services for matters like mental health & dementia, the general health and the impacts of poverty, the need for more leisure / sports facilities & activities, as well as access to GP surgeries and other health care.
Environment - Tackling waste, litter, fly tipping, pests / vermin, dog fouling, etc. Some other comments we received were about improving climate change, streets maintenance/cleaning, trees, seasonal issues, footpaths, lighting, etc.
Children, Young People & Families - Resolving the lack of facilities and activities for both families and younger people. We uncovered a need for more support and advice services for families. Some raised concerns about the school and education system.
Community Safety & Crime - The need for a higher police presence within the community. tackling off-road bikes, youth and gang nuisance, anti-social behaviour, begging, substance abuse and crime. Dark nights and the use of fireworks were also raised.
Transport & Highways - Improving roads and creating safer routes. More enforcement around speeding, parking etc. Increasing physical activity with active travel. Better public transport on routes throughout the community.
Parks & Open spaces - Developing parks and playgrounds. Investing in new community gardens, friends of groups and our allotments in the community.
Community & Neighbourhoods - More community and voluntary groups. Increasing the support and advice services in the community. Investing in community centres and buildings. Looking at concerns around (lack of) housing and re-generation in the local area. Many asked for more activities and events that bring back pride in the community and bring everyone together.