Location
Life Science Centre International Centre for Life Times Square, Newcastle upon Tyne NE1 4EP
.
.Newcastle
NE1 4EP
United Kingdom
A networking meeting for North East Women working in STEM
About this event
We are delighted to be running face to face events again and will confirm venue as soon as possible.
A Slice of the Moon: Rocking Robots & Rovers
Presented by space artist, Helen Schell and space science educator Dr Lorraine Coghill (Ogden Trust, Durham University).
NASA is planning to return to the Moon by landing the first woman, first person of colour and next man in 2025, through its Artemnis missions. Artemis 1 is due to launch this summer and we will be celebrating 'International Moon Day' on the 20st July. Helen Schell will present her 'Slice of the Moon' talk. Dr Lorraine Coghill will discuss and provide a range Smart Materials and you can create a simple lunar robot or rover pop-up card, which rocks. This STEAM making activity, will be inspired by NASA's Moon missions and there will Moon facts and images to help. Alongside traditional art materials, there will be the opportunity to try out some Smart Materials (materials that do surprising things) to decorate your cards.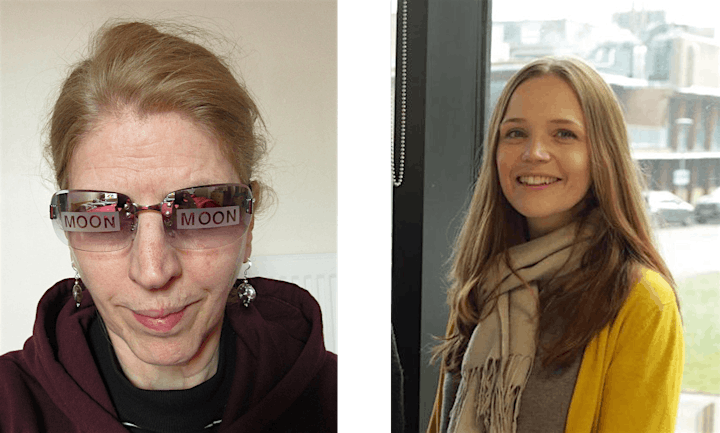 Helen and Lorraine have worked together on space and Smart Material projects since 2009, producing exciting activities for schools, science museums and festivals regionally and nationally. Lorraine creates and develops opportunities for people to work together to explore, educate and engage. With 20 years' plus of educational engagement experience, she develops and manages creative, collaborative programmes, and is particularly enthusiastic about training and supporting others in advancing their own practice.
Lorraine has worked on multiple educational initiatives for and with schools, universities, science centres, festivals, and community organisations in the UK and Europe. She is Science Outreach & Engagement Specialist at Durham University, a CPD facilitator for STEM Learning & NE Regional Representative for the science education charity, the Ogden Trust. Helen is a visual artist and a space science educator based in Sunderland. Using painting, installation and smart materials costumes, she devises optical illusion art and is part of the Sunspace Art STEAM education team, presenting inclusive projects nationwide. She is the first artist to win the Sir Arthur C Clarke Award for Space Outreach in 2019 and in 2022, she gave a presentation at NASA's human spaceflight conference about her project 'The Human Spaceship, as well as having her artworks on the Aldrin Foundation Art Space site.