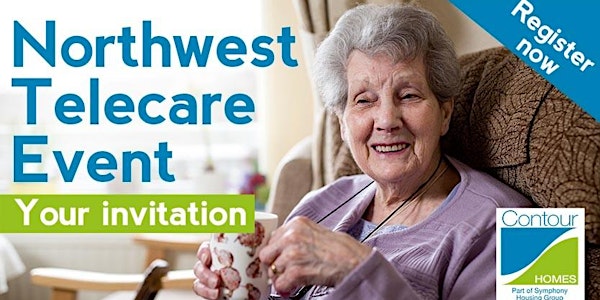 North West Telecare Event 2016
Location
Village Hotel Club Ashton Moss
Pamir Drive
Ashton-under-Lyne
OL7 0LY
United Kingdom
Description
To book your chosen workshops please select and print your ticket to display at the event.
WORKSHOP A / A1 - Doug Hopkins - Push to Talk/Mylinqs: Will be presenting how this has supported people who have suffered from isolation and showing how they can connect and interact by using the Push to Talk system.
WORKSHOP B / B1 - Kevin Marsch - My Home Helper: My home helper is the on-line, digital memory aid and communication device for people living with cognitive impairments such as Dementia and Brain Injury, and those that care for them. During the workshop, Kevin Marsch creator of my home helper, will showcase some its key features and show how it can be used to aid independent living
WORKSHOP C / C1 - Mark Finlay - Sales and Marketing Director: Motech: How using Mobile & Digital technologies in a highly robust, secure way we can deliver a hugely valuable service to users, Carers and relevant organisations. Motech have set out to ensure we improve people's lives by delivering innovative services for people living with dementia, learning disabilities or simply at a time in their lives where a bit more support is required. Motech have also focused very strongly on the people who share their lives with their users – the Carers, family members, neighbours. Their service is built to ensure they are connected at all times to the end user. All of this is tied into a platform that supports an organisation focused on delivering technology enabled care, a residential nursing home, a hospital or a responders centre. Their mission – to ensure people live the most independent life possible but with complete reassurance and peace of mind.
WORKSHOP D / D1 - Paul Finch - TSA: The work TSA are doing on the new Quality Standards Framework and a migration from an outputs audit model, to an outcomes based approach. This puts the service user at the centre of what services should be achieving. The e-learning platform that will be launched at conference, which will be free for members to use and how this will help drive quality through minimum competencies for service staff, which also feeds into the Quality Standards Framework.
There are AM and PM sessions for each workshop but should you find your chosen workshop at capacity please still inform the organiser by email after booking a 'non workshop' ticket who will put you on a standby list.
Tickets also available should you just want to visit the exhibitors stands, network and listen to the guest speakers on the day.

Guest Speakers on the day are:
Guest speakers:
Gill Drummond - Dementia Lead for Greater Manchester West Mental Health NHS Foundation Trust
Dr Malcolm Fisk - Director of the Telehealth Quality Group and Senior Research Fellow at the Centre for Computing and Social Responsibility, De Montfort University, Leicester
New Thinking and Approach to Standards for
Telehealth and Telecare: The International Code of Practice for Telehealth
Services
Steve Purdham - 3rings Care Ltd - "My Favourite things' - How the Internet of Things is about to change Social Care.

Alyson Scurfield – Chief Executive – TSA The voice of Technology enabled Care
Parking available on site and Venue is also within close proximity of Ashton Moss or Ashton West Metrolink Stations
Regisitration: 9:00am - 9:45am

The Village Hotel is close to Ashton Moss Leisure Park and within walking distance to various eateries.