North-western Iberian rock art: state of the art and recent developments A webinar by Dr Carlos Rodríguez-Rellán
About this event
Organised by Scotland's Rock Art Project (ScRAP)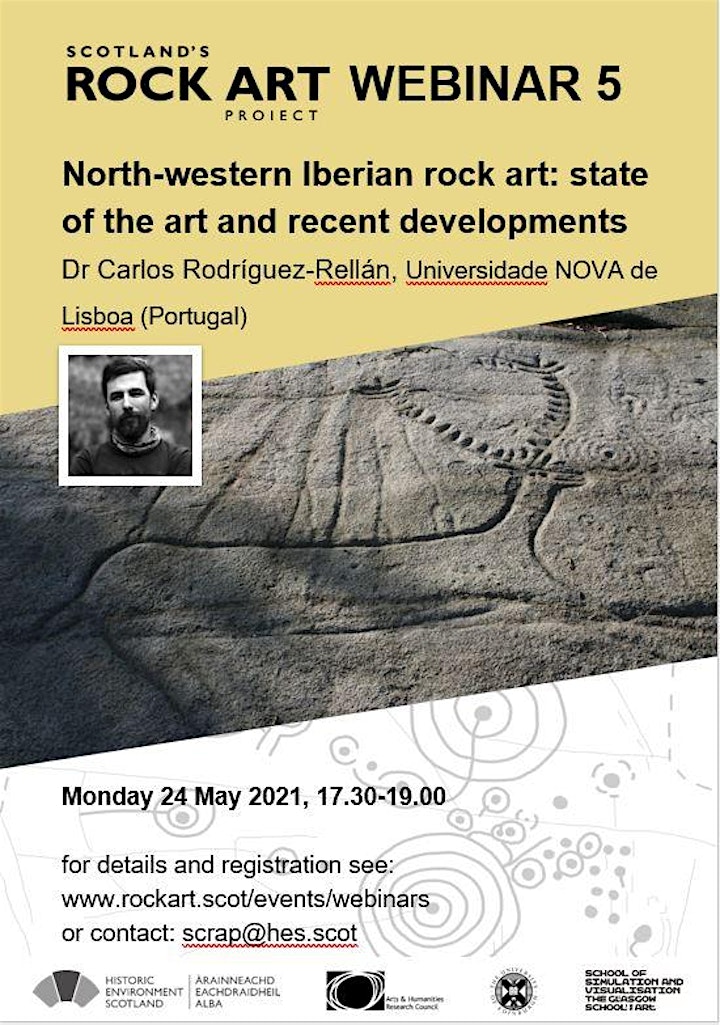 With a catalog comprising more than 3,400 rocks which include tens of thousands of engravings of both abstract and naturalistic motifs, the rock art of the Northwestern quadrant of the Iberian Peninsula –which includes territories of both Spain and Portugal – is one of the most complex in Europe. However, and despite the fact that research has been going on there for more than a century, there are still many pending questions regarding this phenomenon. In this webinar, some of the main features of the rock art of the Iberian Northwest will be discussed, ranging from the composition and variability of the catalog to its spatial distribution. Likewise, the major steps forward that have been taken in the research of this phenomenon over the last decade will be presented.
About Carlos: Carlos completed his PhD in Prehistory (2010) at the Universidade de Santiago de Compostela (Spain), and he is a Fulbright and Fernand Braudel fellow. He has developed his research career at the Universidade de Santiago de Compostela, the Arizona State University (USA), the Université de Nantes and the CNRS (France). Carlos is currently a member of the GEPN-AAT (Universidade de Santiago) and ATLAS (Universidad de Sevilla) research groups. Carlos has worked extensively on the rock art of Galicia, focusing on the analysis of the material cultural and has contributed greatly for the detailed documentation of the rock art, improving the quality and accuracy of the records. Carlos has applied a number of new technologies to the study of Galician petroglyphs, from spatial statistics to computer modelling.
Please note that the zoom link to attend this event will be sent on the registration confirmation email. However, on the day of the event we will be sending an email with a gentle reminder about the event and the link to access the meeting.
If you do not receive an email by lunch time on the day of the webinar, please check your junk folder or contact us on scrap@hes.scot or through our Facebook chat and we are happy to provide you with the link.
We never cancel registrations, unless requested by the attendee.
Organiser of North-western Iberian rock art: state of the art and recent developments