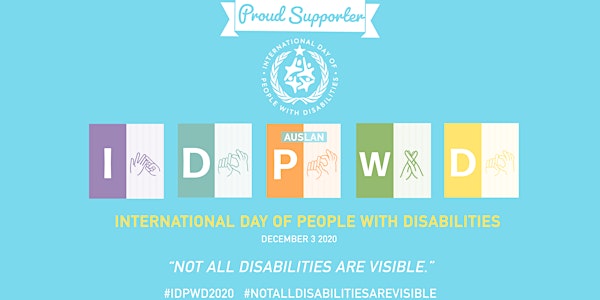 Northampton Disability Forum International Day of People with Disabilities
As we are unable to run our usual celebration event for IDPWD we have moved online!
About this event
We will be sending the link out in the last few days before the event to everyone who has signed up. Once you have the link you will be able to come and go as you wish throughout the event. It is free to attend.
This year's theme is not all disabilities are visible.
If you have any questions for any of the speakers, please email them to forums@northampton.gov.uk either prior to the event or on the day. We will get as many answered as we can during the event and any we don't manage to do on the day will be answered during the following days. A link to a webpage will be sent to all attendees after the event with information and links to everything that is covered on the day and maybe more!
The draft time table is:
10am introduction with Kian Saville, your host for the day
10.15am - Teamwork Trust who support adults with learning disabilities and mental health issues.
10.30am Thomas Cliffe from Track NN which supports young people on the autistic spectrum into training and employment
11am Kian Saville - disability sport
11.30am Pete Middleton - recently diagnosed with dementia and advocate for better services
12:00 noon Roo Douglas - ex Fire and Rescue Service, Ruth suffers from PTSD and has 2, as yet to be diagnosed, lively teenage sons.
12.30pm Opening of the card and supporting messages
12.50pm Closing remarks
The final programme, with full details, will be sent out shortly along with the You Tube link.
We look forward to seeing you on 3 December. Stay safe.