Northern Exposure 2013 - Exhibition Preview

Friday, 1 February 2013 from 18:00 to 20:00 (GMT)
Event Details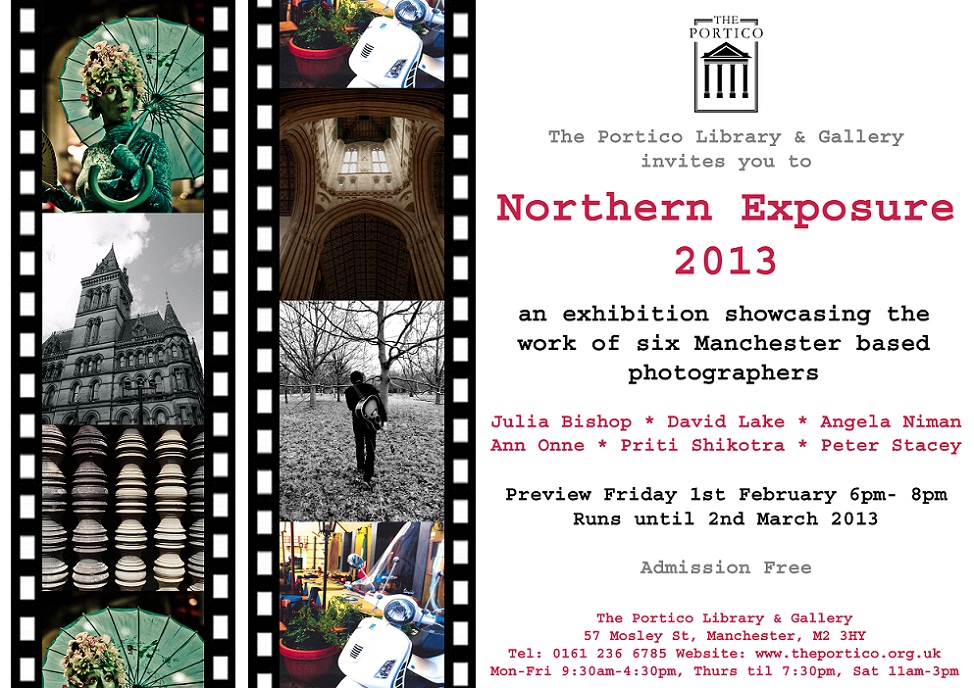 The Portico's annual group photography exhibition is back for its third year! Northern Exposure provides an opportunity for professional and amateur photographers to display their skills in one of the most glorious settings in the city centre. Northern Exposure 2013 showcases the work of six photographers based in the city of Manchester. Each carries their own distinctive style, interests and specialities and the show features an exciting blend of subjects spanning from portraiture to travel, music and architecture.
Julia Bishop has been a professional photographer for 25 years and runs a successful wedding photography business based in Massachusetts. Julia spends her time between Manchester-by-the-Sea, Massachusetts and Manchester, England and is widely travelled, capturing her journeys through her lens. She has contributed to numerous newspapers and magazines both as photographer and writer. You can see more of Julia's work at http://www.juliabishopphotos.com
David Lake first went to print as one of the official Lomo photographers for Manchester's Commonwealth Games in 2002 in the commemorative book Spirit. Sadly, his next major project was to cover the devastating effects of the Asian Tsunami in 2004, making several trips to the Khao Lak area of Thailand for two UK based charities. An exhibition People of the Tsunami followed in Manchester that same year. David's next exhibition, Pole to Pole, then covered a variety of travel images from around that period. In 2011 his exhibition Leica Postcards was held at The Lowry, Manchester, featuring travel images shot with his much beloved Leica M9. David can be found over at http://www.davidlakephotography.com
Angela Niman has over 17 years' experience in many fields of creative media as a writer, interviewer, researcher, radio promoter, theatre set designer, graphic designer and more recently a photographer. In July 2012 her photos were published in Amateur Photographer magazine when she earned second place in the UK edition of the prestigious EISA Photography Awards. Her photography has been featured in two prior exhibitions and has been published in F-Stop Magazine, Chicago and Featuring Magazine, Netherlands. Visit Angela at AIN Photography ainphotography.moonfruit.com
Anne Onne takes photographs because she is fascinated by structures and lines, which are a recurring theme in her work. Sometimes, when she's not occupied in her day job in the culture and heritage industry she might be walking or driving along in the UK and abroad and she may see a 'picture' that captures her eye and out comes the camera to snap it up. Patterns, faces, textures, the evidence of history are what appeals to her most.
Priti Shikotra is an up and coming young professional photographer who shoots music, fashion, editorial and wedding photography. Her work has been published in a number of magazines, includingUnique Bride MagazineandCheshire Life. Priti's main passion is for music photography and she has worked on shoots with both established and up and coming musicians. Her talent for music photography also led her work to be selected for exhibition at the MEN Area in Manchester, where it currently graces the wall of the star dressing room. Catch Priti at http://www.pshikotra.com
Peter Stacey's interest in photography started with a box Brownie when he was ten. A successful photo was then to him one which was not too blurry and contained at least some of the elements he had intended to include! More recently, his photographic projects have tended to be mostly focused around his travels in Asia and Europe and a picture from a recent trip to Vietnam saw publication in the Guardian magazine. "I am more interested in details and patterns that catch my eye than trying to make a portrait of a place. In recent years I have developed my style by producing an annual calendar. Choosing my twelve favourite photographs each year concentrates my mind on what - for me - makes a rewarding picture."
Previews on Friday 1st February, 6pm-8pm
Exhibition runs to 2nd March 2013
Admission Free
When & Where
57 Mosley Street
M2 3HY Manchester
United Kingdom


Friday, 1 February 2013 from 18:00 to 20:00 (GMT)
Add to my calendar
Organiser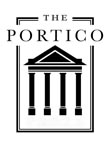 Still in its original 1806 building, the Portico Library and Gallery celebrates both the historic and contemporary culture of Manchester, welcoming the public, researchers and members to its unique 19th century book collection and 21st century literary, scientific, educational and artistic events and exhibitions.