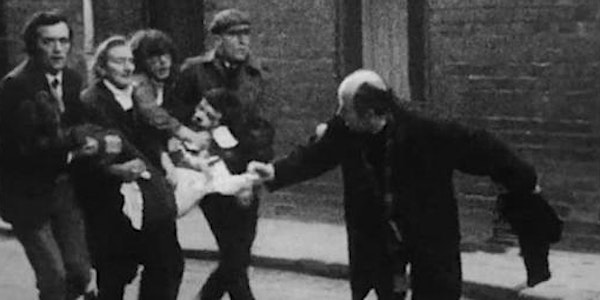 Northern Ireland: Art, Media and Politics Reading Group (2020)
Location
MARs Hub, Goldsmiths, University of London
43 Lewisham Way
London
SE14 6NW
United Kingdom
Reading group discussing historical role of artists' moving image in response to media policies administered by the British government.
About this event
** Registration on this page has closed. Please click here for updated Eventbrite page where you can register.**
A three-part series of reading groups in 2020 (Spring and Summer terms) at Goldsmiths, University of London.
The groups will discuss the historical role of artists' moving image (film and video, experimental documentary, and documented performance) in response to cultural and media policies administered by the British government.
Organisation
The reading group is initiated and led by Dr Isobel Harbison, Lecturer in the Art Department at Goldsmiths College, and hosted by the Mountain of Art Research (MARs), which is linked to the Art Research Programme at Goldsmiths.
Please contact Dr. Isobel Harbison for further information (I.Harbison@gold.ac.uk).
Location
The reading group sessions will be held in:
MARs Research Hub, 43 Lewisham Way, New Cross, London SE14 6QD https://goo.gl/maps/jsBhrhNmtCQW9QMt6
Dates
Reading Group 1: Tuesday, 28 January 2020
Reading Group 2: Tuesday, 17 March 2020
Reading Group 3: Tuesday, 19 May, 2020
All from 6-8pm (unless otherwise listed).
Format
Screenings and informal discussions will be based on moving image work and related reading circulated prior to meeting. No reading essential but is advised.
House Rules
Below are house rules written by Array Collective, Belfast, for their recent exhibition symposium at Jerwood Arts (9 Dec 2019), shared with us by Array. You can also click onto a link to the house rules here:
https://www.dropbox.com/sh/c5mdz8j501bumz6/AABQ8szWZv0f82GtzV4Rq0aga?dl=0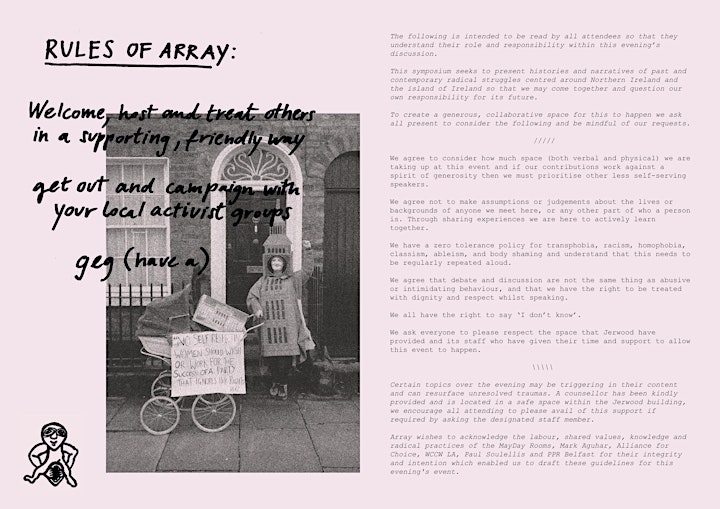 Statement of Intent
Under immediate discussion will be the role of art and the moving image in response to different political situations in Northern Ireland, set within and against the British cultural and media policies administered since 1968.
We will consider how these policies have constituted viewing publics in Northern Ireland and internationally, and provoked successive waves of counter cinema in and about the region/state.
We will attempt to consider work in historical specificity, but also in relation to the urgencies of the present: the negotiations following Britain's European Referendum (or, 'Brexit', 2016). We will look at several periods: the early stages of the civil war in Northern Ireland (otherwise known as 'the Troubles'); the negotiations and aftermath of the Good Friday Agreement; and the current state of affairs following European referendum of 2016.
Readings
This reading group will generate a shared-access bibliography and encourages other parallel reading groups. It aims to lead into a longer-term series of discussions with established partners in other HEI and non-HEI organisations collectively and respectfully negotiating the consequences of Brexit as the UK negotiates the terms of its withdrawal from Europe.
Reading Group 1 https://www.dropbox.com/sh/8bp3f1pr91sbvh1/AAD9JAM6KSydIS_NqSL-EMaRa?dl=0
Mairead McLean, No More (15 mins) & Broadcast32172 (8 mins)
Greg McLaughlin and Stephen Baker, 'Inside stories and Secret histories: British television investigates Bloody Sunday', in The British Media and Bloody Sunday (Bristol, 2006), pp. 77 – 114.
Peter Geoghegan, 'Confronting the Legacy of the Troubles', August 2019, New Humanist [https://newhumanist.org.uk/articles/5495/confronting-the-legacy-of-the-troubles]
Reading Group 2 https://www.dropbox.com/sh/epd2iiwtpxz2vqe/AABtwqJsGt4O9Nr3ODh1FU55a?dl=0
Derry Film and Video Collective, Mother Ireland (1988, short excerpt)
Anne Tallentire, The Gap of Two Birds (1989, super-8 transferred, 7 mins)
Anne Crilly (of Derry Film and Video Collective), 'Banning History', History Workshop Journal, 1991, Vol 31 (1), pp. 163-165
Sarah Edge, 'Negotiating Peace in Northern Ireland: Film, Television and Post-feminism', Visual Culture in Britain, 2009, 10:2, pp. 177-187Good Friday Agreement, 1998 [33 pages]
Reading Group 3 https://www.dropbox.com/sh/zocispc805x56vm/AACOY06NUoOQDGb_5oxte2i8a?dl=0
Malachi O'Hara (video of presentation by deputy leader of the Green Party NI, 10 mins)
Emily McFarland, Curraghinalt (2019, 25 minutes)
Aaron Kelly, 'Geo-political Eclipse', 2005, Third Text, 19:5, pp. 545-553
Richard Kirkland, 'Visualising Peace: Northern Irish Post-conflict Cinema and the Politics of Reconciliation'. Review of Irish Studies in Europe, 1.2. (2017), 14.
Prof Chris McCrudden, 'The Good Friday Agreement, Brexit, and Rights', A Royal Irish Academy - British Academy Brexit Briefing, 2017