Description
The Northern Ireland Modular Course can offer GDP's who either have no experience and are wishing to begin treating straightforward cases, or Clinicians who are looking to increase their knowledge of more complex cases.
The modular course in Dental Implantology aims to get you involved in dental implantology without the time and cost commitment of a full year course if this is not desirable. The course is FGDP / GDC guideline driven so you have confidence in doing what is best for your patients.
Course summary
We intend to have an introductory module of 1 day to cover simple restoration of dental implants followed by a more advanced restorative day covering implant bridgework and new techniques (may be suitable to dentists already involved in implants who would like a refresher course) including same day teeth, all on 4, Atlantis / Use of Cad-Cam. Courses can be booked as a complete 6 part modular course, or a 3 module straightforward course, or a 3 module course for developing knowledge and skills at a complex level. The course will run with a modular format.

Educational outcome
6 hours verifiable CPD per module.
Each module has specific learning outcomes, which are mapped to a "Training Standards in Implant Dentistry"
document, 2012, produced by a working group under the lead of the FGDP (UK), and which is accepted by the GDC as the standard to be aspired to by all who wish to practice in this field.
Detailed programme
MODULE 1 - Straightforward Module 1
• Straightforward restorative treatment
• Osseo-integration, Guidelines, treatment planning, consent

• Components and impressions for single tooth and locator denture

• Place, take impressions and restore a live case (demo)
• what goes wrong / troubleshooting / pricing
MODULE 2 - Straightforward Module 2

• Straightforward Implant surgeries
MODULE 3 - Straightforward Module 3

• Complications and their Treatment / Prevention, Maintenance
MODULE 4 - Complex Module 1
• Complex restorative Treatment Planning / Implant options / Implant prosthodontics - what can be done, advantages of Atlantis Smartfix / all on 4 / restoration of full Arches controversies/ what works
MODULE 5 - Complex Module 2
• Complex Implant Surgery

MODULE 6 - Complex Module 3

• Hard And Soft Tissue Grafting Speakers
Speakers

Mark Diamond
BDS FDS (RCPS) Specialist in Oral Surgery
Mark Diamond has 10 years' experience in teaching comprehensive dental implant year programmes and is a specialist in oral surgery. He offers a full range of multidisciplinary jaw and occlusal rehabilitation, utilising cone beam scanning technology at his Fortwilliam and Ballymena specialist clinics. Dr Diamond is a Fellow of the International Congress of Oral Implantologists.

Dr Pearse Stinson
BA BDentSc MFGDP DipImpDent
Pearse Stinson has been involved in dental implantology for over 15 years and he has experience of several systems. He completed the Implant Dentistry Diploma with the Faculty of General Dental Practice at the Royal College of Surgeons in 2008, having obtained his primary degree in 1981. Dr Stinson has attended several dental implantology commercial courses and has completed the initial Hilt Tatum year programme. He is a tutor on the SMART year programme in sedation for DCPs.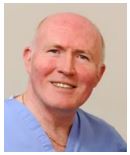 Fees
£450+ VAT (individual days subject to availability)

• Course fees include plastic models, animal models and all instrument kits, tea, coffee and snacks on site, lunch in the vicinity
• Restricted to a maximum of ten dentists
Bookings and additional information
For course availability please visit:
www.dentsply.com/ukeducation or contact your local Territory Sales Manager.
Implant system used
- Ankylos

Dates
Module 1 Friday 27th April 2018
Module 2 Friday 18th May 2018
Module 3 Friday 15th June 2018
Module 4 TBC
Module 5 TBC