Description
A Raspberry Jam is a monthly event for people who want to learn a bit more about the Raspberry Pi and coding in general.
The sessions are aimed at complete beginners with more complicated challanges forthose with already some Raspberry Pi experience.
We try to cover a different topic with the Raspberry Pi every month and so far have done
Setting up your Raspberry Pi

Minecraft pi

ScratchGPIO with LEDBorgs

Introduction to python

Basic circuits with breadboards
The topics we may to cover over the next few months
More Minecraft Pi

More Scratchgpio with LEDBorgs

Using Python with GPIO

Sonic Pi (leaning towards this for October)

Raspberry Pi camera module

Plugging stuff into the GPIO pins
If you would also like to help with setup, takedown or generally walking around helping people with their Pi projects, please drop an email to nems@farsetlabs.org.uk and we will pass on your details.
A small donation to the Farset Labs charity is appreciated.
Note that normal Farset Labs Child Protection policy applies. This includes that all children under the age of 14 must have a designated guardian in Farset Labs for the entire event.
We also require children aged between 14 and 17 (inclusive) parents are within 10 minutes from Farset Labs and can be easily contactable in event of an emergency.
Hosted by Andrew Mulholland.
Please make a small donation to maintaining Farset Labs for each training session (Farset Lab members are free while a suggested donation of £5 is recommended from non members) - donations can be made on the day.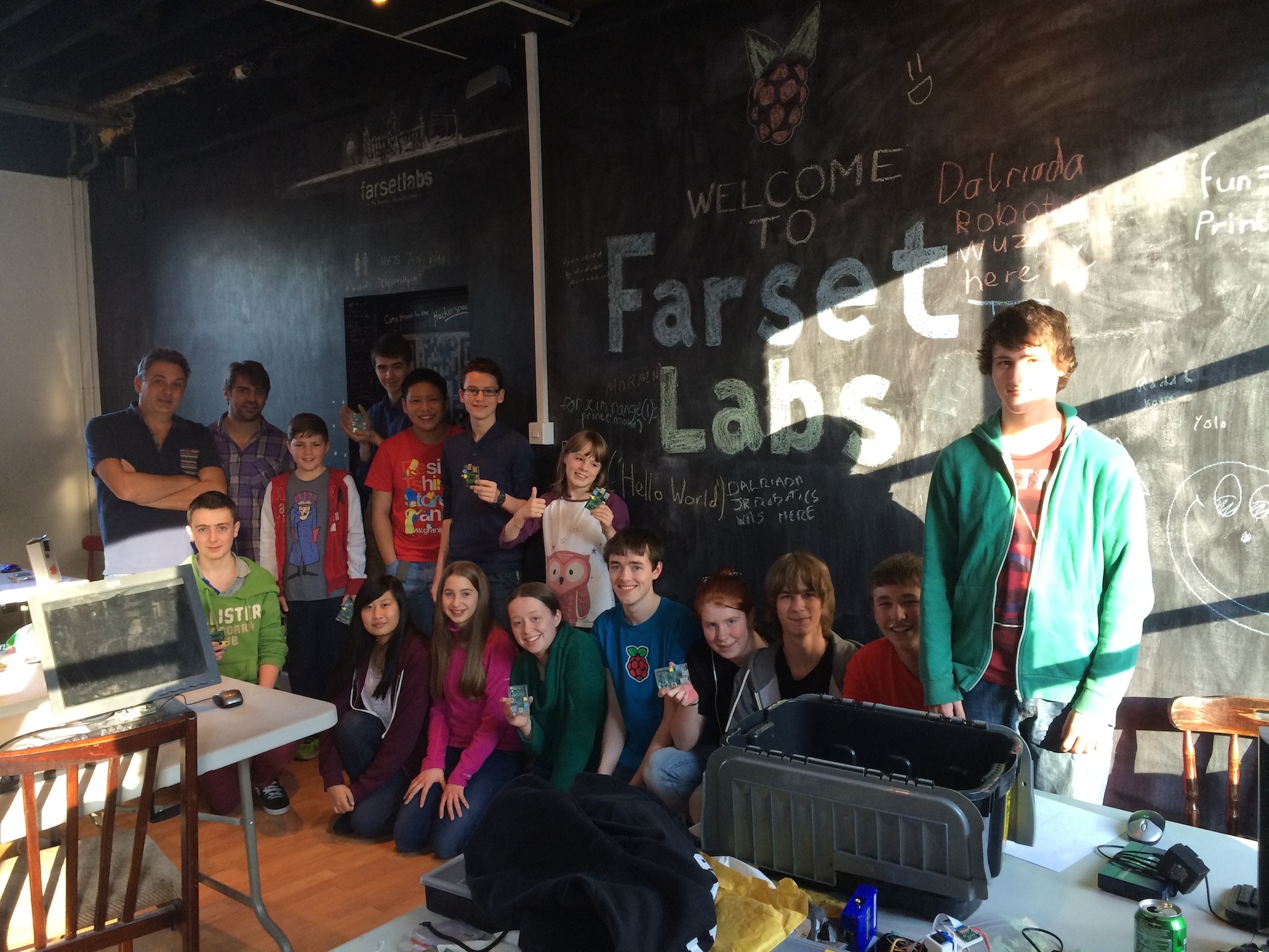 Organiser of Northern Ireland Raspberry Jam 10 - Pi Day Special
Farset Labs is a makerspace that provides a hub of creativity, technological innovation and entrepreneurship for local professionals, students and interested hobbyists in Belfast City Centre.
For a low membership fee, students, professionals, and all members of the local community will be able to congregate at their convenience at the Farset Labs premises, to discuss ideas and concepts with fellow members, and use communal manufacturing equipment, computing facilities and electronic resources to help bring their ideas to fruition.