Northwood Schools All-site Open Day Event, 11 October 2019

Friday, 11 October 2019 from 09:00 to 14:00
Event Details
NORTHWOOD SCHOOLS
Broomwood Hall Lower School (Boys & Girls 4-8)


The Vicarage: 192 Ramsden Road, SW12 8RQ & 

50 Nightingale Lane, SW12 8TE




Broomwood Hall Upper School (Girls 8-13)
68-74 Nightingale Lane, SW12 8NR


Northcote Lodge (Boys 8-13)
26 Bolingbroke Grove, SW11 6EL


NorthWood Senior (Co-educational to 16 years)


Now registering for 11+ and 13+ entry for September 2020   

                                                       3 Garrad's Road, SW16 1JZ
Northwood Schools Open Day will give you the opportunity to visit our four schools: Broomwood Hall Lower School, Broomwood Hall Upper School and Northcote Lodge and the site for the forthcoming secondary school, NorthWood Senior, due to open in September 2020.  By looking at our different schools and sites, you will be able to find out more about what a Northwood Schools' education can offer you and your children from 4 through to 16. 
The junior schools will be open throughout the morning and can be visited in any order. The site for our forthcoming senior school,  NorthWood Senior, which will open in 2020, will be open from 1.30-2.30pm. Although the junior schools are within walking distance of each other, the senior school site is a little further away.

In the morning there will be guided tours run by the children and at least one talk at each site. From 1pm onwards there will be the opportunity to watch the children playing sports on Wandsworth common. Refreshments will be available throughout the day on each site manned by members of the current parent community.  
Booking tours and talks
Booking is preferable in order to manage numbers and to avoid overcrowding.  Please register for tours on the sites you'd like to visit as well as for any of the various talks.  If your preferred time slot is no longer available, please note you can visit one of the other sites first. It is advisable to visit all our schools to see how your child's education might progress with us. We hope you'll enjoy the opportunity to see the schools in action as well as meet staff, children and current parents.
Further information
To see full details of our Open Day programme please visit our website: www.northwoodschools.com.  If you have any additional questions please contact Admissions:  020 8682 8830, admissions@northwoodschools.com
NB.  There is restricted parking around the schools - please bear this in mind when you book your tickets.
We look forward to meeting you.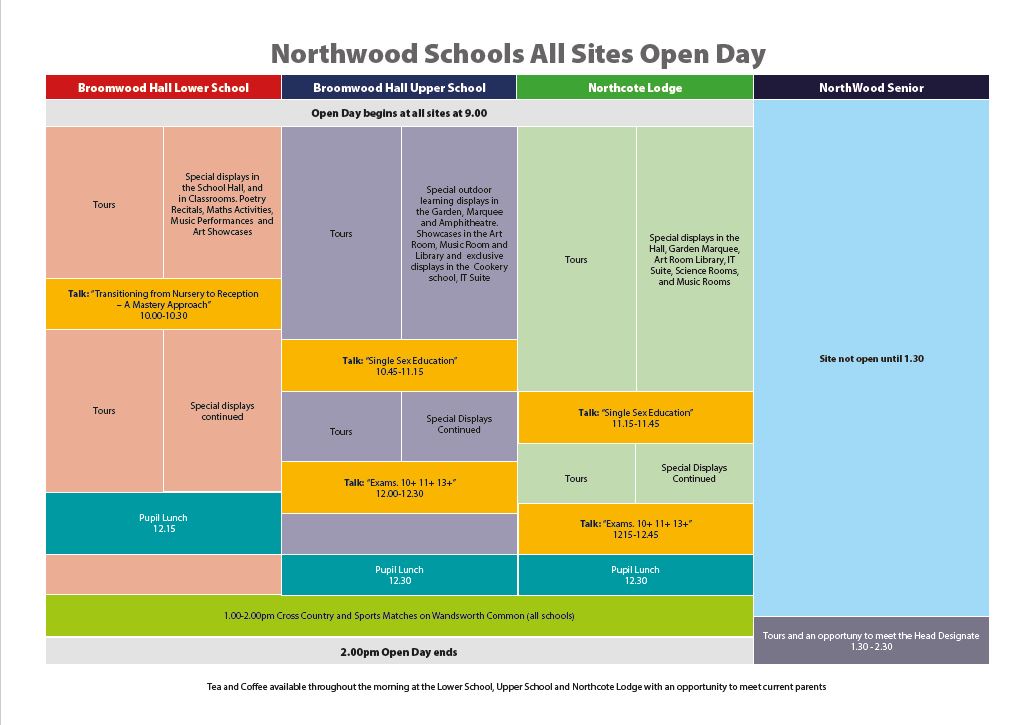 Save This Event
When & Where

Broomwood Hall Lower School, Broomwood Hall Upper School, Northcote Lodge, NorthWood Senior

SW12, SW11, London
United Kingdom


Friday, 11 October 2019 from 09:00 to 14:00
Add to my calendar