Description

The Norwich Masters Darts Tournament 2016 is Norfolk's premier head to head professional darts event held in Norwich, bringing six of the World's biggest PDC darts stars to Norwich and Norfolk to play three head to head matches in one evening for the very first time. This is an event that will capture the imagination of all Darts enthusiasts in the UK - a Darts spectacular for Norwich that will become a Norwich landmark professional head to head darts sports event for years to come.
The Norwich Masters Darts Tournament 2016 is sponsored by Imajen Accountancy and orgnaised and promoted by Lord Russell Baker of Little Moulton.
The three head to head darts events have been specially selected to ensure huge interest and the line-up is as follows:
1st Match - Terry 'The Bull' Jenkins v Wayne 'Hawaii 501' Mardle (Best of 15 Legs)
2nd Match -Steve 'The Bullet' Bunting v Jelle 'The Cobra' Klassen (Best of 17 Legs)
3rd Match - Adrian 'Jackpot' Lewis v Dave 'Chizzy' Chisnall (Best of 19 Legs)
The doors to EPIC TV Studio's open at 18:00 and there will be a dedicated VIP room for VIP guests to enjoy meeting and greeting the players and officals on the night with a light finger buffet. The bars in EPIC TV Studio's will be open for all other guests at 18:00, with the Darts tournament set to start at around 19:30.
There will also be tickets sold with the prospect of four lucky winners to create two doubles teams to play both Eric Bristow and Keith Deller at doubles on stage in front of an audience exceeding 855 noisy and raptuous darts fans. Make sure someone brings a camera to ensure you are captured 'in lights' and able to show your family, friends and work colleages for years to come. Simply amazing!
A 'live' auction will take place on the night with some remarkable memorabilia on offer from the World of sport, plus raffle cards available to win some outstanding darts products from the some of the biggest names in the World of darts - sensational.
The players signed up to play at the Norwich Masters Darts 2016 evening at the EPIC TV Studio's on Thursday 20th Ocotober 2016 are as follows:
Adrian Lewis - an English professional darts player for the Professional Darts Corporation (PDC) who is a two-time PDC World Darts Champion. He is nicknamed Jackpot, following a visit to a casino whilst competing at the 2005 Las Vegas Desert Classic when he "won" a $72,000 jackpot but was unable to claim the money as he was under-age by US gaming laws – despite being eligible in the UK. During the early part of his career until 2007, he was a protégé of multi-world champion Phil Taylor having practised together in their home city Stoke-on-Trent and made his television debut in 2004, aged 19 at the UK Open. Adrian lost to Gary Anderson in the 2016 PDC World Final in January.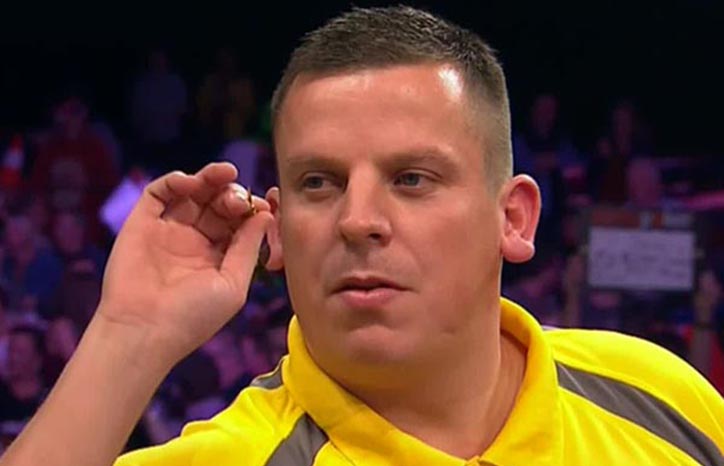 Dave Chisnall - an English professional darts player from St Helens who plays in Professional Darts Corporation (PDC) events. He began his career participating in the British Darts Organisation (BDO) and was the runner-up in their World Championship in 2010. He switched to the PDC a year later and has won nine Pro Tour events. Since his switch to the PDC Chisnall is probably best known for defeating Phil Taylor in the 2012 World Championship, for reaching the final of the 2013 World Grand Prix where he was beaten 6–0 by Taylor and for reaching the final of the 2014 Grand Slam, losing a much closer match 16-13, again to Phil Taylor.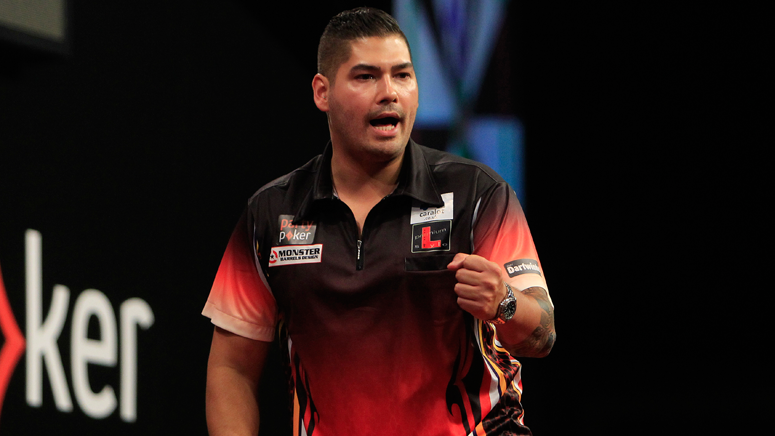 Jelle Klassen - is a Dutch professional darts player who plays in the Professional Darts Corporation and is the youngest darts player to win the World Darts Championship. His nickname is The Cobra. He lives in Goor, Netherlands. He is an ethnic Indonesian. On 15 January 2006, he became the youngest World Darts Champion, aged 21 years 90 days, when he defeated fellow Dutchman Raymond van Barneveld in the final of the 2006 BDO World Championship by 7 sets to 5. He also beat Shaun Greatbatch and world number one Mervyn King on his way to the final. Before the championship, he was said to be a 100-1 outsider to win the title as he did not even have a BDO Tour ranking. Klaasen reached the PDO World Semi-Final in 2016 losing to the eventual World Champion Gary Anderson.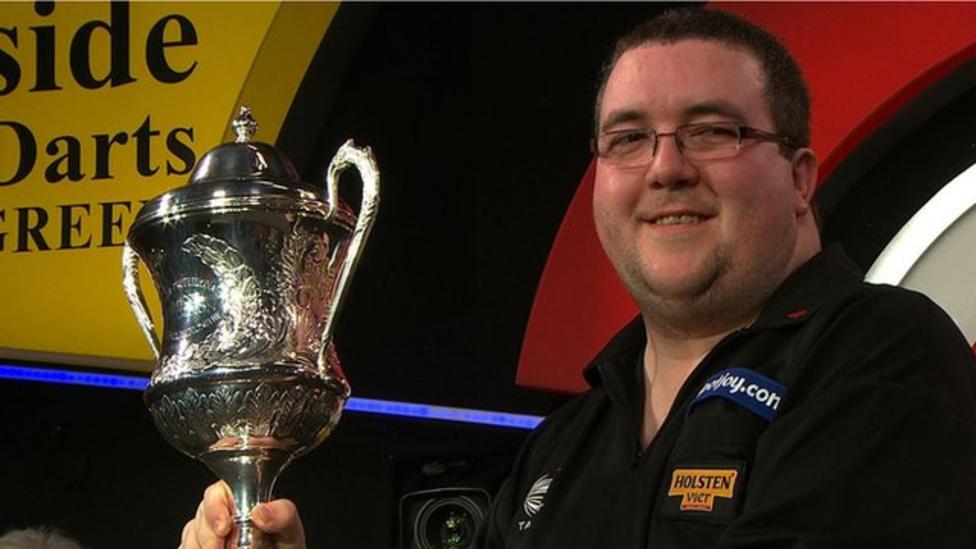 Steve Bunting - is an English professional darts player who competes for the Professional Darts Corporation.[1] His nickname is The Bullet. He won the 2014 BDO World Championships, and is a twice former World Masters champion.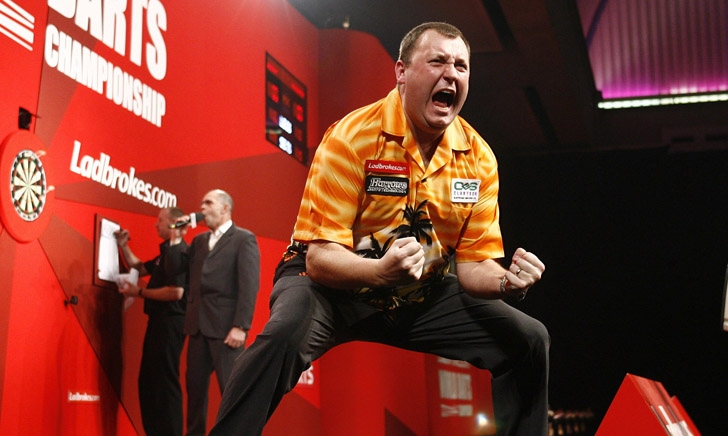 Wayne Mardle - an English former professional darts player for the Professional Darts Corporation, and former player in the BDO. He now lives in Romford. Before turning professional, he worked for the Association of Accounting Technicians. He has been known as "Hawaii 5.0.1" since 2000, due to the Hawaiian shirts he started wearing in 1998 for a bet, and 501 being the start score of a leg of darts. The name is also a play on the title of the popular television series, Hawaii Five-O. This dress sense coupled with his crowd-pleasing onstage activity (such as dancing to the interval music) has seen him become one of the most popular players on the circuit.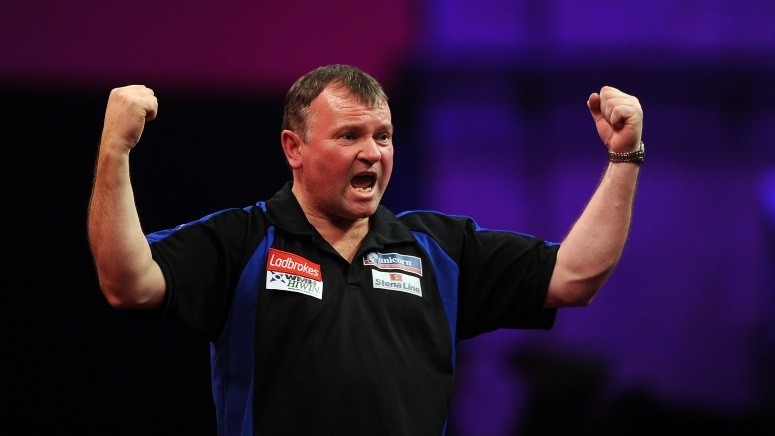 Terry Jenkins - is an English professional darts player who is nicknamed The Bull,[1] having previously used the nickname "Tucker" for his matches.[2] He has reached number four in the world rankings and has been runner-up in nine major PDC televised finals (the 2006 and 2007 Grand Prix, 2007 Premier League, 2007 Las Vegas Desert Classic, 2007 and 2009 World Matchplay, 2008 Grand Slam, 2014 UK Open and 2014 European Championship).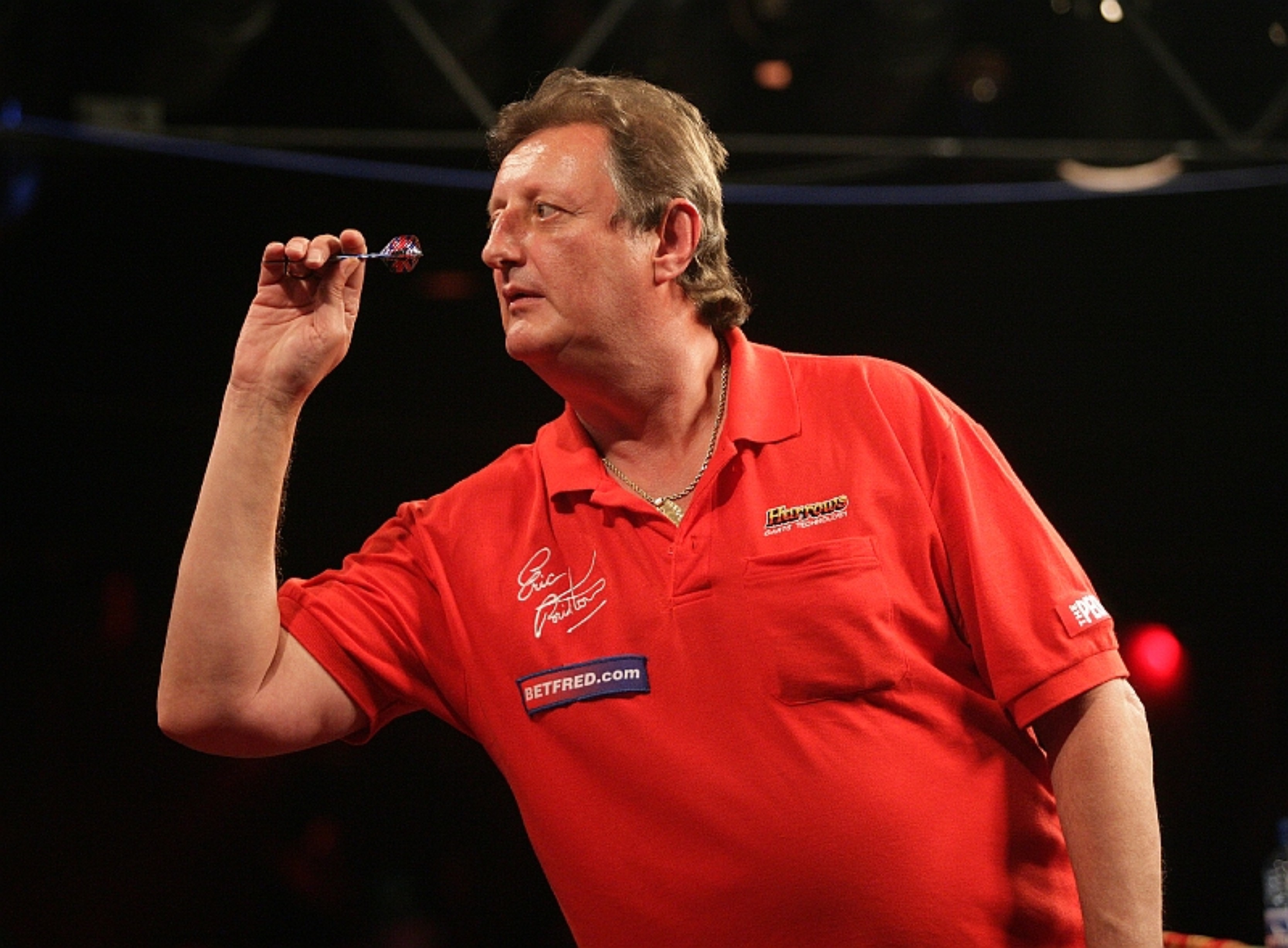 Eric Bristow MBE - ("The Crafty Cockney") is a former professional English darts player. He was ranked World No. 1 from 1980–81, 1983–85 and 1990, and won five World Championships and five World Masters titles. In the 1980s, Bristow's skill and personality helped turn darts into a worldwide spectator sport. In 1993, Bristow was one of sixteen top players who broke away from the British Darts Organisation to form their own organisation, which became the Professional Darts Corporation. He retired from competitive darts in 2007 and now works as a commentator and pundit on Sky Sports' darts coverage.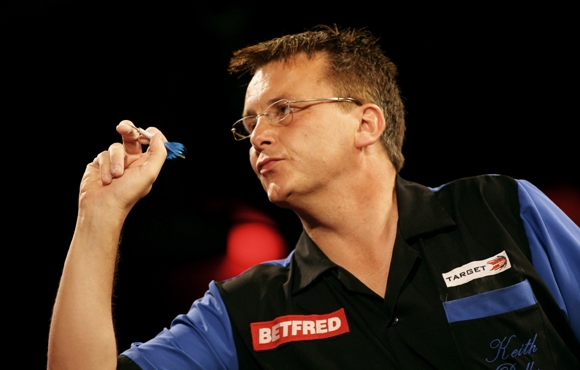 Keith Deller - an English darts player who won the Embassy World Professional Darts Championship in 1983. He was the first qualifier ever to win the championship and remains one of the youngest champions in history. For his world championship win, Deller used 18-gram spring-loaded darts, later banned for tournament play but now legal again. He no longer uses these darts. Deller is the manager of two-time PDC World Champion Adrian Lewis. Keith is also the reigning Norwich Charity Darts Masters 2015 Champion.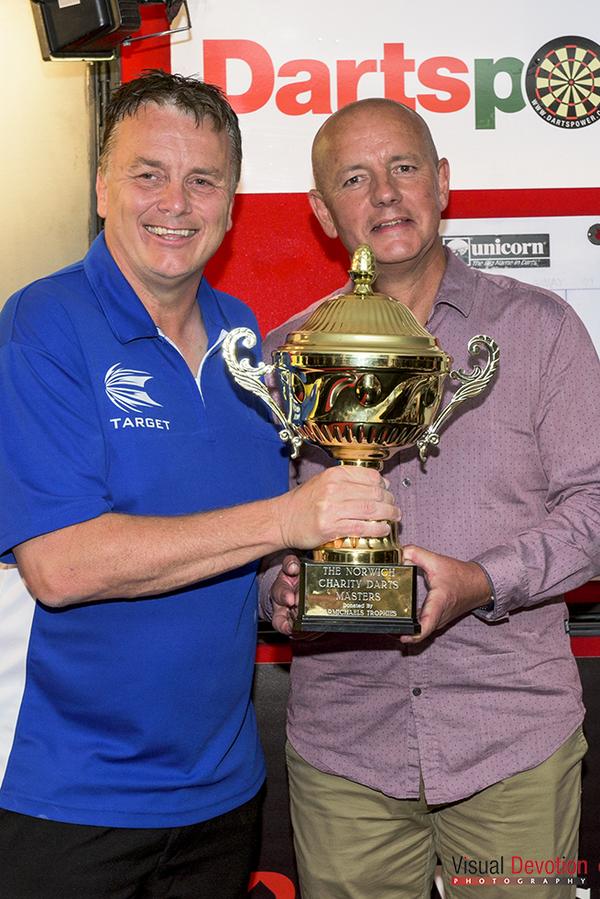 No big stage darts match play tournament would be without the following officials who will be the referee and MC on the night.
Russ Bray - a darts referee who works for the Professional Darts Corporation. He is considered by most to be the best darts referee in the world. He is also known as The Voice, due to his unique style of calling and his raspy voice.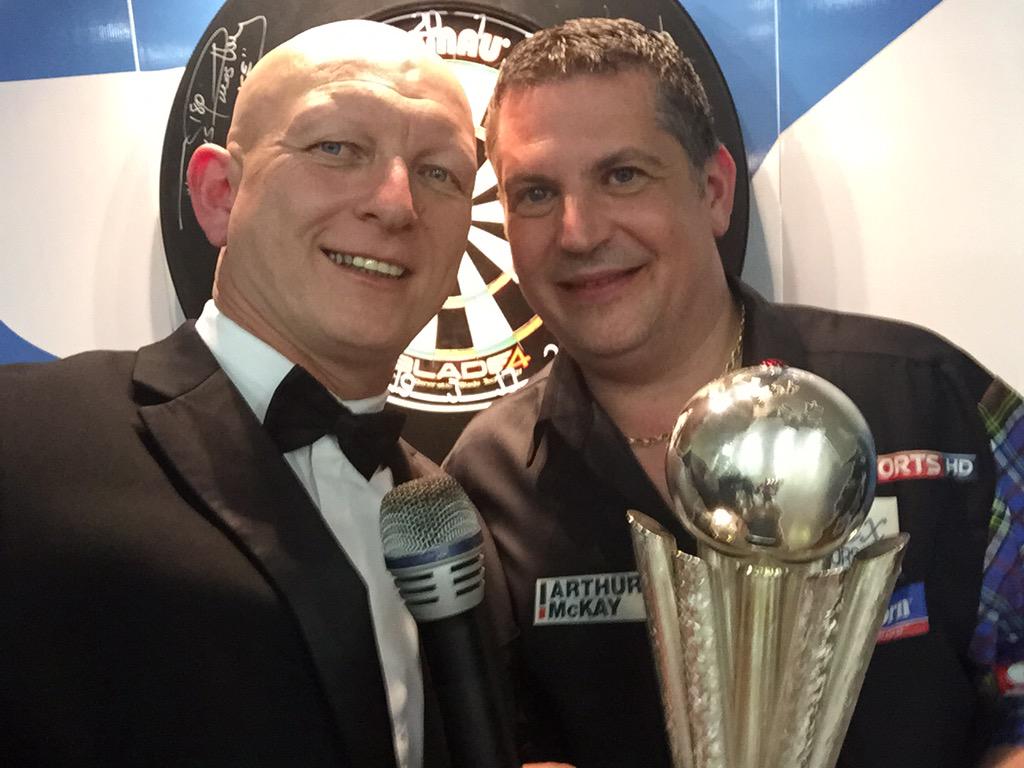 Paul Booth - Paul has appeared as MC on Channel 5 for all the LIVE Boxing events this year, the only UK Boxing MC on terrestrial TV, and established himself as one of the UK's top all round MC's, involved in both radio and TV for over 20 years.
Quite simply not an event to be missed, and early purchase of tickets is advised as this event is expected to be a sell-out. So don't delay and purchase your tickets for the Norwich Masters Darts Tournament 2016 today.
Organiser of Norwich Masters of Darts 2016
Amber Dew Events is a dynamic event management company delivering bespoke events and unique experiences for sports fanatics, enthusiasts, amateurs and novices across Norfolk, East Anglia and beyond.
Featuring a range of sports, including darts, snooker, cycling, white water rafting, rowing and beach volleyball, we create professional sporting events, designed to engage your audience, challenge your competitors and most of all inspire all who take part.
For anything from corporate entertaining to fundraising, individual pursuits and challenges to team building, we can work with you to create a truly exclusive and inspirational event. With our professional connections and contacts in the world of sport, we also offer unique opportunities to include sporting legends, medallists, Olympians and icons at your event.