Description

Norwich Sewcials have a very special Super Sew Day in store for you on the 8th of September.
This is a Sew Day with a difference and you really are in for a treat this time, celebrating 2 years of Norwich Sewcials.
We have The Willow Centre booked for you lovely people from 10:30am - 5pm to enjoy the luxury of a full day sewing, chatting and creating. Everyone is welcome on this day - from complete beginner wanting to get started (we can give you a bit of 1:1) to seasoned professional, join in and meet like-minded people who just love to sew!
We have the usual tea and biscuits for you on arrival with a fantatstic goody bag to greet you donated very generously by our sponsers. What a goody bag it is as well! We'll not ruin the surprise but check out the sponsors below and you'll get an idea of what is in store! We have been so lucky with regard to sponsorship for this event and the bags have been packed with treats just for you!!
We'll also be hosting a huge pattern and fabric stash swap. Don't forget to bring all your unwanted sewing goodies - one man's trash is another man's treasure and all that!
(Please note anything in the stash swap is a free for all - people can leave/take as much as they like so be sure you're happy to donate your items!) Take what you want as at the end of the swap we'll be donating the remains to charity.

During the afternoon we'll hold a super sew raffle which contains lots of fabulous prizes. You really don't want to miss out on this one we assure you! See below for details of our sponsors who have provided some amazing prizes. Automatic entry into the raffle is included in the ticket price. This will be accompanied with afternoon tea/coffee and cake break!
The day will go a little like this:
Itinerary
10.15am – Arrival and set up. Refreshments available while you settle in
10:30am – Morning intro, goody bags and the start of sewing!
12:30pm – Lunch. Please bring a packed lunch. It's time to mingle as we have the swaps table and hundreds of patterns for you to take home!
More sewing!
2:30pm – We will be providing you all with an afternoon tea and cake break! (Gluten free options available) We'll also be announcing the winner of the super sew day raffle!!
Moooorrreee sewing!
4:45pm – Pack up for leaving time of 5pm
We'll also be holding a Sweater/ Cardigan sew along on the day for any of you who have ever fancied trying a Toaster or building a Blackwood but haven't got around to it, bring it along and join in! (Other jumper/cardigan patterns are also welcome of course).
Over-lockers will be available if you wanted to try one with Pippa on hand to point you in the right direction should you need it.

The cost is £30 to cover the expenses/rental of the day and we hope you will enjoy joining in the sewing fun! Pippa (the sewing oracle and tuition master) and Emma (the concierge and coordinator) will be on hand for assistance and any needs you may have. If there are any techniques you would like us to demonstrate just let us know!
You will need to bring your own sewing machine and a basic sewing kit (scissors, chalk, thread, fabric and your desired pattern or project etc however there will be much haberdashery you can borrow if needed and the stash table is full of spare fabric). There are a couple of tables for cutting out, however we would recommend that you come with your pattern pieces pre-cut so you get a chance to actually make something and have room to manouevre!
Please do share this event with anyone you feel may be interested as we'd love to have a full house to make this event special.
Places are limited to 18 so grab your ticket now!
Xx
This event has kindly been sponsored by the following businesses, a huge thanks to them for your goody bags and prizes!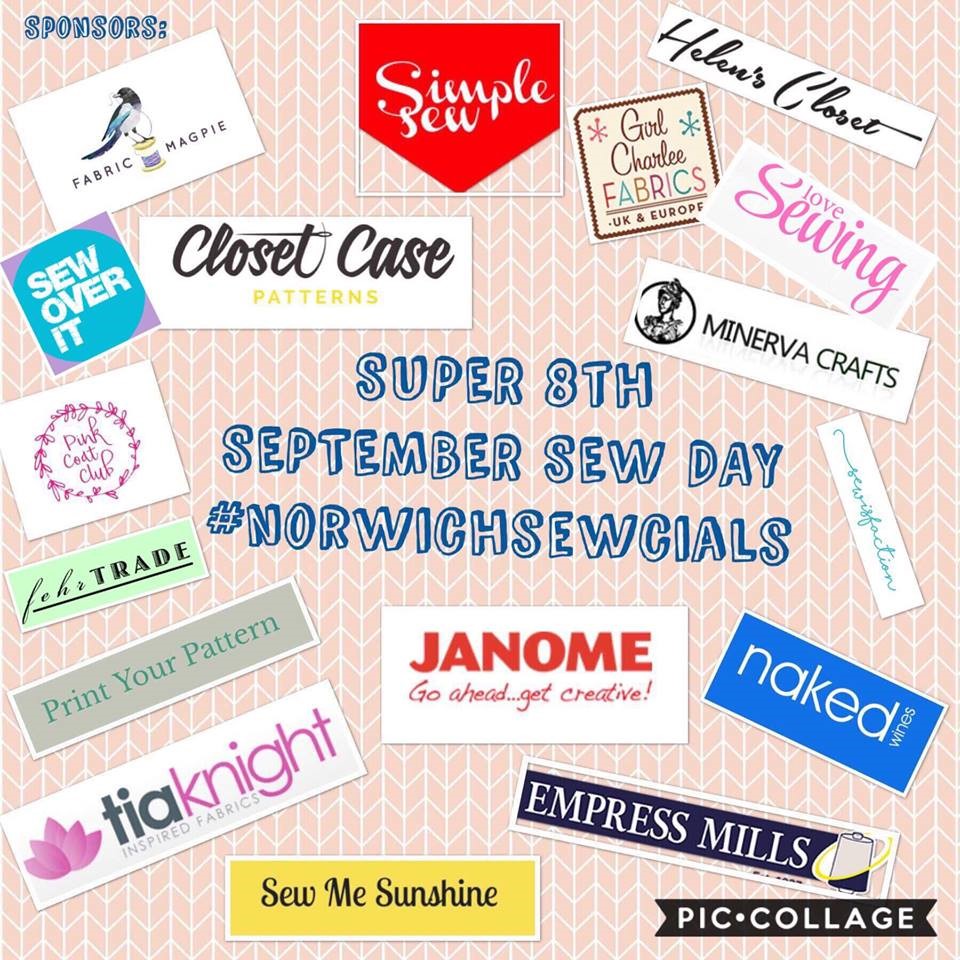 Tickets will not be refunded if cancelled less than 7 days before the Sew Day. They may however be transfered to a friend but we need notification to add the correct name to the list.