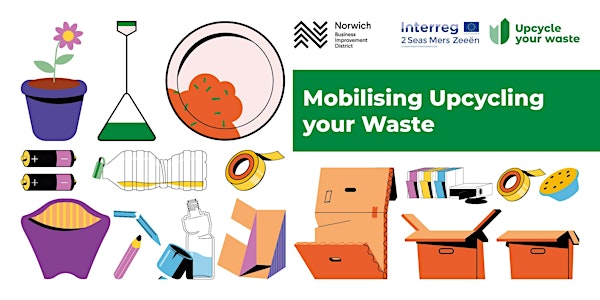 Norwich Upcycling Exchange | Soft Launch
Do you want to help transform rubbish into something valuable or useful? We want to hear from you!
About this event
The Norwich Upcycling Exchange connects SMEs to waste users, so everyday rubbish can be transformed into something new, without causing any more damage to the planet. So if you're a business with a bin, or a waste processor who's keen to explore the potential of upcycling or extend your networks, come along to find out more.
At this event, you can share your ideas, and hear more about how the Norwich Upcycling Exchange will work: from the practicalities to the ambitions of the project. You'll help to design what the Upcycling Exchange will look like, and be part of a greener future for the city.
We want to hear your ideas, and tell you more about the project and how you can get involved.
Interested? Thought so. You can find out more at https://www.norwichbid.co.uk/what-we-do/voice-for-business/upcycle-your-waste/ and sign up to get involved at https://edale.app/upcycle-your-waste/#uyw
The Norwich Upcycling Exchange is a Norwich Business Improvement District (BID) project, funded by the EU as part of Interreg 2 Seas.