Description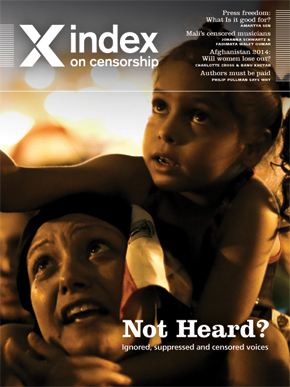 Rachael Jolley, editor, and Natasha Schmidt, deputy editor, invite you to the launch of the autumn edition of Index on Censorship magazine.


Featuring Sarah Brown and Helen Lewis in conversation.


Join us in the heart of an inner London community to launch the latest edition of the magazine with its special report spotlighting supressed, ignored and censored voices from around the world including contributions from Philip Pullman, Peter Kellner and Amartya Sen.


Hear Sarah Brown in conversation with Helen Lewis, catch an exclusive preview of They Will Have To Kill Us First the upcoming documentary from award-winning film-maker Johanna Schwartz, and see Wail Gzoly's startling Egyptian street photography.



Spirited debate, invigorating art and a drinks reception at Lilian Baylis, a brilliant comprehensive school in the shadows of Westminster.
@IndexEvents - #notheard
Organiser of Not Heard? Sarah Brown in conversation with Helen Lewis (New Statesman)

Index on Censorship is a nonprofit that campaigns for and defends free expression worldwide. We publish work by censored writers and artists, promote debate, and monitor threats to free speech.
We believe that everyone should be free to express themselves without fear of harm or persecution – no matter what their views.
Index's aim is to raise awareness about threats to free expression and the value of free speech as the first step to tackling censorship.
Index relies entirely on the support of donors and readers to do our work.