"Not Ride London" - Ride Dorset cycle challenge
Description
Rejected by the Ride London ballot (again!)?
Then why not muster your local cycling group and join the Not Ride London - Ride Dorset Cycle Challenge on the same day? All in support of Julia's House childrens hospices.
Our aim is to organise a FREE to enter and fun, yet nonetheless challenging ride through the stunning Dorset countryside for local club riders, social cycling groups and like-minded cycling enthusiasts. The routes are intended to be challenging enough to be interesting, but not so insanely brutal that everyone is in bits at the end!
With a choice of 50 or 100 mile routes, Ride Dorset is the perfect alternative for those of us who now find ourselves with a free weekend in July, having not been lucky enough to get a place in this year's Ride London/Surrey 100 ballot.
There's also a shorter family ride along the Castleman Trail of around 10 miles for those who would like to take part in a more "relaxed" way!
Entry is completely FREE - all we ask is that entrants make a donation to Julia's House, which you can do on our Just Giving page here.
Why?
The ride is being organised by Chris Davis and Ben Salvia, who later this summer will be taking on the Julia's House Bournemouth to Paris Cycle Challenge.
Rather than ask our friends and family for sponsorship, we'd rather you get something in return for your kind donations. So we're simply asking for a modest donation (as much or as little as you like) in return for FREE entry to the Ride Dorset Cycle Challenge.
So if you've not made Ride London (either by choice or otherwise!) we'd love you to join us on 30th July and would really appreciate you making a donation towards Julia's House.
We're paying our own way to Paris, so 100% of the donations we receive will go to directly to Julia's House to support the amazing work they do to support life-limited childern and their families.
About Julia's House
Julia's House cares for life-limited and life-threatened children in Dorset and South Wiltshire. Unfortunately the majority of these children are not expected to live into adulthood. Julia's House provides families with respite in their own homes and at Julia's House, Dorset's Children's Hospice.
I urge you to take a look at the Julia's House website to find out more about the wonderful care and support this amazing charity provides to families in Dorset.
Sadly Julia's House receives just 5% of its annual funding from the Government, making it one of the least-supported hospices in the UK and reliant on donations and fundraising to be able to carry on providing the important services it offers to terminally ill children and their families.
The Ride Dorset Routes
Starting from the Merley Community Centre, riders will visit some of Dorset's most breathtaking (literally!) views and prettiest villages. Participants in both the 50 and 100 mile courses will share the same route for the first 40 miles or so.
Heading out of Wimborne towards the western edge of the New Forest, riders will cross the Avon Causeway and then on quiet country roads head towards Ringwood and then Harbridge. From here the route becomes a little more lumpy with one or two testing climbs as it heads toward Alderholt, Verwood, Horton and Witchampton.
42 miles in, and shortly after the climb towards Tarrant Rawston, the routes split. 50 mile riders will head back along Mill Lane and Cowgrove Road towards Wimborne for a well-earned cup of tea and slice of cake, having completed around 2000ft of climbing.
The 100 milers on the other hand will take a right turn and head into Blandford before tackling the major climb of the day to Dorset's highest point – Bulbarrow. After taking in the stunning views of the Blackmore Vale, riders will head to Stoke Wake and then turn south through some of Dorset's prettiest rural villages, on to Milborne St Andrew and then Puddletown, Moreton and Wool, before heading back to Wimborne via Wareham. 100 miles in total, with 5500ft of pointing uphill.
The 10 mile route will take place later in the day and will be predominantly off road along the Castleman Trailway, looping from the Merley Community Centre via Broadstone.
Full details of the event and routes can be found below, or on our facebook page.

Ride Dorset 50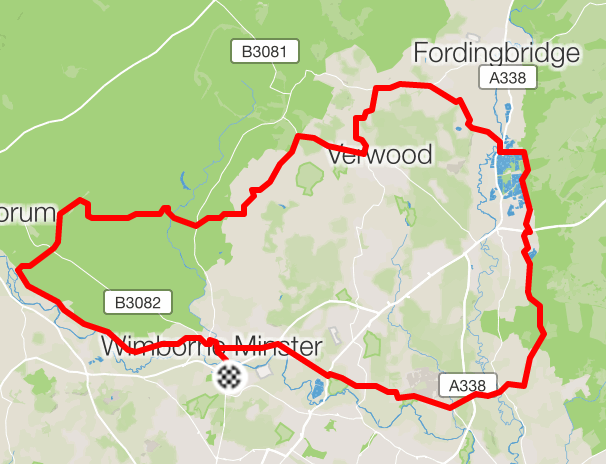 Download GPX file here
Ride Dorset 100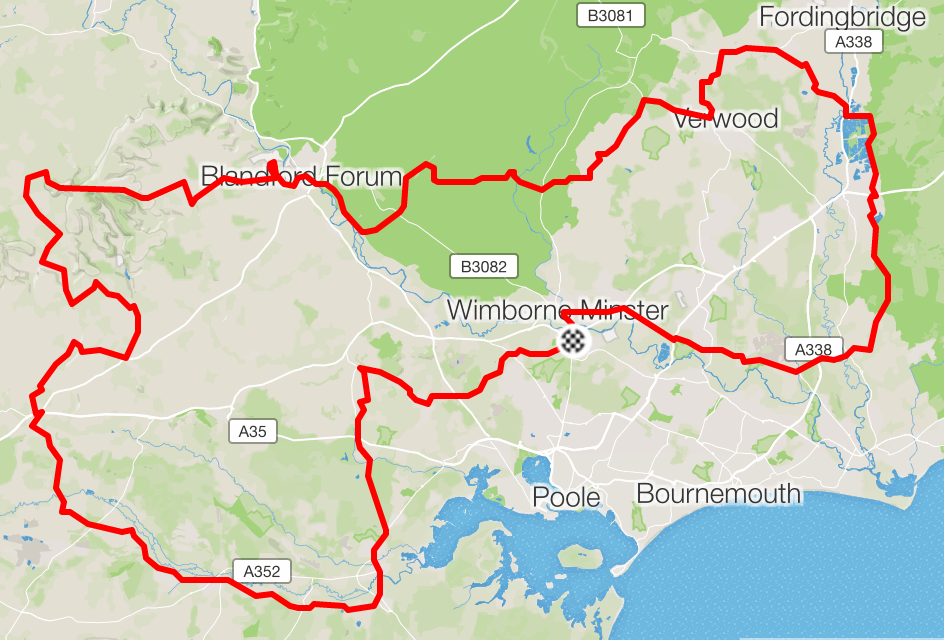 Download GPX file here
FAQs
What are the organisation arrangements for the event?
Depart time - 100 mile riders: 0830
Depart time - 50 mile riders: 0900
Depart time - 10 mile family ride: 1400
All riders should sign in at the Merley Community Centre ahead of the ride. Riders can take as long as they like to complete the course.
Rides will conclude at the Merley Community Centre where refreshments will be available.
Are there minimum age requirements to enter the event?
There is no minimum age restriction to enter, although all riders should be aware that they enter the event at their own risk. Riders under 16 should be accompanied by a responsible adult (18+).
All riders are encouraged to wear a helmet.
What else do I need to know about the event?
The 50 and 100 mile rides are intended for riders who have experience of riding in social or club groups and are comfortable navigating their own way around a pre-planned route.
Course maps and direction sheets will be available on the day and for download ahead of the event. We will also make an electronic GPX file available for those using Garmins and other GPS devices.
This will be an "Audax" style event, i.e., requiring riders to navigate thieir own way around the course. It will not be sign posted or marshalled, so riders are responsible for their own route keeping, timing and safety. The course will be on public roads, athough has been planned to take place on quieter roads wherever possible. That said, this is not a closed road event and riders should take care at all times and abide by the highway code.
By agreeing to join the ride, riders agree to accept responsibility for their own safety and well-being.
We hope that riders will ride together in their regular social groups and enjoy a relaxed and fun day out.
This is not a race!
It is our intention to provide a ride leader/marshal for the 10 mile family event. Children under the age of 16 should be accompanied by an adult. This route will take place mainly off-road on the Castleman Trail.
What are my transport/parking options for getting to and from the event?
There is ample free parking at the Merley Community Centre for those arriving by car.
Do I have to bring my printed ticket to the event?
No, we simply ask that you register on arrival and provide a contact number, so we have an idea of who is taking part in the event.
Is it ok if the name on my ticket or registration doesn't match the person who attends?
Yes of course. Entry is free. We'd simply ask you to make a donation to Julia's House if you are taking part in the ride. You can make this on the day or in advance on our Just Giving page.
Will there be pre-arranged feed-stations on the ride?
This will depend to some degree on how many volunteers we can arrange to help support the event. We hope to arrange a feed station at around the 30 mile point, before the route splits. This will provide opportunity for water bottle refils and the usual quick snack.
Of course, riders will have the opportunity to stop for a sociable coffee/cake stop at any number of local coffee-shops along the route. In particular those taking on the 100 mile challenge who are likely to need a second stop will need to make their own arrangements. A list of possible stop points will be listed on the facebook page nearer the time.
Please note that our aim here is to raise money for charity, so we are attempting to keep the costs of organising this event to a minimum. Hopefully riders will appreciate that.
Refreshments will be available to purchase at the end of the ride at the Merley Community Centre (all funds raised will also be donated to Julia's House).
How can I keep up to date with news and arrangement updates relating to the event?
Please register with the event Facebook page

All updates, including the route information, will be posted here.
We will also be emailing final details to all registered riders 2-3 weeks before the event.