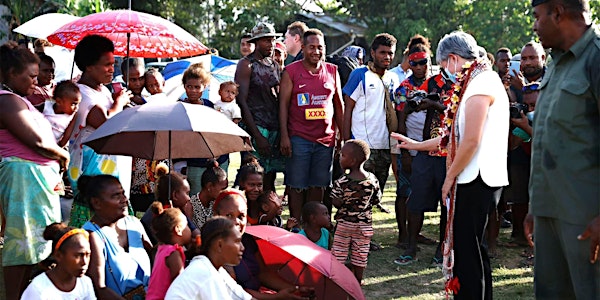 Not your backyard: Seeing Australia from Solomon Islands
Sales Have Ended
Registrations are closed
Registrations for this event have now closed. If you still want to join the webinar, please use below link and password. Webinar link: https://unimelb.zoom.us/j/88470770332?pwd=r9A71Og807Ll45xFdjsl1WuxkFsVeg.1 Meeting ID: : 884 7077 0332 Password: ssps2
Sign up to hear how Australia's engagements in Solomon Islands have been experienced by Solomon Islanders.
About this event
Earlier this year, a security pact between Solomon Islands and China reactivated patronizing discourses that frame the Pacific as Australia's backyard. With a new government in Canberra pledging to move beyond geopolitical manoeuvring and listen to the concerns of its Pacific neighbours, this panel reflects on how Australia's engagements in Solomon Islands have been experienced by Solomon Islanders. What lessons should have been learned by a multi-billion-dollar, fifteen-year Australian-led intervention mission? What challenges are Pacific journalists facing as they report on issues of regional and global significance? How have Australian policies shaped political possibilities in Solomon Islands and for Solomon Islanders in Australia?
Speakers
Hunhak Matt Gale - Former Teaching Principal in the Northern Territory
Matt Gale has completed a Master of Education and a Master of TESOL degree at the Melbourne Graduate School of Education. A former President of Solomon Islands Victoria Association, for fifteen years he has taught at outstations in Remote Aboriginal Communities in the West Daly region in the Northern Territory. Matt also writes prose and poetry.
Tarcisius Tara Kabutaulaka - Associate Professor, Center for Pacific Islands Studies, University of Hawai'i at Mānoa
Tarcisius Kabutaulaka is a political scientist who has published extensively on the Solomon Islands civil unrest and the Australian-led regional intervention, the forestry industry in Solomon Islands, China in Oceania, and on governance issues in the Pacific Islands.
Debra McDougall - Senior Lecturer in Anthropology, School of Social and Political Sciences, University of Melbourne
Over two decades, Debra McDougall has written about dynamics of community making in Australia's near neighbour, Solomon Islands. She is the author of Engaging with Strangers: Love and Violence in the Rural Solomon Islands (2016).
Dorothy Wickham - Founder and editor of Melanesian News Network and Member of the Media Association of Solomon Islands
Journalist Dorothy Wickham has been reporting from Solomon Islands for more than 35 years, with frequent media interviews on the ABC and contributions to The Guardian Australia.
Dean Wickham - Adjunct Research Fellow, Anthropology, Latrobe University
Dean Wickham is Honorary Consul of Solomon Islands in Victoria, and former Executive Officer of Sunraysia Mallee Ethnic Communities Council (SMECC) and was a Partner Investigator on a project led by Professor Helen Lee focused on Pacific Islanders in regional Victoria.
Jo Chandler (Moderator) - Senior Lecturer in Journalism, School of Culture and Communication, University of Melbourne
Jo Chandler is an award-winning freelance journalist, author, editor, and journalism educator, with a particular focus on the Pacific. Her focus is on explanatory, boots-on-the-ground reporting across a diverse range of topics: climate; science; environment; health; human rights; women's and children's issues; aid and development.