A quiz night on everything Nottinghill Carnival & Caribbean Culture
About this event
Notting Hill Carnival Thursday Quiz Night
Carnival 20202 will be weird this year. No parade, no costumes, no rum, no street parties, we could go on. What better time to try something new and get in the mood for the Nottinghill Carnival weekend, whatever you have planned.
Join us as we test your carnival knowledge, feel free to don your carnival wear - costume or ,mas band t-shirt. Represent your country and sip on your favourite rum whilst answering the questions.
Cash Prizes
Invite your fellow carnival lovers to play, the more donations received, the bigger the cash prize!
The Zoom waiting room opens at 8.30pm | Quiz starts at 9.00pm sharp!
Essential Items:
You will need 2 devices to take part in this quiz;
1. Laptop/Desktop - to log into zoom to see the questions
2. Smartphone - to answer the questions
Donations
We appreciate that this is a difficult time for everyone financially. However, planning and executing high quality online experiences, requires us to invest a substantial amount of our personal time, effort and expenses.
All of our quizzes will now require a donation, no matter how small, 100% of which we re-invest back into the business, enabling us to continue to provide bigger and better events during lock down and beyond.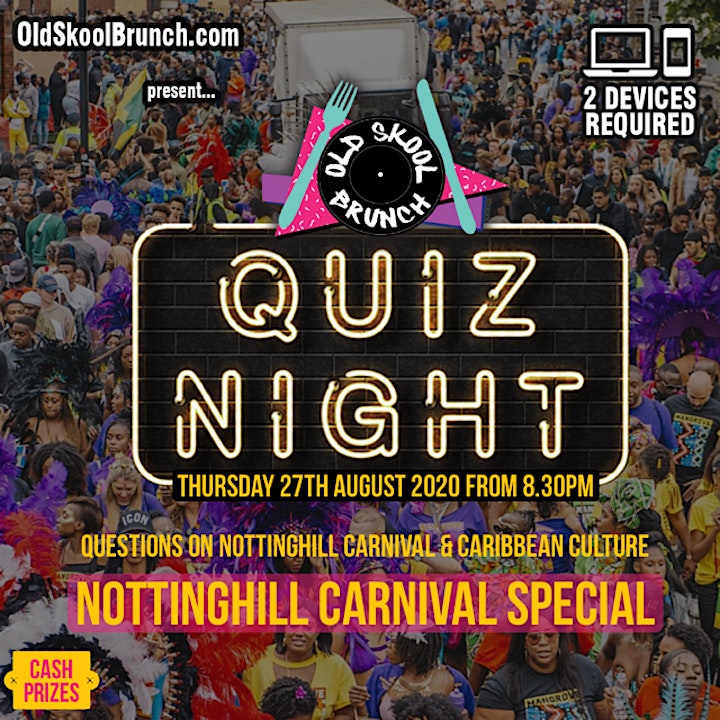 Organiser of Notting Hill Carnival Thursday Night Quiz