Nottingham Good Food Partnership 6 Key Issue Spring 2019 Workshop
Description
Hello there,
You are cordially invited to attend the Spring Nottingham Good Food Partnership Key Issue Themes Workshop on Thursday 18th April 12-3pm and to join us for a delicious lunch made from surplus food and locally gleaned veg.
Please arrive to register at 11.45am.
Nottingham Good Food Partnership (NGFP) is a Sustainable Food Cities Network member and has been set up to provide the
hub
for everything concerning local food in Nottingham and to drive forward the transformation of our local food system. The role of NGFP is to facilitate, enable, communicate and empower Nottingham's local food. We invite you to come along and join the discussion and learn about the vision, mission and aims of NGFP and about what we have been up to since the Autumn get together. NGFP is drvien by the Sustainable Food Cities 6 Key Issues framework
The 6 key issues we work to address are detailed in the Food Charter below which we ask you to sign up to www.nottinghamgoodfoodpartnership@gmail.com/charter (if you haven't already) before joining up this event: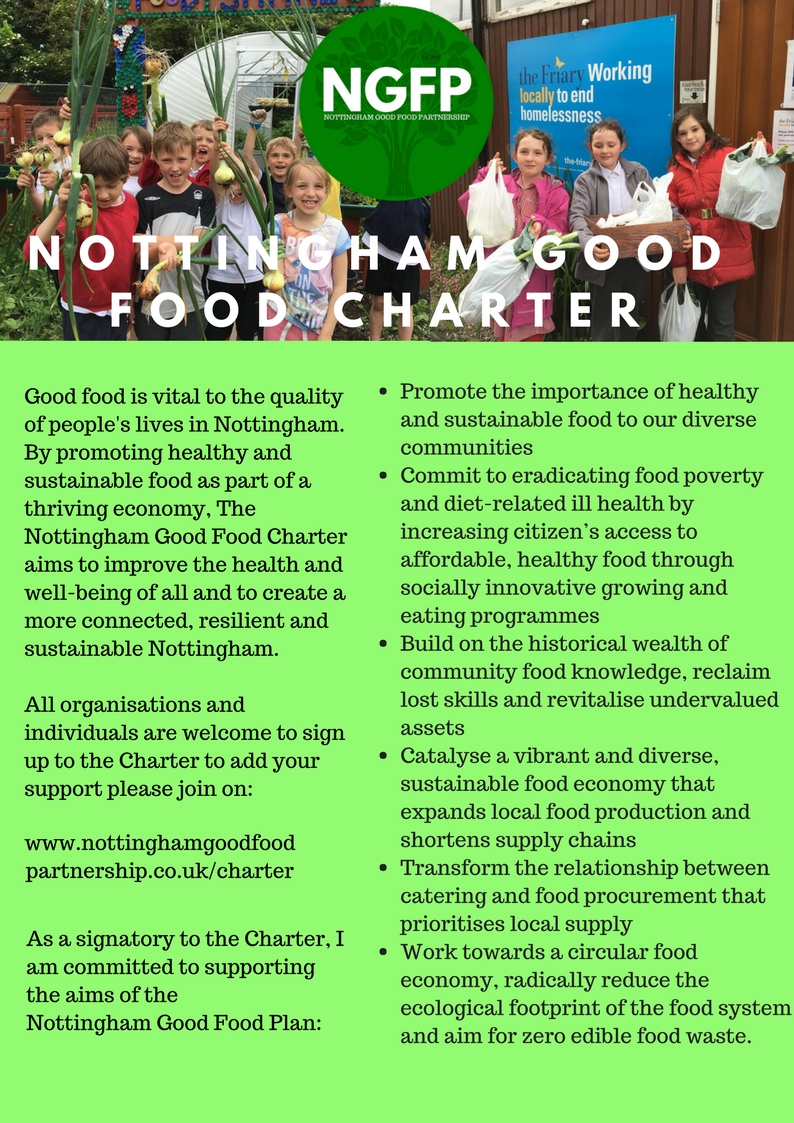 The focus of this event, folloiwng the NGFP round up will be on one particular key area:
In small groups we will be asking for YOUR input into planning the design and content of a City-wide Summer Good Food Festival for Nottingham that incorptates ideas across each of the 6 key issues.
There will also be opportuntiy to contribute to the City Council Design Quality Framework: Design Guide for Good Living Planning Document.
Many of our invitees have already expressed an interest in joining one of the vital key theme groups, to provide their knowledge, experience and ideas in shaping Nottingham's sustainable food future, we hope you will join us too.
Tickets are limited to 50 for this FREE event with hot lunch prepared by Super Kitchen venue, The Growing Spaces, Community Kitchen which is run by social cook, Steve Doig.
Would you do us a small favour? Please LIKE our facebook page Nottingham Good Food Partnership and share it with your friends and family.
Nottingham Good Food Partnership Team