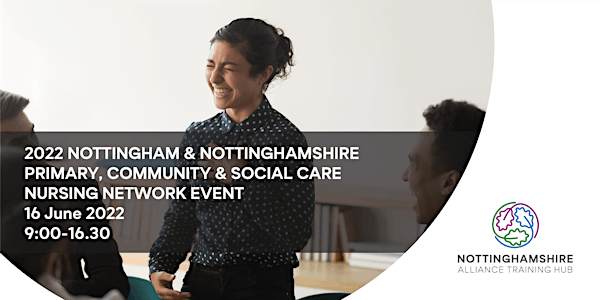 Nottingham & Nottinghamshire Primary, Community & Social Care Nursing Event
Location
Goosedale
Goosedale Lane
Papplewick
NG6 8UJ
United Kingdom
Sales Have Ended
Registrations are closed
Please feel free to join the wait list for the event. Please use your NHS email addresses where possible, though not mandatory as priority to release additional tickets may go to those that have registered with an NHS address.
Join us to celebrate the Primary, Community and Social Care Nurses in Nottingham and Nottinghamshire at this in person event.
About this event

This free event is for nursing staff working in Nottingham & Nottinghamshire.
We are delighted to invite you to the 2022 Nottingham & Nottinghamshire Primary, Social Care & Community Nursing Network Event
This event will be a great opportunity for you to listen to some fantastic speakers and network with fellow nurses.
Join us at Goosedale in the Ivory Suite. Upon arrival you will welcomed by the NATH events team and there will be pastries with tea/coffee to sustain you through the morning session.
Aim of this Event
We want people to attend this event to celebrate nursing. This event was previously going to run in 2020 to celebrate 200 years of Nursing but was postponed due to COVID-19.
Target Audience
This Conference is for those in the nursing workforce (including trainee nursing associates, nursing associates and health care support workers) working in primary, social care & community.
Programme
We are delighted to announce that Rosa Waddingham, Nottinghamshire CCG/ICS Chief Nurse, will be joining us on the day as Keynote speaker.
Topics on the day will include:
CARE Overview
Practice Nurse, showcase of strategy and work to date.
Social Care nursing workforce with an overview of programme and work to date
Showcase of CARE project
Restorative Clinical Support
Nurse Focus session on current PHM targets, QI and networking'
Time table of the day (subject to change)
9:00 - Sign in
9:30 - Welcome
10:15 -10:35 - Practice nurse showcase of strategy and work to date with Gemma Bird and Anna Davis.
10:35 -10:50 - Innovation in nursing homes with Anita Astle
10:50 -11:05 - Developing social care nurses with Nicola Payne, Ros Heath & Anita Astle
11:25 - 11:45 - ACP – showcase of work to date with Rubby Legbedze & Kate Knowles
11:00 -11:20 - Coffee Break
12:00 -12:20 Restorative clinical supervision with Gemma Bird
12:20 -13:20 - Lunch
13:20 -13:40 - Overview of CARE with Vikki Bedow
13:40 -14:00 - Showcase of CARE project- primary & community care
14:20 -14:40 - Coffee Break
14:45-15:45 - Quality Improvement PCN Targets
15:45-16:00 - Close and Evaluations
Speaker Profiles
Rosa is the Nottingham and Nottinghamshire CCG/ICS Chief Nurse, supporting the development of a forward-leaning integrated care system. She has had a varied career and worked in a variety of settings and in a 3rd sector charity working with the military across the world. Following a return to the UK in 2015, she has had held a number of roles within the Nottinghamshire system with a focus on achieving quality through partnerships, developing and embedding person-centred care approaches and system leadership.
Rosa has led the development of personalised care through the Nottingham and Nottinghamshire early adopter programme, putting people at the heart of the system supporting link workers, community development and embedding of personal health budgets, with a focus on the survivors of sexual violence. Rosa is also a passionate supporter of equality and the LGBTQ+ Exec Champion, as well as working to support and empower young women as the leader of a number of units in Girl Guiding UK.
Registration Deadline
9 June 2022 at 23.30
Please register with your nhs.net email where possible. If the event is oversubscribed, priority may be given to those who have registered with NHS addresses.
You will receive a certificate for your attendance. Please allow two weeks for this to be delivered to your inbox. We would advise checking your junk mail before contacting NATH for your certificate at alliance.hub1@nhs.net
Cancellation Policy
If you cancel with more than 5 working days' notice, there will be no charge. If you cancel within 5 working days and we cannot fill the space, then you/your organisation will still be charged. If you do not attend then you/your organisation will be charged. If you are leaving your organisation or you have a member of staff due to leave and you/they are booked onto a chargeable course with us, it is the organisations responsibility to inform NATH of this. This is to ensure that you/they are removed from any chargeable course with more than 5 working days before the event date and therefore will not incur any costs. If you/they are removed within 5 working days of the chargeable course then the cost of the place will be chargeable to the organisation.