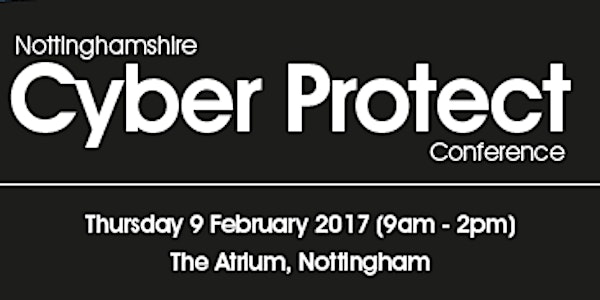 Nottinghamshire Cyber Protect Conference
Location
The Atrium
99 Hucknall Road
Carrington
Nottingham
NG5 1QZ
United Kingdom
Description
Nottinghamshire Police and Crime Commissioner, Paddy Tipping, is hosting the first Cyber Protect Conference for Nottinghamshire SMEs. We are inviting any Nottinghamshire based SMEs to register for the event which provides an opportunity to:
Understand threats and risks to your business
Develop your knowledge around cyber crime issues
Network with professionals from other SMEs
Network with product and service providers
A free lunch will be provided to all pre-registered delegates.
Did you know?
80% of cyber crime is preventable
Cost to UK business each year is over £1 billion
Your staff are often the weak link
Anyone using the internet is at risk
Cyber crime is carried out by people against people
Programme
0900 – Arrival / Reception Refreshments / Networking
0930 – Opening by PCC
0940 – Simon Connolly, CCL Solutions Group - Cyber Landscape
1020 – Dr Lee Hadlington, De Montford University - Social Engineering Risks
1100 – 1120 – break / refreshments / networking
1120 – Damian Walton, Intaforensics - Live Hack demonstration
1200 – Stuart Green, SJG Digital - The Solution and Cyber Essentials
1240 – Panel Q&A Session
1300 - Closing and invite to lunch and networking by PCC
Feedback will be sought from delegates to help develop and improve future events.
Speakers
Simon Connolly CCL Solutions Group is a leading Digital Forensics, e-Disclosure, Cyber Security and IT Consultancy services provider. Simon joined CCL in 2014, providing help and support to the corporate market in the full range of CCL services. Simon has over 25 years as an IT professional, working with companies ranging from FTSE 250 to SME's.
Dr Lee Hadlington PhD FHEA CPsychol AFBPsS - Senior Lecturer in Cognitive Psychology and Chartered Psychologist - Founder Member of the Psychology and Technology Research Group
Dr Lee Hadlington is a Chartered Psychologist as well as a Senior Lecturer in Cyberpsychology at De Montfort University, Leicester. His research covers a variety of areas included under the banner of Cyberpsychology. Lee¹s current areas of interest focus on (but are not limited to) Insider Threats; Human factors in the context of Cybercrime and Cybersecurity; Exploring how digital technology is impacting human cognitive processes; the impact of ŒSMART technology on human interaction; Perceptions of risk in the online digital environment.
Damian Walton, Director of Professional Services at IntaForensics, with responsibility for the delivery
of cyber security and incident response and PCI DSS investigations and audits. He holds a PgDip in Forensic Computing from Cranfield University and has also achieved EnCE certified examiner, CFIA and CSTA qualifications. He is a member of the British Computer Society.
Damian joined IntaForensics from Visa Europe where he led the Data Compromise Management Team. He had responsibility for the overall management of data compromise incidents involving Visa payment card data, identification of emerging threats and the provision of quality intelligence. Damian worked closely with a number of Visa Europe and Visa Inc. teams, issuing and acquiring members and the PFI/QSA community to assist and support investigations into data breach attacks. He was responsible for creating and implementing strategies to ensure compliance with PCI DSS requirements and, where necessary, applying appropriate sanctions for breaches of Visa Europe's Operating Regulations. Damian is regularly invited to deliver keynote presentations at industry events.
Stuart Green is the driving force behind SJG Digital, one of the most active cyber-security specialists in the UK, helping organisations throughout the country develop their defences against cyber attack. Stuart and his team have backgrounds that originate in the MoD and they now provide a unique and highly specialised skill set to their customer base. With GCHQ-backed certifications such as CESG Certified Professional, Stuart and his team spend a lot of their time providing specialist hardware and advice to organisations of all sizes all over the UK as they adopt the Government's Cyber Essentials and Cyber Essentials Plus certifications.