Novel Forms and New Materials

Friday, June 22, 2012 at 4:00 PM (BST)
Event Details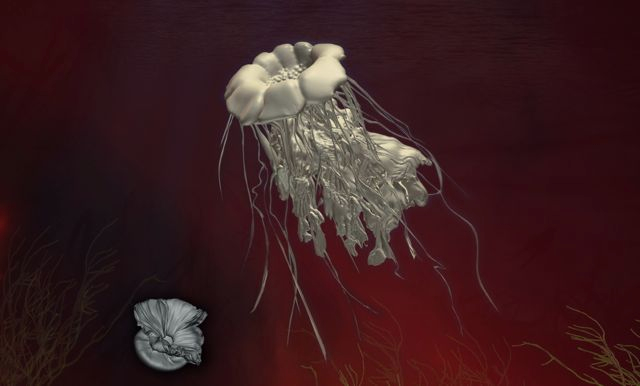 Melanie Jackson, Towards A New Working Class: The Glaucous Aquatic Gleam, Digitally generated objects from The Urpflanze (Part 2), 2012
Novel Forms & New Materialities
'Novel Forms & New Materialities' explores the radical transformations to our material world provoked by contemporary science and technology. It asks how engagement with new forms and modes of material performance promises to conjure into existence unseen materialities, narratives and possibilities. An evening of presentations, film extracts and discussion follows an afternoon creative writing workshop. Please book tickets separately for afternoon workshop and evening talk.

Afternoon writing workshop 4-6pm
'Using Biological Themes to Engineer New Fiction', with Rachel Rodman

Rachel Rodman demonstrates how existing literary works can be recreated using techniques from molecular biology. In this workshop, we will explore metaphors comparing texts and organisms, and examine how "genetically" altered works can serve as starting points in the composition of new fiction. 
Limited places £8 (£5 students/unwaged). Early booking recommended.
Talk 7-9pm (bar opens 6.30pm)

Science writer Philip Ball sets the context and considers what cultural,sociological and scientific factors have enabled these technological advancements, and our changing relationship with materials in this new "invisible era". 
Artist Melanie Jackson and writer Esther Leslie have been collaborating on an investigation into the impulse for transformation and novel forms. Contemporary science re-imagines biological and chemical function as an engineering substrate, a complex fully programmable animate object, opening up a potential for us to "grow" any form. Goethe's idea of the Urpflanze - a primordial plant that contains within itself an infinity of potential forms – recurs startlingly in the present moment when matter, from the molecule up, is coerced to adopt fantastical forms and exhibit new behaviours. They will present readings and extracts from a forthcoming film essay and exhibition The Urpflanze (Part 2).
The event will be held on the first floor and there is no lift; please contact The Arts Catalyst to discuss any specific access needs.
When & Where

The Arts Catalyst

EC1M 5PS London
United Kingdom


Friday, June 22, 2012 at 4:00 PM (BST)
Add to my calendar
Organizer
The Arts Catalyst Republic of the Moon
The Arts Catalyst commissions contemporary art that experimentally and critically engages with science.  We produce provocative, playful, risk-taking artists' projects to spark dynamic conversations about our changing world. 
See our project archive and sign up for the international art and science e-bulletin at: www.artscatalyst.org
Novel Forms and New Materials