November CAKE Morning

Tuesday, November 25, 2014 from 10:00 AM to 12:00 PM (GMT)
Event Details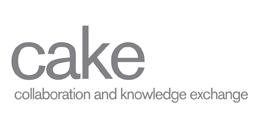 Tuesday 25th November
Mining the Archive
Dr Henry Chapman is Co-Director of the Digital Humanities Hub, University of Birmingham, which harnesses the power of digital technologies to enrich engagement and learning experiences in heritage and culture (2D and 3D data collection, analysis and visualisation for audiences, accessibility of content on multi-touch, multi-user tables and walls in public spaces, mobile devices, domestic, offsite, online settings).
He is a member of an AHRC-funded research network with Tate and the Edinburgh Fruitmarket Gallery, and he worked on the previous CATH project with the Swarm and GRAIN.
As PI on the AHRC-funded 'Digital CoPs and Robbers: Communities of Practice and the Transformation of Research' project he worked in collaboration with digital technology providers (We Are Caper and Substrakt) and arts organisations (the RSC and the Shakespeare Birthplace Trust) and created a Virtual Museum of 3D Ancient Egyptian Objects (JISC) Previous and current research areas focus on how cultural and heritage organisations can develop new distribution models for content through the digital exploitation of their archive content. By adding in a user-generated content and social media dimension, his research can explore how this provides new platforms and methods of dynamic and active participation and engagement.
In the context of digital media, the nature of archives in the 21st century is changing. For example, whilst photography archives continue to be curated by cultural organisations, living collections are also being actively produced by wider demographics and archived on the Internet through repositories such as Flickr. Together, these archives represent historical imagery, artists' photographs and public 'snaps'.
Two principal themes emerge. First is the continued intentional archiving of works by artists, professional and amateur photographers.  Second is the unprecedented ability to data mine digital archives to pursue the life-history of individuals (such as through geo-location of photographs) or to explore themes within these photographs through the use of metadata (e.g. weddings, cars, places).
Together, these themes present variations in the subject matter that can be accessed through the archive (from the exploration of an individual to the collation of photographs around a theme, such as a specific location). They also highlight considerable variation in terms of the intentionality behind the archiving of photography, arguably from the directly intentional (institutional) archiving of works by an artist, curator, archivist and other photographers, to the unintentional (audience) archive perhaps generated through uploading photographs to social networking sites. 
Digital Museum Labels – Cinderella's Glass Slipper
 Joseph Sivell from the Digital Humanities Hub will be talking about digital museum labels and some recent innovations.
"Labels are the Cinderella of the museum world, hardly discussed but doing much of the work, they represent much of the user experience for a visitor, delivering information, narrative and interpretation. The way they do that says a lot about a museum's intentions. They help set people's expectations for the rest of their visit, informing them of a museum's priorities and its ability to engage meaningfully with the public. It's surprising then that although the text of labels is emerging as an area which requires specialist communication skills, the medium through which they are delivered gets far less consideration. Museums have explored waves of innovation in almost every area over the last fifty years and yet object labels rarely deviate from little white squares of cardboard.
I will be looking at a few recent projects both in the UK and abroad where digital has started to change the face of museum object labels with insights into some of the benefits, problems and lessons learnt. From Stuffed Animals to Anglo Saxon treasure, museums galleries are trying on a range of new digital formats to find better fits for their object labels in the future. "
 Joseph Sivell is a Digital Creative Director who for nearly ten years led Educational Multimedia Unit at the British Museum. He has worked on digital and exhibition design projects for the Ashmolean Museum, The National Trust and various other institutions and is currently working on the Digital Heritage Demonstrator project at the University of Birmingham.
---
Given the wide and diverse range of academics, businesses, students and Heritage organisations working collaboratively on the DHD project, we will be hosting free monthly "cake" (Collaboration and Knowledge Exchange) mornings to showcase current developments, discuss funding opportunities and tackle current challenges. Plus - there will be cake!
You can access printable directions and a map by going to our University web page HERE .  

If you have any special requirements, please do not hesitate to get in touch at v.rouse@bham.ac.uk or by phone on 0121 414 9154.
If you would like to present or show a demonstration please contact Vanessa Rouse, Project Administator at v.rouse@bham.ac.uk or 0121 414 9154. 
---
For details of the January 2014 cake morning please click here
For details of the February 2014 cake morning please click here
For details of the March 2014 cake morning please click here
For details of the April 2014 cake morning please click here
For details of the May 2014 cake morning please click here
For details of the June 2014 cake morning please click here
For details of the July 2014 cake morning please click here
For details of the August 2014 cake morning please click here
For details of the September 2014 cake morning please click here
For details of the October 2014 cake morning please click here
---
The Digital Heritage Demonstrator Project is supported by: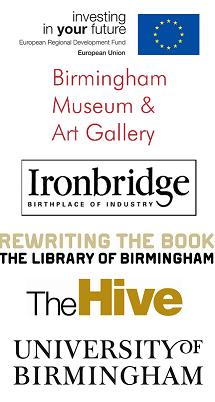 Attendee List
Sort by:

Date

|

First Name

|

Last Name
When & Where

Digital Humanities Hub
Chowen and Garfield Weston Foundation Prototyping Hall, Ground Floor, ERI Building
University of Birmingham, Pritchatts Road, Edgbaston
United Kingdom, B15 2TT


Tuesday, November 25, 2014 from 10:00 AM to 12:00 PM (GMT)
Add to my calendar