Description
Our One Day Novice Front Crawl Swim Analysis Clinic shows how and where you can improve your swim technique to refine your front crawl stroke.
Our coaching, with expert four point video analysis above and underwater, provides practical steps to help you swim with greater efficiency and speed.

We'll adapt your swim technique with our stroke analysis methods, and teach you cutting edge swim skills and drills from our Speedy Freestyle swim book.
In the Novice swim clinic we'll show you how to perform drills so you can breathe easier, reduce drag, kick better, stay higher and become more balanced and streamlined in the water, whilst building your fitness. In essence you'll become a Speedier Swimmer!
How do you know if the novice swim clinic is right for you?
By 'Novice Swimmer' we mean you'll be currently swimming 200 metres in 4 minutes 15 seconds or more.
200m swim time > 4:15

Expert swim video analysis

You can swim 50m in 1 go

You generally struggle with breathing

Would like to reduce drag

Swim more than 28 strokes per 25m

Legs generally low / kicking poor

Need to improve effiiciency

Feel like you're fighting the water

Improved streamlining


Workshop Structure
The Novice Swim Clinic is divided into the following components:
Theory time in the classroom focussing on breathing and streamlining to reduce drag / resistance

How to reduce your stroke count whilst improving your stroke rate

Learn how to move though the water more consistently with better rhythm

Practical exercises in the classroom on stroke technique and timing

Pool practical sessions on breathing and specific techniques for novices

Core strength for swimming for better body position and kicking technique



Practical Swimming Sessions Include:
Extensive video analysis / assessment of your stroke above and below the water from 4 viewpoints.

Improving the entry and catch phases

Streamlining your stroke for better body position and less drag

How to correct 5 common breathing errors in front crawl

individual stroke correction and drills selection
Included in the Theory Sessions:
The basics of the freestyle stroke, including common misunderstandings and pitfalls

Enhancing your efficiency in the pool, so you can swim further more easily

How to overcome the 5 common breathing mistakes for front crawl

Relaxing in the water, so you're not fighting and slipping in your swim stroke

Reduce your stroke count with our distance per stroke drills series

Training program development and how to get the most out of your swim sessions
Classroom Time Includes Practical Aspects:
Extensive videoing of your stroke above and below the water. Of course you get to take away your video footage with you on USB Stick

How to reduce drag and resistance in the water so you swim in a more streamlined elevated position

Stretching / flexibility for performance

Swim video analysis playback and assessment

How to improve your entry and catch phases to limit slipping through the water

You'll learn about the 4 phases of the front crawl stroke to gain a more in depth understanding of front crawl and how to swim faster with less effort

Core strength for swimming, we'll show you how to stay more balanced and centred in the water so you create less turbulence

Practicing and learning how and when to apply more power in your stroke out of the water so you don't necessarily have to think about breathing

Q & A session


Recommended swim equipment:
Pull buoy

Kickboard

Paddles

Fins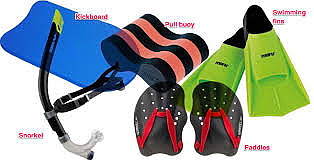 These can be purchased beforehand from the Speedy Swim Finis shop.
You'll be sent a discount code for 20% off when you sign up to a swim clinic.


Swim Clinic Prices
Each clinic has a maximum of 16 attendees, with a minimum of 2 coaches. This allows us to deliver a very unique and personal athlete centred approach.
Early bird discount of 10% until 15th December 2016 enter "EarlyBird10" when you book to qualify
£115 for the day, per person.

Clinics run from 9-5pm at Cranleigh School, Horseshoe Lane, Cranleigh in Surrey, GU6 8QQ.
Who are your Speedy Swimming Coaches?
Your coaches will be level 3 British Triathlon Performance Coach & Training Bible Master Coach Nick de Meyer, and British Triathlon level 2 coach Martin Paine, both of whom are level 3 REPS & Premier Personal Trainers, with over 30 years experience in triathlon, having both completed multiple Ironman Triathlons, and both have worked for the South East region for British Triathlon.
We have coached triathletes and swimmers from all levels from beginners to those competing at all distances of triathlon world championships.

Nick de Meyer
Level 3 British Triathlon Coach

Head Coach Phoenix Triathlon Club

British Triathlon Regional Development and Performance Coach

Training Bible Coaching UK Master Endurance Coach with Joe Friel

2x Ironman finisher. 20 years experience in training and racing triathlons

Work with Richard Stannard open water swim coaching / BTF / SE BTF Region / Inter regional champs
Martin Paine
Level 2 British Triathlon Coach

Channel Swimmer, Dart 10km, Henley 14km swim.

Ironman triathlon 7x finisher

Coach to the GB Paralympic Triathlon Team

Professional Triathlon Coach

Works with Trisport coaching UK, B.T.F., NOWCA / Rick Kiddle, Richard Stannard

22 years experience in training and racing triathlons