This event has moved online : http://www.thesensoryprojects.co.uk/online-college for more details
About this event
Behaviour is the result of two interconnected factors: the person and the environment.
The sensory world impacts upon both of these factors. By understanding its impact we can learn to make adjustments at an individual and environmental level to better help those whose struggles with the sensory world can be expressed through behaviours that others may find challenging.
On this day you will learn:
The underpinning roots to behaviour triggered by sensory experience.

Strategies you can use at an environmental level and at an individual level to help someone who is struggling and expressing that struggle through their behaviour.

How to create simple sensory resources to support a person.

How to create sensory environments to support a person.

How to create a sensory flight path and support its use.

How to communicate with someone whose behaviour has been triggered by a sensory experience. 
We will also be joined by exciting guest speaker Katie Rose White who will show us that teaching emotional regulation need not always be a chore, it can be fun! Katie is founder of The Best Medicine for more information check out https://thebestmedicine.co.uk/.
Unlike the other days on the 2019 tour this day will not focus on the needs of people with profound and multiple learning disabilities.
This day will be suitable for:
Parents or carers seeking to understand their children's responses to particular situations or environments better.
Mainstream and special school teachers, teaching assistants, and SENCOs who support children with behaviour that may be triggered by sensory difficulties.
Adult care workers who support people who find environments or particular situations challenging and express this through their behaviour.
Therapists, playworkers, sessional workers, portage workers or any other professional who wants to better understand the children/young people/adults they support.
Team members from settings that welcome diverse populations and are looking to better understand their visitors and how to support them in accessing their environment e.g. heritage setting workers, activity center workers, leisure center activity co-ordinators. 
Tickets
Professional tickets are for people who attend the course funded by their employer.
Parent/Carer/Student tickets are for people who attend the course and fund themselves to do so.
If you are not sure which ticket to buy please enquire by emailing sensorystory@gmail.com
Booking tickets for someone else?
If you book tickets on behalf of someone else please ensure their contact email address is sent to sensorystory@gmail.com this is essential as pre course information, including details of things you may need to bring if you are attending the day, instructions for travel on the day, and information about dietry requirements will be sent to the email address used to book the tickets unless we hear otherwise.
Booking via Facebook?
Please ensure we have your email address so that we can send you pre course information, travel details and find out your dietry requirements, facebook does not automatically pass on this information when you book, please email it to sensorystory@gmail.com
Unable to book via Eventbrite?
Contact sensorystory@gmail.com with the details of the tickets you wish to purchase and the email addresses of the people you are purchasing them for.
If you are booking professional tickets you can be invoiced for your tickets. You maybe charged for this service.
If you are booking parent/carer/student tickets it may be possible to arrange payment via paypal, contact sensorystory@gmail.com to find out.
Course Details
Please visit www.thesensoryprojects.co.uk and follow links to this course.
Venue and Travel 
Details of the venue and travel options will be released nearer the time.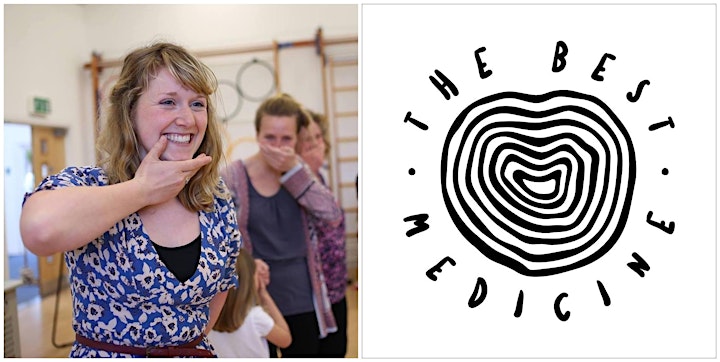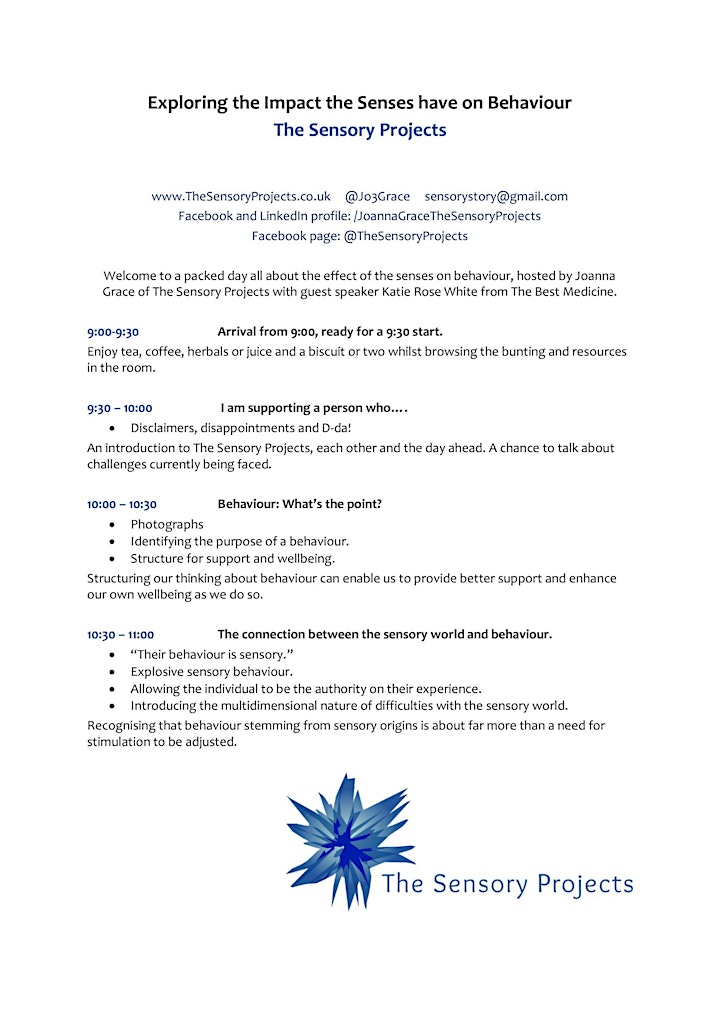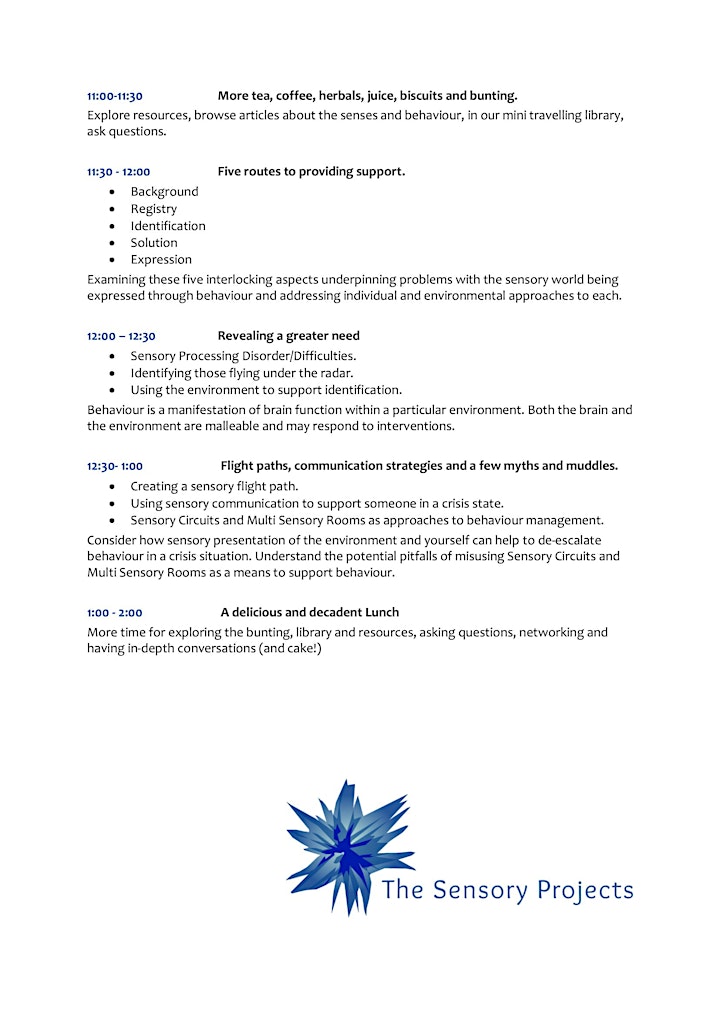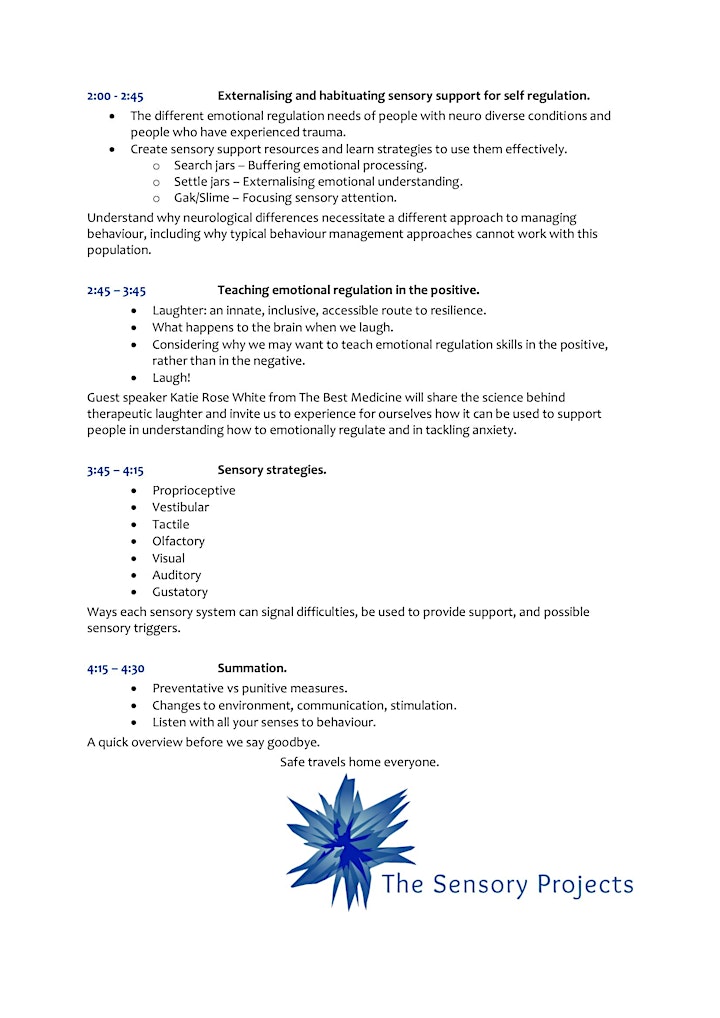 Organiser of NOW ONLINE Exploring the Impact of the Senses on Behaviour 2020/21