This event has moved online : http://www.thesensoryprojects.co.uk/online-college for more details
About this event
This event explores current practice in multiple sensory rooms, reviewing the research that has been conducted into the rooms since their advent fifty years ago and asking challenging questions about how the rooms are currently utilised.
This day is currently in the process of becoming CPD accredited, the accreditation will be in place prior to the day commencing. Presently it contains CPD accredited material.
Delegates will learn:
How to maximise the potential within their multisensory environments, be they multisensory rooms or improvised spaces.

Three features identified by research as being essential to effective multisensory rooms.

Twelve factors identified by research as impacting upon effective multisensory room practice.

Twelve characteristics identified by research as being critical to the functioning of the most important piece of equipment in any multisensory room: the people!

What to consider when creating a multisensory environment.

How to avoid the pitfalls commonly associated with ineffective multisensory room practice.

How to use inexpensive resources to create effective multisensory environments.

How to ensure specialist multisensory room equipment is used to its full potential.
And much much more...
All this thinking, reflecting and inventing will be well fuelled by an endless supply of tea, coffee, juice, herbals and biscuits plus a delicious late lunch.
View the agenda at the bottom of this page.
Tickets
Professional tickets are for people who attend the course funded by their employer.
Parent/Carer/Student tickets are for people who attend the course and fund themselves to do so.
If you are not sure which ticket to buy please enquire by emailing sensorystory@gmail.com
Booking tickets for someone else?
If you book tickets on behalf of someone else please ensure their contact email address is sent to sensorystory@gmail.com this is essential as pre course information, including details of things you may need to bring if you are attending the day, instructions for travel on the day, and information about dietry requirements will be sent to the email address used to book the tickets unless we hear otherwise.
Booking via Facebook?
Please ensure we have your email address so that we can send you pre course information, travel details and find out your dietry requirements, facebook does not automatically pass on this information when you book, please email it to sensorystory@gmail.com
Unable to book via Eventbrite?
Contact sensorystory@gmail.com with the details of the tickets you wish to purchase and the email addresses of the people you are purchasing them for.
If you are booking professional tickets you can be invoiced for your tickets. You will still be charged the booking fees listed here..
If you are booking parent/carer/student tickets it may be possible to arrange payment via paypal, contact sensorystory@gmail.com to find out.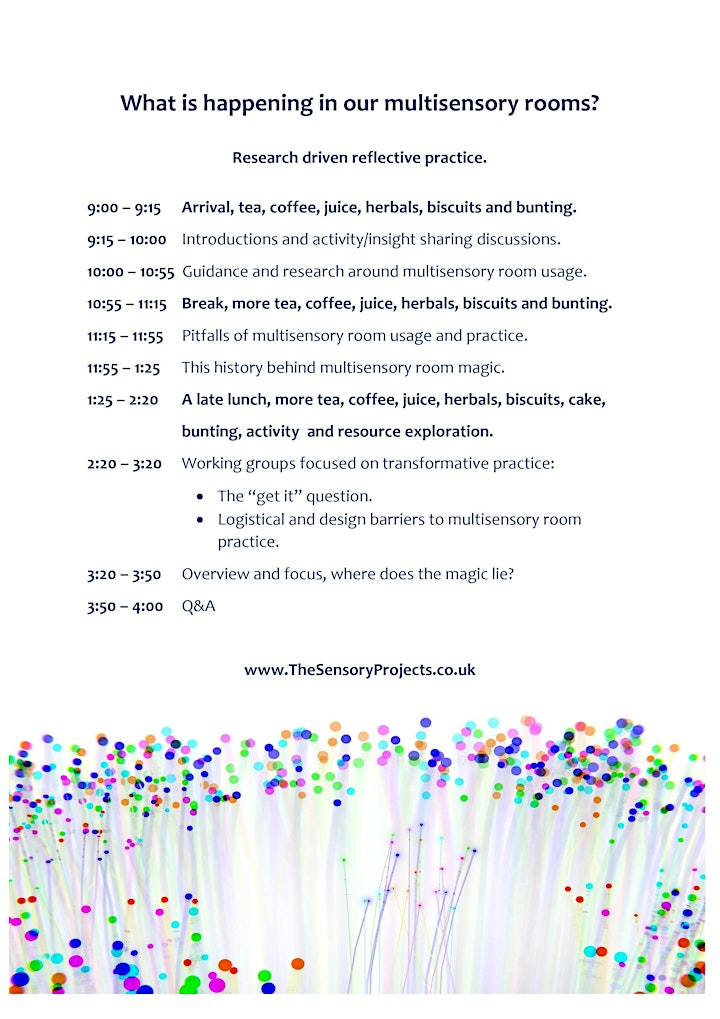 Organiser of NOW ONLINE What is happening in our multisensory rooms? 2020/21