NSF(UK) Picnic in the Park 2021. After nearly 2 years of lockdown, come and join us to have fun at our first ever Picnic in the Park!!
About this event
!!! THE FOLLOWING ENTRY CONDITION WILL APPLY !!!
You are required to show a negative COVID-19 lateral flow test result (taken in the 24 hours prior - Friday day 27th August 2021 -to attending) even if you have been double vaccinated. This must be from a UK Government-approved test provider (either via a home kit or via a test centre), with certification shown via email or text. You can record your negative results on the Lateral flow COVID-19 website below.
Nigerian Schools Foundation (UK) supported by the London Borough of Barnet is bringing you an afternoon of fun, games, laughter and music. Featuring a DJ, a live band and many more. This is an adult-only event (18+ years).
Things to remember:
Bring your food
Bring your drinks
Bring your picnic umbrellas and chairs
Bring your picnic mats or blankets
Fancy a game of table tennis? Bring your own bat
Bring your frisbees
Bring your board games
Tickets are selling first. So what are you waiting for? Please note that current Covid-19 guidance will apply. It promises to be an afternoon of fun. You don't want to miss it. Also, take note of the conditions of entry.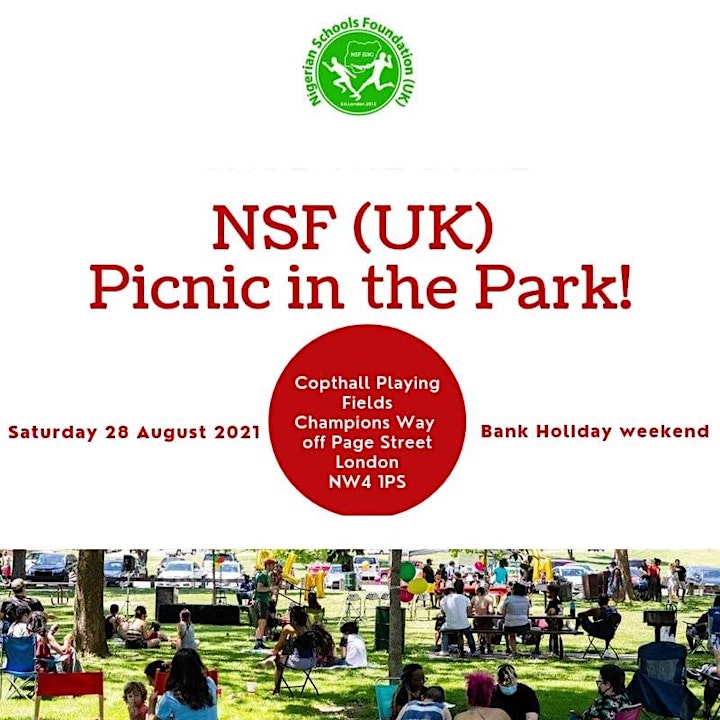 Raffle! Raffle! Raffle!
The NSF(UK) 2021 Picnic in the Park event will also feature a raffle draw with amazing prizes to be won. Check the image below for more information about the raffle draw. And remember that there are no limits to the number of raffle tickets you can buy.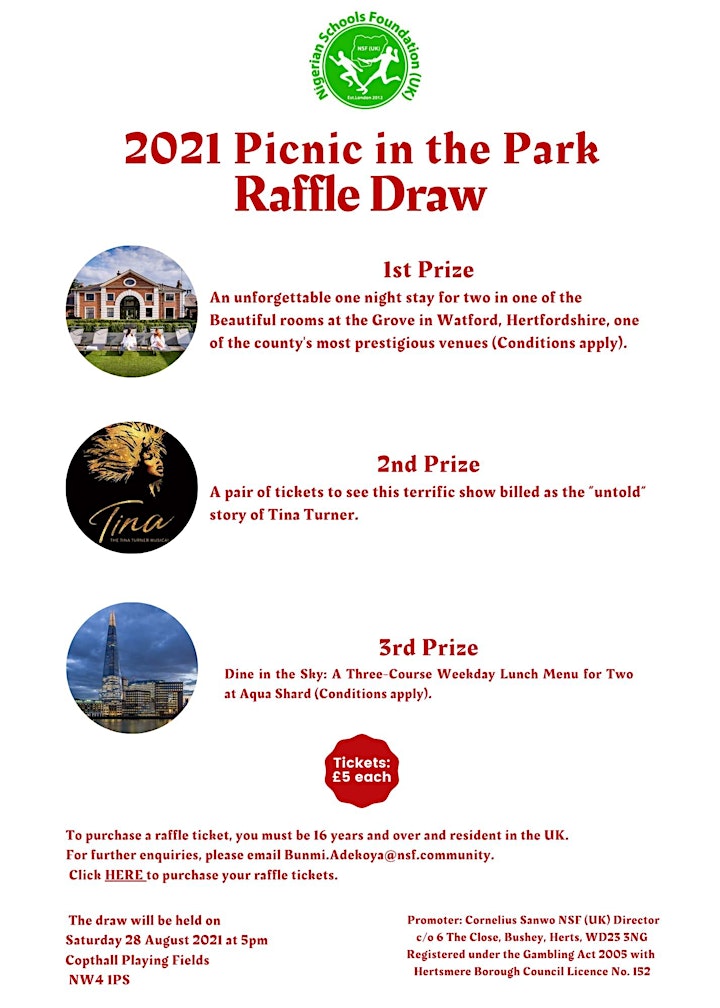 CONDITIONS OF ENTRY
A valid ticket purchased online
Entry implies acceptance of the following conditions( including Covid19 conditions)
All ticket holders will be required to undertake a COVID-19 lateral flow test and provide proof of a negative result in order to gain entry. It must be taken 24 hours prior to attending the event (i.e., Friday 27th August 2021).
"Whilst these COVID-19 Conditions (as may be amended from time to time) are designed to reduce the risk of transmission of COVID-19, it is not possible to eliminate that risk entirely. Each Ticket Holder assumes the risk of suffering an illness or fatality related to COVID-19 as a result of his/her attendance at NSF(UK) event and agrees (on his/her own behalf, and on behalf of his/her estate, heirs, successors and assigns) that the NSF(UK) and their directors, officers, employees, agents and officials shall bear no liability in respect of any such illness or fatality unless it is proven that the illness or fatality was suffered as a result of the wilful misconduct or gross negligence of NSF(UK). Each Ticket Holder will not bring any claim that is inconsistent with the foregoing sentence."
Any infringement of these Conditions may result in denial of access to The Event, removal from the Grounds and/or further legal action, at the discretion of NSF(UK).
Ticket Holders must attend the event in compliance with all applicable laws and government guidance regarding COVID-19, as implemented by NSF(UK). By entering the venue, each Ticket Holder warrants that they are not breaching any such laws or guidance.
Ticket Holders must not attend the event if they are required to self-isolate following travel to the UK from another country in accordance with the UK Government's red, amber and green rules for entering the UK, available here: https://www.gov.uk/guidance/red-amber-and-green-list-rules-for-entering-england.
Ticket Holders must not attend the event if they are suffering from any symptoms of COVID-19 (dry cough, fever, shortness of breath, headache, sore throat, aching limbs, loss of sense of smell and taste, nausea or vomiting, congestion or runny nose, diarrhoea, muscle or body aches) ("COVID Symptoms").
Ticket Holders must not attend the event if they have tested positive for COVID-19 and are required to self-isolate.
Ticket Holders must not attend the event if they have been identified by any competent authority as having had any Close Contact (as defined below) with a person who is or may be infected by COVID-19 and their self-isolation period includes the date they are due to attend the event ("Infected Person"). For the purposes of these COVID-19 Conditions, "Close Contact" means the Ticket Holder in question: (a) lives in the same household as another person who has COVID-19 symptoms or has tested positive for COVID-19, (b) has had any of the following types of contact with someone who has tested positive for COVID-19: (i) face-to-face contact including being coughed on or having a face-to-face conversation within one metre, (ii) been within one metre for one minute or longer without face-to-face contact, (iii) been within 2 metres of someone for more than 15 minutes (either as a one-off contact or added up together over one day) or (iv) has travelled in the same vehicle or plane with such person. In the event that a Ticket Holder is notified by a competent authority that they have had Close Contact (as defined above) with an Infected Person and asked to self-isolate, they shall leave the venue immediately and return to their place of residence as soon as possible, using best endeavours to use means of travel which would reduce the risk of COVID-19 transmission.
Ticket Holders may be required to undergo a body temperature check on entry to the Grounds if required by the NSF(UK) or its agents.
Subject to clause 9, Ticket Holders must wear a face covering (safely covering the nose and mouth but not classified as PPE) ("Face Covering") whilst moving within the venue, apart from whilst eating and drinking or in such other circumstances as may be communicated by NSF(UK). It is recommended that Ticket Holders bring additional Face Coverings with them to ensure that they are able to wear one at all times, where required, whilst at the Venue.
Ticket Holders who are exempt from wearing a Face Covering for medical reasons shall inform relevant NSF(UK) at the gate prior to entering the venue. Such persons may be issued with an "exempt badge" which they will be required to wear throughout the venue.
If a Ticket Holder develops any COVID Symptoms (as defined in clause 3) whilst at the venue, they shall seek immediate medical advice from a designated NSF(UK) first-aid post.
Ticket Holders must wash and disinfect their hands whenever possible and use sanitiser stations when available.
At all times and in all parts of the venue, Ticket Holders must observe UK Government guidance (as applicable at the time of attending the venue), as implemented by the NSF(UK), which may include social distancing and any measures relating to close contact with others, not in their household or support bubble.
Ticket Holders must follow the directional signage and queuing systems in place at the Venue and the perimeter.
Ticket Holders must follow any and all instructions from stewards and officials at the Venue in relation to circulation, sanitary and hygiene measures.
Ticket Holders accept and acknowledge that all payments inside the Grounds will be contactless.
SAFETY AND SECURITY
Entry to the Grounds will only be authorised upon presentation of a valid ticket
NSF(UK) may search all bags and vehicles before granting entry to the venue and subsequently if required.
The NSF(UK) also reserves the right to search persons on entry to the Venue. Anyone refusing to submit to a search will be refused entry or will be removed from the Venue.
This is an adult-only event i.e., attendees must be aged 18 or over.
BEHAVIOUR
Attendees must comply with the instructions NSF(UK) or its authorised agents (including stewards and security staff) and/or any police officer. Any failure to comply with such instructions may lead to ejection from, or refusal of entry to, the Venue.
Attendees must adhere to any other relevant behaviours identified through our risk assessment or event planning, such as responsible use of alcohol.
No goods or services (including literature and printed material) may be offered or distributed (whether for payment or not) inside the Venue unless you are an authorised vendor.
Any person who is reasonably suspected by NSF(UK) and its authorised agents of having committed, or being likely to commit, a criminal offence within the venue may be removed from the venue at any time.
Organiser of NSF(UK) Picnic in the Park 2021