About this Event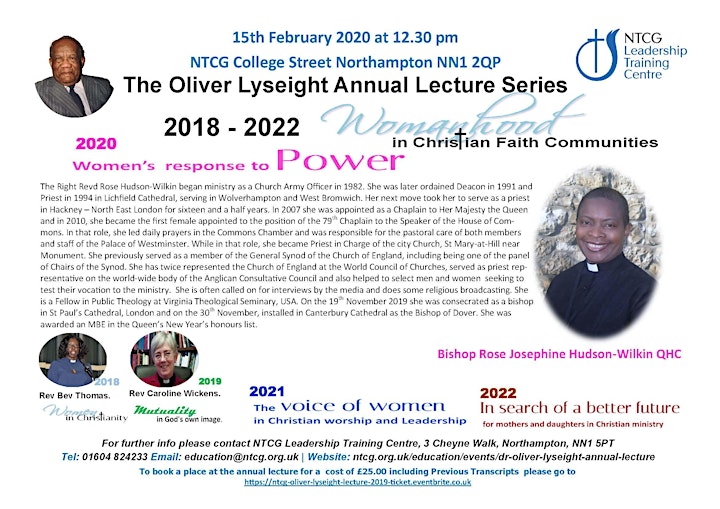 New Testament Church of God, England & Wales, embarked on the third series of the Oliver Lyseight Annual Lecture in 2018 under the banner of 'Womanhood in Christian Faith Communities.' These lectures are delivered in commemoration of our founding Administrative Bishop, Rev Dr. Oliver Lyseight. This series focuses on the contribution women continue to make to the life and witness of the Church, even in the face of barriers such as unconscious bias and resistance to their input in its fullness.
The five lectures provide opportunities for our denomination to critically reflect on the treatment and experience of women in our polity and draw on Scripture to inform and enhance our corporate pastoral care, empower our women to serve the Church in their God-given gifting and augment our engagement and influence in the wider society.
Each lecturer speaks from their experience, their theological proficiency, their commitment to Christian discipleship, and their hope for a better future.
Rev Hudson -Wilkin was ordained deacon in 1991 and ordained to the priesthood in 1994. For sixteen and a half years she served as a priest in Hackney – North East London. In 2007 she was appointed as a Chaplain to Her Majesty the Queen and in 2010, she became the first female appointed to the position of the 79th Chaplain to the Speaker of the House of Commons. In her new role she leads the prayers in the House of Commons daily when the House is sitting and carries the responsibility for the pastoral care of both members and staff of the Palace of Westminster. In November 2014, she became the Priest in Charge of the city Church, St Mary-at-Hill near Monument. She has previously served as a member of the General Synod of the Church of England and as one of the Panel of Chairs of the Synod. She has represented the Church of England at the World Council of Churches, served as priest representative on the Anglican Consultative Council and a Selection Secretary for the Church of England. She has helped to select men and women seeking to test their vocation to the ministry. She is often called upon to present some religious broadcasting and interviews by the media. She was recently made Fellow in Public Theology at Virginia Theological Seminary, USA.