Description
The Teacher Development Trust's National Teacher Enquiry Network has teamed up with ResearchED to bring you a fantastic day of talks and workshops about teacher and education research. Hosted at the renowned Huntington School this event includes expert high-profile speakers, practical examples of teacher-research engagement, debates and policy discussion - a day not to be missed!
Food, snacks, tea and coffee will be available to buy on the day (cash only) and there will be parking available on-site. Buy your ticket ASAP to avoid disappointment - this event is expected to sell out quickly.
Speakers currently include:
John Tomsett, Headteacher, Huntington School (@JohnTomsett)
Alex Quigley, Assistant Head, Huntington School (@HuntingEnglish)
David Weston, Chief Executive, Teacher Development Trust (@informed_edu)
Tom Bennett, Director, ResearchED (@TomBennett71)
Debra Kidd, AST for Pedagogy, formerly Senior Lecturer in Education, MMU (@debrakidd)
Andrew Old, teacher, super-blogger, bane of Ofsted (@oldandrewuk)
Joe Kirby, English teacher, education blogger (@joe__kirby)
Keven Bartle, Deputy Head, Canons High School (@kevbartle)
Mark McCourt, Chair, Teacher Development Trust (@emathsUK)
Stephen Tierney, Headteacher, St. Mary's Catholic High School (@leadinglearner)
Sue Williamson, CEO, SSAT (@SWilliamson_CEO)
Emma Hardy Primary teacher, History subject leader (@emmaannhardy)
Stephen Tall Education Endowment Foundation (@stephentall)
Mary Myatt Consultant, Ofsted inspector (@MaryMyatt)
Nancy Gedge Primary teacher, blogger (@nancygedge)
Jonathan Sharples Education Endowment Foundation, Institute of Effective Education @ York (@Sharples_J)
Martin Robinson Author, speaker, Trivium proponent (@surrealanarchy)
Mary Whitehouse

Curriculum developer University of York (@MaryUYSEG)

Robin Parmiter RPE teacher at Huntington School (@robinparmiter)
Stuart Mathers Teacher Quality Division, Department of Education
Jill Berry Former Headteacher and now Associate for National College for Teaching and Leadership (

@jillberry102)

Dave Fawcett Secondary School PE teacher (@davidfawcett27)
Kenny Pieper

English teacher and Associate Tutor at Strathclyde University

(@kennypieper)

David Cameron Presenter, trainer, consultant (@realdcameron)
Andy Day

Classroom practitioner, head of humanties (@Andyphilipday)

Suzi Bewell

Former MFL teacher, runs the PGCE MFL at The University of York (@suzibewell)
The anticipated timetable is as follows - please note this is subject to change: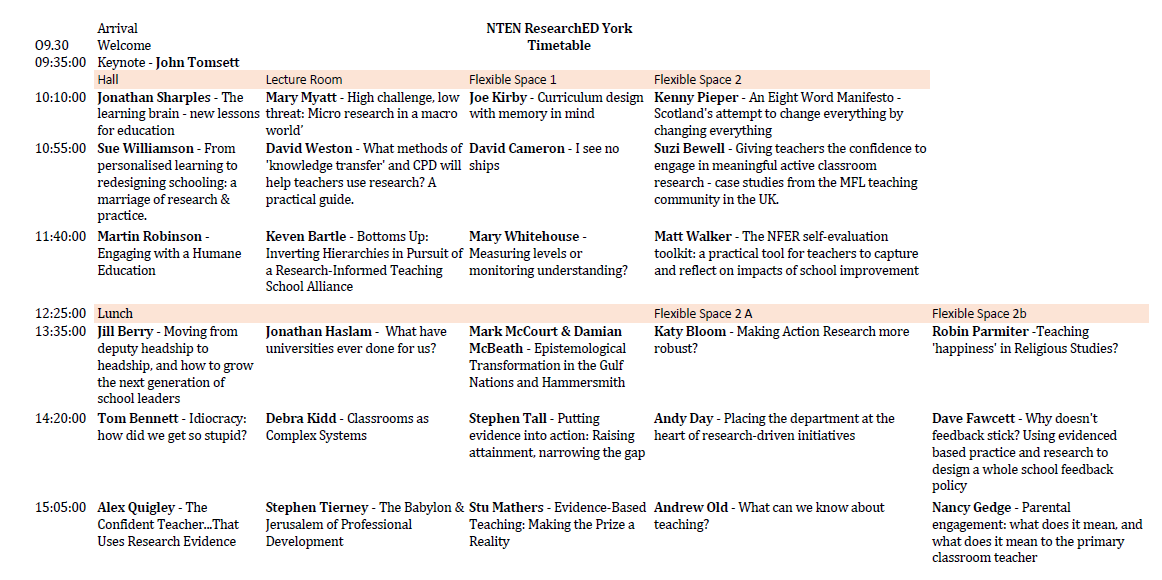 We will start admitting guests at 0900 and the opening keynote will begin at 0930. After the keynote there will be 6 time-slots where you can choose one from at least five different parallel sessions to watch. The day will finish at 1600.
The £13.50 cost is there to cover the school's staffing to keep the site open and minimal printing costs on the day, otherwise this is a volunteer-led event!
Discounted accomodation for £34.00 plus VAT is avaliable for all at Franklin House, North Campus of the University of York. Price includes breakfast and all rooms are single ensuite.
Please click the following link for further information: https://www.sciencelearningcentres.org.uk/consortia/national/accommodation
Alternatively, contact Vashil Soundur for information and booking details on 01904328366 and quote 'KX Ref 44718'
Find out more about NTEN and ResearchED.