About this Event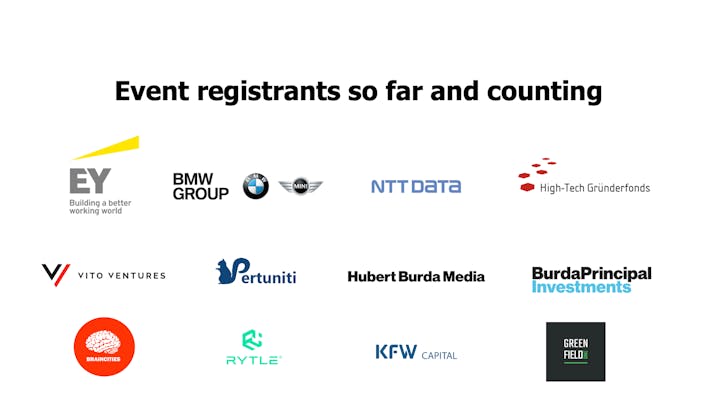 NTT DATA invites you to the Regional Pitch of the Open Innovation Contest 10 on 17.10.2019 in Munich
Are you already thinking about tomorrow's innovations? Are you working with start-ups on pioneering digital projects? Do you like to exchange ideas on technological topics of the future in global networks?
If so, please look forward to the NTT Open Innovation Contest (OIC), one of the best global funding programs for digital pioneering projects. Every year, start-ups from more than 14 countries worldwide compete for the best innovations and present the winning projects on the big stage in Tokyo. There they enter the connected environment of a global NTT with its ecosystem of global corporations, VCs and NTT Group digital experts.
Have we aroused your interest? We invite you to the very first qualification competition for the DACH region on 17.10.2019, in Munich at Ensō - The Space for Creators.
Register today - the number of participants is limited.
Regional Pitch
Meet me at the Event:
1. top decision-makers from the digital industry
2. representatives of the start-up scene
3. start-ups with innovative business ideas, great growth potential and sustainable value contributions for the economy and society
Venue and dates
17 Oct 2019, 17:00-22:00, Enso – The Space for Creators, München
Preliminary Agenda
16:00h: Get Together
16:15h: Opening & Welcome
- CCO Dieter Loewe and CTO Oliver Köth at NTT DATA Germany welcome the guests
- "How does innovation work in Japan?" Introduction of OIC by Kazuya Okada, Open Innovation Globalization Lead NTT DATA
17:00h: Keynotes
- "How to scale from 0 to an unicorn exit to NTT Group" Keynote by Rupprecht Rittweger, Founder e-shelter und Chairmain of NTT Data Centers EMEA
- More to come
18:00h: Start-up/Project Pitches
- 6-8 startups present their ideas in short 7-minute pitches
19:30h: Innovation Marketplace
- Experience the startups up close at their Spaces
20:00h: Awards Ceremony and Closing of official part
- The jury will award the start-ups
20:30h: Networking
22:00h: End of Event
Participating Countries
• Germany
• Austria
• Switzerland
Disclaimer
NTT records and processes your personal data electronically exclusively for own purposes. The data is not passed on to third parties. We process your data - complying with data protection regulations – also to inform you about recent events at e-shelter. If you do not like to receive further invitations, please contact us at the e-mail address event@e-shelter.com. Upon request, you will receive information about your personal data stored by e-shelter. Your personal data will be held in accordance with our respective privacy policies which can be found here: privacy notice. Photographs and video will be taken at the event. By taking part in this event you grant the event organisers full rights to use the images resulting from the photography/video filming, and any reproductions or adaptations of the images for publicity or other purposes. This might include (but is not limited to), the right to use them in their printed and online publicity, social media or press releases. If you do not wish to be photographed please inform the event organiser.