Numerology Celebrities, CEO's and Wall Street Executives believe in it – wi...
Description
What do numbers, celebrities, CEOs and Wall Street have to do with you?
Success!
Numerology is an ancient science that many believe has helped them achieve on a whole new level. Many believe it can bring good fortune when applied to your business.
How can Numerology help you in your Business? In this interactive fun insightful mastermind session learn more about numerology and what it could do for you and your business.
Our speaker Jo Soley says that many question it's use until they hear this fascinating talk, keep an open mind and you could find a whole new level of success! Learn more about Jo here.
10 minutes Spotlight Slot in front of the audience.

FREE 1 exhibition stand.

FREE 1 ticket.

FREE promotion on our award winning website, Eventbrite, social media and our newsletter.
Only 1 sponsor per event.
Want to promote your products and services at this event?
You can exhibit at any event. Get 1 ticket and 1 exhibition stand for £35.
Feature in our social media, marketing and flyer up to the date of the event. (Subject to receiving the logo, etc with adequate notice.)
Book your exhibition stand below or learn more here.
Got a Golden Ticket? You only pay £13.50 to exhibit at any networking event with us!
Golden Ticket
Pay once for the whole year of networking.
Get discounts on events, exhibiting, sponsoring events, sponsoring the website and you can even write for our blog for free. Sign up below or learn more here.
New to Networking?
Click here to read about the format of our events, timings and what to expect.
If you head to our website we can connect on Instagram, Twitter, LinkedIn and Facebook too. We like to share your content so we share, like and retweet your content.
Never miss out on an event

Sign up to our Facebook page to hear the latest news
And sign up to our monthly newsletter to hear the latest news. If you sponsor an event or have a Golden Ticket you can write for our newsletter for free. Learn more here.
We are recognised as a business school and networking organisation with multi awards.

Open to all.

You don't need to own your own business.

Business men welcome.

If your childcare let's you down as long as your children are healthy they are very welcome too.
We are a highly motivational, fun, proactive networking organisation that aims to help you grow your confidence, skills and business. (That's not just our view, that's the view of banks, international speakers, authors, business leaders and authorities on business.)
Don't worry about it being a girlie "clicky" group. This is business focused in a relaxed environment that enables you to get the answers and connections you need. So if you don't want to speak in the Promo Slots – you don't have to. We help our guests become powerful public speakers.
The Business Womans Network Refund Policy
Please note that because The BWN does not have a traditional membership we work closely with our venues to keep costs and administration to a minimum, as such we have to abide by the refund policy. Although we will do all we can to accommodate busy business owners;
More than one week to the date of the event; Full refund on your purchased ticket.

Less than one week to the date of the event; No refund on your purchased ticket, however, choose a different date to attend at that venue.

On the day of the event; No refund and no alternative date.
We apologise for any inconvenience that this may cause; however, we incur costs for tickets purchased. Should you feel that you fit exceptional circumstances and wish to discuss this we are happy to do this and are always open to new ideas to enable us to help women in business more.
The BWN – As Passionate About Your Success As You.
Give us a chance to prove it!
Organiser of Numerology Celebrities, CEO's and Wall Street Executives believe in it – will you? Masterclass & Networking
The B.W.N offers you business focused proactive networking events to help you get motivated, focused and grow your business.
A proven track record of delivering high end events for over 10 years recognised by top organisations and businesses as a Business School for all women in business.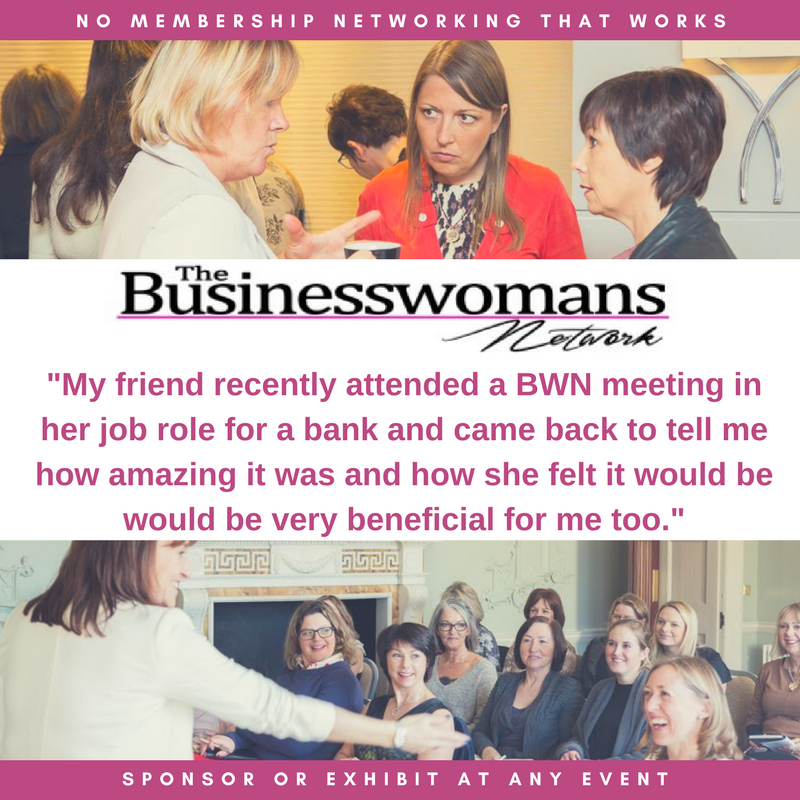 From sole traders and SME's to Blue Chip organisations and professional institutions business women attend B.W.N events to connect with people, raise their profile, learn new skills and ultimately make business more successful.
No membership fees, no block outs - just business focused networking that works. We understand what it is like to run your own business and so each event has a business focused presentation to help you gain new skills and appreciate existing ones, attracting some of the country's top speakers on Business & Success.
Time and Time again the BWN is the place to gain new clients, new skills and the motivation you need to succeed.
This is not girly coffee mornings this inspirational and fun while productive and useful for your business - what more could you ask?
The Business Woman's Network is as passionate about your success as you are - Just ask the business women that attend.
 01206 381482  
07989 935556
 info@thebusinesswomansnetwork.co.uk
For Free Top Tips, Reports and Blogs packed with free business ideas head over to our website - www.thebusinesswomansnetwork.co.uk
Wish you could have great networking like this in your Area?
Contact us to find out how you could be getting paid to network - no franchise, no big set up costs, no monthly admin fees - Ensure Your Business has an endless supply of opportunities and leads.