During this period of Covid19 Lockdown, we at Natures Pure Love have observed seven elements that have impacted on people emotionally.
About this Event
Disbelief
Anger
Sadness
Confusion
Loss
Acceptance
Optimism
Going through these seemingly natural reactions can cause a high level of stress and anxiety, bringing on panic attacks, irrational behaviour, fear and even aggression. Such reactions could jeopardise peoples work, relationships and social interaction in extremely negative ways and could further lead to even more devasting impact on their health, wealth and wellbeing.
People move through their emotions in very different ways and at different paces but for some, the impact can be greater than others and could slip them into some degree of confusion, negativity and disruptive mental health depriving them of their quality of life.
Acceptance and optimism give hope and hope allow us to heal and move positively towards solutions and achievements.
Each session a residential expert will be joining us, share his knowledge, build up awareness about the chosen topics, educate. This free introductory session is finalised with calming and meditation session. Book your free spot.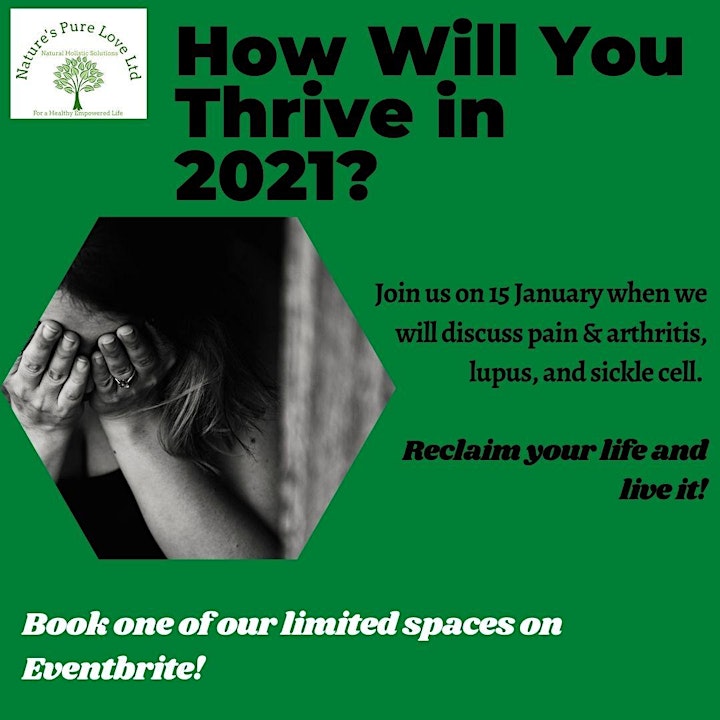 Reserve Your Free Spot
Friday the 15th of January from 7pm - 9pm
Pain & Arthritis, Lupus & Sickle Cell
Topic: Reclaim your Life & Live It.
WALKING THROUGH PAIN AND ARTHRITIS.
Do You Live with This Condition? Do You Have an Interest in Knowing More About This Subject? Do You Have an Opinion on This Subject?
Pain and arthritis are fast becoming a debilitating condition for many in our society today. It is often seen as an elderly condition but, it affects many across the spectrum such as children, professional career people, sufferers of lupus and sickle cell and of course, can be evidence in a wide range of other chronic conditions.
In many cases Pain and Arthritis have led to anxiety around losing one's independence, not being able to move around their own homes as they would like to, not been able to join in with family activities, holidays, and outings. Suffers of Pain and Arthritis often experience chronic pain, gradual loss of mobility, depression, feelings of isolation and abandonment.
However, in our experience Pain and Arthritis can be effectively managed so that they suffering is able to improve in their moods, better manage and relieve pain, feel more rejuvenated, function more productively, be more active, able to better interact with family, family activities and social occasions. It is a real value to know that sufferers can acquire some guidance to walk through pain and arthritis towards achieving their individual wellness success outcomes.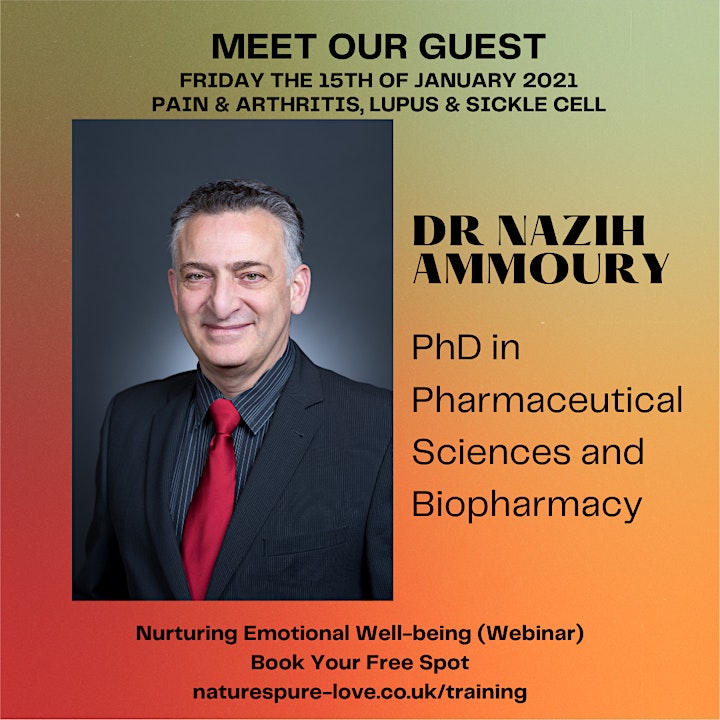 Nazih Ammoury graduated Pharm.D. from Saint Joseph University, Beirut, Lebanon. He completed his PhD. at the University of Paris XI, France in pharmaceutical Sciences and Bio pharmacy. His international career in the pharmaceutical industry took him from Paris to Geneva, Canada and Dubai. He was part of the core team in the development of a major treatment for people with Multiple Sclerosis. In December 2018, after a breakthrough in his personal health, he decided to leave the pharmaceutical industry and set up his own company "Destination Wellness - Health Awareness" in Dubai. Since March 2019, Dr Nazih has been investing his time, efforts and adapting his expertise to create awareness around metabolic health and lifestyle diseases and developing experts and expertise in the wellness industry, providing guidance on how to promote and favour prevention and natural approaches before falling into diseases and medication.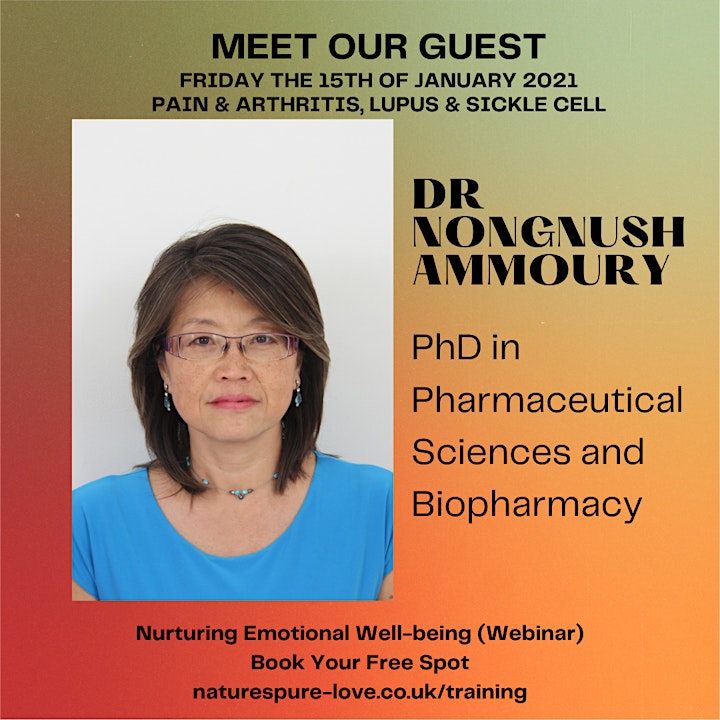 Nongnush Ammoury is originated from Thailand. She grew up and graduated PhD in Pharmaceutical Sciences and Bio pharmacy from the University of Paris. She has different professional experiences in pharmacies, as a biologist in hospitals and executive in the pharmaceutical industry. From drug research & clinical development to Drug Safety and Pharmacovigilance, she has become part of the management in the biotechnology sector and infertility treatment. For the last 4 years, Dr Nongnush has been active in educating people and communities about Wellness and Metabolic health. She is also engaged in supporting and developing leaders in the Wellness Industry.
Book Your Free Ticket