The course is a clinical update in the area of nutrition and eating disorder and is taught by highly specialist Dietitians.
About this event
Aimed at Dietitians and Nutritionists new to working in the field of eating disorders or any MDT members wanting to know more about nutrition considerations when recovering from an eating disorder.
TOPICS INCLUDE:
Nutritional approaches to managing:
Bulimia Nervosa and Anorexia Nervosa
Re-feeding Syndrome
Appetite regulation
Weight gain /loss physiology
Socially acceptable food restrictions
Feeding under restraint
Neurobiology and nutrition
Meal Support and meal planning
Ursula Philpot - Speaker
Ursula Philpot is a consultant dietitian with a specialist interest in eating disorders and disordered eating. She has contributed extensively to national programmes and guidelines including membership of the: NICE guidelines for eating disorders, NICE standards for eating disorders , BDA clinical guidelines group, and the Clinical Reference Groups advisory panel. Ursula is a senior lecturer at Leeds Beckett University
Webiste - http://www.ursulaphilpot.co.uk
Sarah Elder - Speaker
Sarah Elder is a Clinical lead Dietitian for an Adult Eating Disorders Dietetic team. She lectures at Teesside University and has been involved in the development of Nice guidance, spoken at the International Eating Disorders conference and is currently a Clinical Associate Trainer for BEAT, an Eating Disorders Charity, as well as working in the private sector.
Webiste - https://www.saraheldernutrition.co.uk
Sarah Fuller - Speaker
Sarah Fuller is a specialist CAMH Eating Disorders Dietitian. She is a clinical advisor and associate trainer for BEAT the UK's eating disorders charity alongside her clinical work she has published research and guidance in both tube feeding under restraint and veganism in eating disorders.
Research - https://www.cambridge.org/core/journals/bjpsych-bulletin/article/veganism-and-eating-disorders-assessment-and-management-considerations/DF353856ACA8454D3833D329D6824242
https://onlinelibrary.wiley.com/doi/abs/10.1111/jhn.12731
Got any questions? Email Sarah at Saraheldernutrition@outlook.com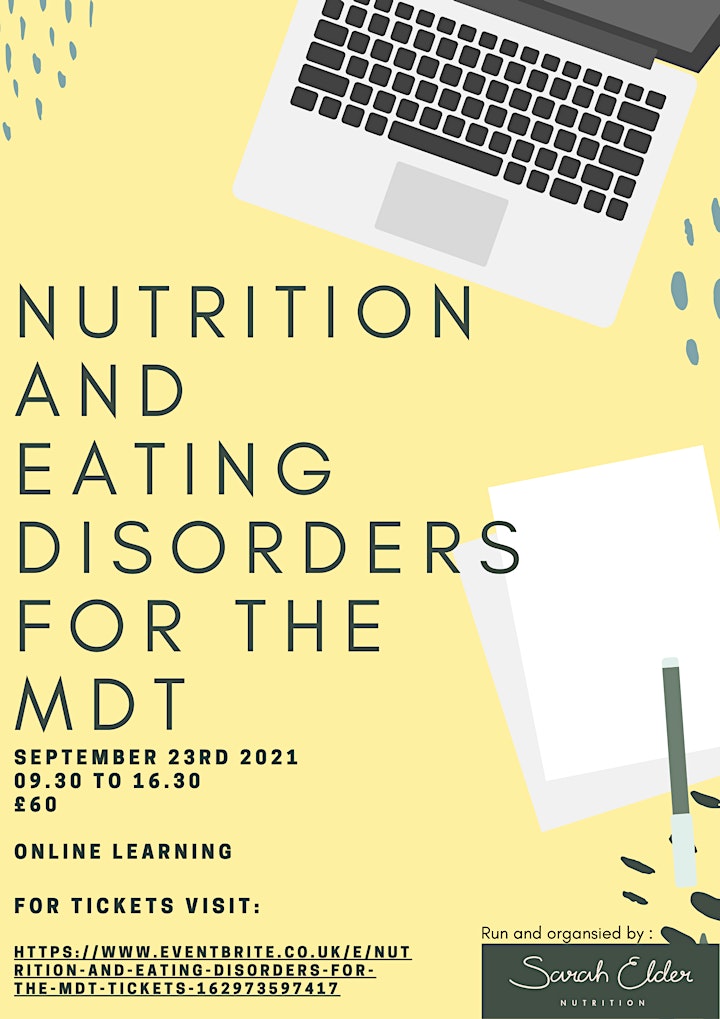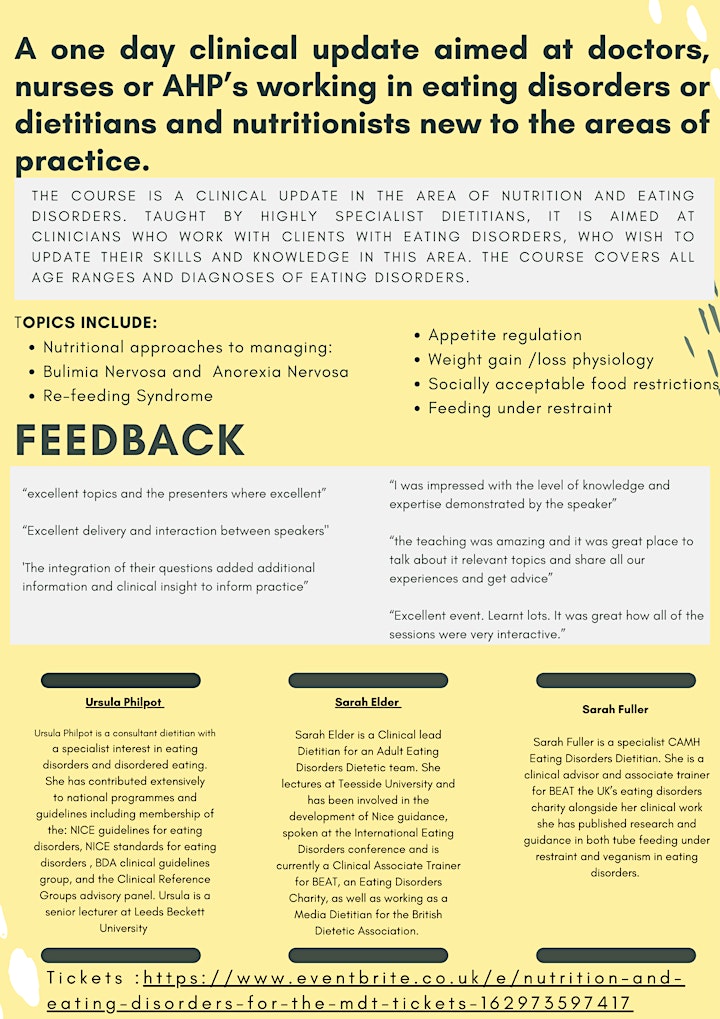 Date and time
Location
Refund policy
Organiser of Nutrition and Eating Disorders for the MDT
Sarah is a Registered Dietitian with the HCPC. Sarah has spoken at numerous conferences and study days including The International Eating Disorders Conference and British Dietetic Association training days and events. She works privately at the Rhitrition clinic, as a Clinical Associate Trainer for BEAT the UK's eating Disorders charity and has over 9 years of experience working into Mental Health and Eating disorders teams within the NHS. She is passionate about training nutrition professionals.