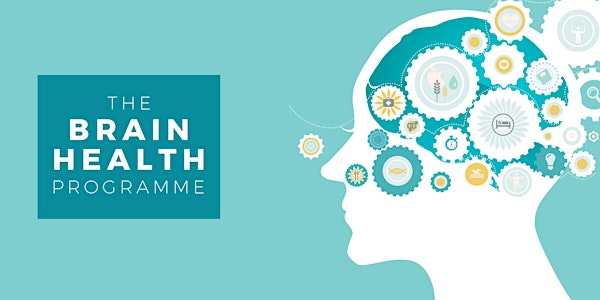 Nutrition and lifestyle strategies for boosting mental function and mood
Location
Talbot Hotel Stillorgan
Stillorgan Road
A94 V6K5 Dublin
Ireland
Description
Nutrition and lifestyle strategies for boosting mental function and mood
An evening with Dr John Briffa; practising doctor, wellbeing expert and author
Are you anxious or prone to low mood? Do you suffer brain fog or fuzzy thinking? Do you feel tired, unmotivated and have trouble sleeping? Would you like to know what you can do to reduce your risk of dementia and Alzheimer's disease?
If you answered yes to any of the questions above, now is the time to act. This is an introductory talk to the six workshops which make up The Brain Health Programme. You will have the opportunity to find out more about these workshops during the course of the evening. For an introduction to The Brain Health Programme, visit www.thebrainhealthprogramme.co.uk
Throughout this introductory talk, Dr John Briffa will reveal the most important factors which affect brain function and mood. The session will explore a range of important topics including diet, physical activity, stress and sleep. Dr Briffa will discuss relevant research in each area and will translate the theory into practical steps that each one of us can take to optimise our cognitive function and mood, as well as reduce our risk of dementia and Alzheimer's disease as we age.
Key insights from this talk include:
The main factors that affect brain health and cognitive function
Key nutritional strategies for maintaining energy in the brain and preventing dementia
The link between the gut and the brain, and how to optimise this
The critical role of sleep in brain function, and simple steps to optimise sleep
How to use gentle physical activity to boost mood and mental function
What to expect, and how you will benefit, if you enrol on The Brain Health Programme workshops
Tickets £10.00 – all proceeds will be donated to A Lust for Life; an award-winning charity created to transform how we talk about and treat mental health.
Refreshments will be available from 6.30pm, talk begins at 7.00pm
---
Introducing The Brain Health Programme
The Brain Health Programme is a nutrition and lifestyle programme delivered by qualified Nutritional Therapists. It has been designed to provide individuals with information and practical advice to optimise brain health using simple, sustainable changes in relevant areas.
The Programme is made up of six workshops, each of which covers a critical area relating to mood and brain function in both the short and long term.
Visit www.thebrainhealthprogramme.co.uk for more information.
---
About Dr John Briffa MB BS BSc (Lond)
Dr John Briffa is a practising doctor, author and international speaker. He is a prize-winning graduate of University College London School of Medicine, where he also gained a BSc degree in Biomedical Sciences. Dr Briffa is an expert in the impact of nutrition and other lifestyle factors on health and illness. He is dedicated to providing individuals with information and advice they can use to take control of their health and optimise their wellbeing.
Dr Briffa has written for several national newspapers and magazines and is the author of nine health books. He also practices at two hospitals in London.
About our Brain Health Programme Practitioners
Edelle O'Doherty-Nickels, BSc PGDip Reg NT
Edelle is a Registered Nutritional Therapist graduating with Distinction. Edelle's special area of interest is the role of nutrition and lifestyle in the prevention and reversal of cognitive decline. She has trained with leading neurologist Dr. Dale Bredesen in the Bredesen Protocol for the Reversal of Alzheimer's Disease. She is currently undertaking ongoing training with the Institute for Functional Medicine. For more information visit www.personalisedhealthclinic.com
Barbara O'Keeffe, BSocSci, Dip NT, mNTOI
Barbara is a Registered Nutritional Therapist, graduate of The Institute of Health Sciences and member of the Nutritional Therapists of Ireland. She also holds a Bachelor of Social Science (Hons) from UCD. Her clinic is based at River Holistic Centre, Raheny, Dublin 5, where she sees individual clients and runs a variety of workshops. Barbara works with clients to help them achieve their health goals in an encouraging and non-judgemental way. For more information visit www.missionwellness.ie