Description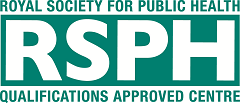 This is a blended learning programme. The full cost covers:
Registration with the Royal Society for Public Health.

Three days of training at the Resource for London centre.

Workbook activities to complete between training sessions.

Level 4 Certificate from the RSPH upon successful completion of the full programme.
The Level 4 Nutrition for Physical Activity and Sport RSPH course is designed for those who work in the health, fitness or catering professions and promote healthy eating or the preparation of meals, menus and diets for sportspeople at all levels of ability.
It is also essential for those working in, or intending to work in, Public Health, Healthcare, Social Care or Fitness professions who want to specialise in Nutrition.
Dates and times
This course is delivered in a 'blended learning style'. There will be three full day face to face training sessions with workbook tasks to complete between sessions. The face to face sessions run from 10 am - 5 pm on the following dates:
Friday 3rd May 2019


Friday 17th May 2019 and

Saturday 8th June 2019
Price
The full cost is £750 (payment can be made in monthly installments of 3 x £250 | 5 x £150 or | 6 x £125)
Content
You will study the nutritional requirements for a healthy diet, the effect of diet on health and the importance of hydration. The principles of nutrition are applied to fulfilling the dietary requirements for physical activity and sport.
This qualification is made of two components: Principles of Nutrition and Nutrition for Physical Activity and Sport. Whilst studying the two units you will cover:
Sources functions and used of macro and micro nutrients

Dietary sources of macro and micro nutrients

Physiological functions of macro and micro nutrients

Hydration, dietary requirements and food choices of individuals throughout life

Components of energy consumption and expenditure

Energy, hydration and nutrient requirements at different lifetime stages

Factors that affect nutrient requirements in relation to social, cultural, religious and ethnic groups

Effects of diet on health

Relationship between diet and disease

Possible dietary influences for different groups

Legislation as it relates to labelling and advertising of food

Food labelling requirements

Legal requirements in relation to health claims and nutrition claims

Understand the requirements for nutrients and hydration during physical activity

Optimal hydration guidelines for participants in different physical activities and sports

Understand the relationship between nutrition and physical activity

How to estimate energy requirements based on physical activity levels and other relevant factors

Energy expenditure and nutrient use for different physical activities

Understand how to advise participants in physical activities on nutritional strategies (and menus) to improve performance

Nutritional strategy for participants to improve performance

Use of performance enhancing products and sports drinks in nutritional planning for participants in sports and physical activity
The course is assessed via
Requirements
To enrol on this course you must be 18-years or over. It is recommended that learners should have achieved a level of education equivalent to five GCSEs at grades A*-C however exemptions may be made for adult returners with relevant experience.
Students holding the RSPH Level 4 Award in Nutrition are only required to attend 1 days of this course at a reduced fee of £180. Please call the Short Courses team to discuss this.
Award
Upon successful completion of this course candidates will be awarded a Level 4 Certificate in Nutrition for Physical Activity and Sport from The Royal Society for Public Health.
For more information about this course please contact the Short Courses team:

Email: enquiries@carein.training