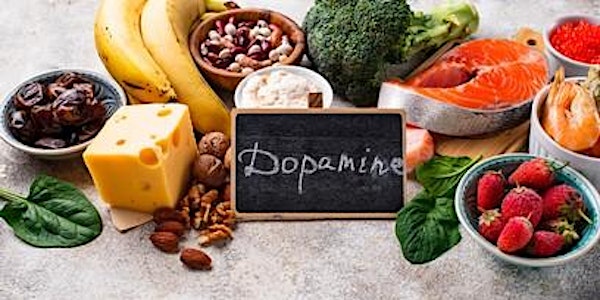 Nutritional Support in the Integrated Management of Parkinson's Disease
How to Improve your Functional Health whilst Living with Parkinson's Disease
About this event
THIS EVENT IS NOW TAKING PLACE ON TUESDAY 14TH DECEMBER.
Zoom Details to join:
Parkinson's Care and Support UK (PCSUK) is inviting you to a scheduled Zoom meeting.
Topic: Nutritional Support in the Integrated Management of Parkinson's Disease
Time: Dec 14, 2021 07:30 PM London
Join Zoom Meeting
https://us02web.zoom.us/j/2127720341
Meeting ID: 212 772 0341
Join Vicky Rees-Davies, YOPD Ambassador at Parkinson's Care and Support UK and Lucille Leader, Award-winning Nutritional Therapist, Author and Nutrition Director of the Parkinson's Disease Integrated Nutrition Clinic in London, UK, for this one hour webinar on nutrition and how to function as best you are personally able to whilst living with Young Onset Parkinson's Disease.
Lucille Leader is particularly interested in biochemically-based nutritional support of patients with neurological degenerative disease, at cellular level.
In Parkinson's Disease there are diverse nutritional aspects which influence metabolism. Her work as a Nutrition Practitioner, essentially always working in collaboration with patients' General Practitioners (GPs), recommends the way forward for each individual, based on their personal biochemical individuality, established by medical and specialised biochemical laboratory tests and clinical history.
Dopamine, deficient in Parkinson's Disease, is produced from dietary protein. The intrinsic problems associated with this metabolic pathway are the focus of medicine and adjuvant nutritional therapy.
Specialised nutritional management can aid general functional health, including drug response, intestinal status and function, energy, sleep and specialised solutions for dysphagia and weight control.
There will be plenty of opportunity to ask questions at the end of the webinar.
Organiser of Nutritional Support in the Integrated Management of Parkinson's Disease
Parkinson's Disease is the fastest growing neurological condition in the world. There is currently no cure for this progressive condition which can have a huge impact on you both physically and mentally. It causes tremors, stiffness of limbs and trunk, pain, impaired balance and coordination, depression and anxiety, changes in memory and thinking and so much more. Our aim is simple- to improve the lives of all those affected by Parkinson's today, not tomorrow.
Parkinson's Care and Support UK is the only UK charity which focuses on Integrative and Complementary Therapies, Holistic Health, Wellness and Care to improve life with Parkinson's and to help people live better for longer. Parkinson's Care and Support UK are proactive about health. We are driven by positivity and by understanding that we can improve life for everyone affected by Parkinson's. Our work directly improves the quality of life of people affected by Parkinson's today, not tomorrow.
We provide a wide range of free services including:
· Respite Care
· Visiting Care
· Parkinson's Specific Exercise Classes
· Home based Neurological Physiotherapy
· Home based Occupational Therapy
· Speech and Language, Singing and Micrographia Therapy
· The Parkinson's Mental Health Support Hub, providing Parkinson's CBT (Cognitive Behavioural Therapy), Parkinson's ACT (Acceptance and Commitment Therapy), End of Life and Bereavement Support Line and a Befriending and Companionship Network
· Training
· Information and advice on Diet and Nutrition, Exercise, Mental Health Support, Integrative and Complementary Therapies and much more.
Although we fund non-pharmaceutical research into how we can slow down, reverse or even prevent the onset of Parkinson's, we are mindful that thousands of people living with the condition need support today. People with Parkinson's need to be encouraged to be proactive about their health, but do not need pity or sympathy. They need to be understood, given clear and unbiased information, services and care that will enable life to be lived to the fullest.
Parkinson's Care and Support UK does not believe in simply masking symptoms with medications. We believe that in order to live your best life to the fullest, a multifaceted approach is needed and therefore a holistic healthcare plan should be in place for every person with Parkinson's from diagnosis to end of life.
Tomorrow is guaranteed for no man. Please support Parkinson's Care and Support UK so that we can reach those who need it today.
A charity registered in England and Wales (1179246) and in Scotland (SC048881)