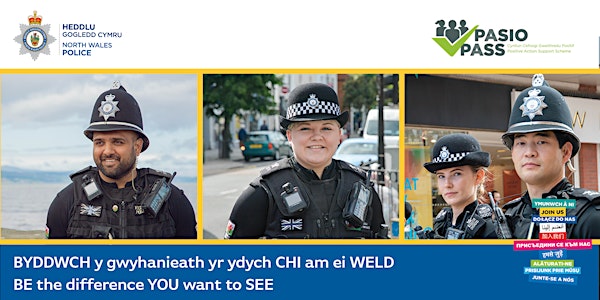 NWP Online Discovery Event - Ethnicity in Policing
Sales Have Ended
Registrations are closed
Thank you for your interest in our recruitment event. Unfortunately ticket sales for this event are now closed. If you are interested in a career with North Wales Police please visit our recruitment pages at https://www.northwales.police.uk/police-forces/north-wales-police/areas/careers/careers/ or fill in and return an Expression of Interest Form which can be downloaded at https://www.northwales.police.uk/police-forces/north-wales-police/areas/careers/careers/register-your-interest/ Diolch am eich diddordeb yn ein digwyddiad recriwtio. Yn anffodus, mae gwerthiant tocynnau ar gyfer y digwyddiad hwn bellach ar gau. Os oes gennych ddiddordeb mewn gyrfa gyda Heddlu Gogledd Cymru ewch ar ein tudalennau recriwtio ar https://www.northwales.police.uk/cy-GB/heddluoedd/heddlu-gogledd-cymru/ardaloedd/gyrfaoedd/gyrfaoedd/ neu lenwi a dychwelyd Ffurflen Mynegi Diddordeb y gellir ei lawrlwytho ar https://www.northwales.police.uk/police-forces/north-wales-police/areas/careers/careers/register-your-interest/
Join our discovery event to find out more about being an ethnic minority officer in North Wales Police.
About this event
Could you join your local police force and make a difference in your community?
Policing is one of the most varied jobs there is. From responding to a 999 call you may be saving a life, conducting traffic stops, preventing domestic abuse, identifying modern slavery, supporting victims, finding vulnerable people, or being the first on the scene in a disaster such as an accident, deceased, public disorders or terrorist attacks. Whatever your day brings, you'll be in a unique position in making North Wales the safest place in the UK.
We're looking for people who reflect the communities we serve, people who can bring diversity of experience and who are willing to protect our streets.
Join our discovery event to find out more about being an ethnic minority officer in North Wales Police.
This event is part of a series of discovery events which are part of our Positive Action Support Scheme. Please only sign up to this event if you are from an ethnic minority background.
Allech chi ymuno â'ch heddlu lleol a gwneud gwahaniaeth yn eich cymuned?
Plismona yw un o'r swyddi mwyaf amrywiol sydd yno. O ymateb i alwad 999 efallai eich bod yn achub bywyd, yn stopio traffig, yn atal cam-drin domestig, yn adnabod caethwasiaeth fodern, yn cefnogi dioddefwyr, yn dod o hyd i bobl sy'n agored i niwed, neu'n bod y cyntaf ar leoliad mewn trychineb fel damwain, ymadawedig, cyhoeddus. anhwylderau neu ymosodiadau terfysgol. Beth bynnag a ddaw yn sgil eich diwrnod, byddwch mewn sefyllfa unigryw i wneud Gogledd Cymru y lle mwyaf diogel yn y DU.
Rydyn ni'n chwilio am bobl sy'n adlewyrchu'r cymunedau rydyn ni'n eu gwasanaethu, pobl sy'n gallu dod ag amrywiaeth o brofiadau ac sy'n barod i amddiffyn ein strydoedd.
Ymunwch â'n digwyddiad darganfod i wybod mwy am fod yn swyddog lleiafrif ethnig yn Heddlu Gogledd Cymru.
Mae'r digwyddiad hwn yn rhan o gyfres o ddigwyddiadau darganfod sy'n rhan o'n Cynllun Cymorth Gweithredu Positif. Cofrestrwch ar gyfer y digwyddiad hwn ond os ydych o gefndir lleiafrif ethnig.