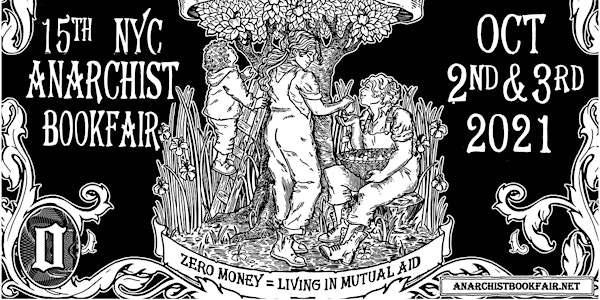 NYC Anarchist Bookfair 2021
15th NYC Anarchist Book Fair 2021 ONLINE
About this event
This year's NYC Anarchist Bookfair will be held both in-person and virtually online. Meet us OUTSIDE in person on Saturday, October 2, at a Community Garden for an awesome exhibit of anarchist cultural materials plus festivities, from films, books, and zines, to art, performances, and bikes.
Join us online the following day, Sunday, October 3, for virtual workshops, presentations, and panel discussions featuring anarchist writers, activists, and artists. The virtual book fair is organized by Kuñangue Aty Guasu – Assembly of Guarani and Kaiowa Indigenous Women Brasil [www.kunangue.com], with translation in English and Portuguese.
Zero Money = Live in Mutual Aid
This year, the NYC Anarchist Bookfair is especially celebrating the lives of anarchists in prison and struggle. Our virtual panels, workshops, and presentations are built around the concept of Zero Money = Live in Mutual Aid.
How does money work from a macroeconomic perspective, and what we can do to destroy it? How can we imagine a different monetary system when money is often a tool of coercion, competition, and power? Should we destroy conceptions of value, quantification, or money completely? How can we cultivate opportunities for communities to experiment with different kinds of non-hierarchical, horizontal, and decentralized modes of economic cooperation? What would an anarchist economic structure and egalitarian economy look like? What role do mutual aid, mutual benefits, and welfare arrangements play in such an economy?
PROGRAMME
11:00 am ‐ 11:05 am EDT
Jaqueline Aranduhá (Opening) | Presented by Jaqueline Aranduhá
11:05 am ‐ 11:10 am EDT
Tongo Eisen-Martin (Opening) | Presented by Tongo Eisen-Martin
11:10 am ‐ 12:00 pm EDT
Dream of Anarchy and the Anarchy of Dreams: Adventures at the Crossroads of Anarchy and Surrealism | Presented by Ron Sakolsky
12:00 pm ‐ 1:00 pm EDT
Autonomous Brigades: The Necessity of Direct Action in the Context of Environmental Destruction | Presented by Brigada Autonoma Urutau
1:00 pm ‐ 1:30 pm EDT
Tongo Eisen-Martin | Presented by Tongo Eisen-Martin
1:30 pm ‐ 3:00 pm EDT
Reclaiming the Urban Commons and Land Back | Presented by Gil Lopez, Alicia Grullón, Kristina Baines, Lucy Mercado, Rebecca Amato
3:00 pm ‐ 4:00 pm EDT
Patriarchy | Presented by Silvia Federici, Jaqueline Aranduha
4:00 pm ‐ 5:00 pm EDT
History and Roots of the Really Really FREE Market (and how you can start one!) + Freedge | Presented by Zack, Ryan, Ernst Oehninger
5:00 pm ‐ 6:30 pm EDT
Zero Money = Live in Mutual Aid | Presented by Edgar Cahn + Christine Gray [Time Bank], Tasos Sagris [Anarchist Practises in the self-organized social centers in Greece] , Michael Reagan [Intersectional Class Struggle: Theory and Practice], Robert Ovetz [Workers' Inquiries and Choke Points], Black [AnarkoArtLab]
6:30 pm ‐ 7:00 pm EDT
Tongo Eisen-Martin | Presented by Tongo Eisen-Martin
7:00 pm ‐ 8:00 pm EDT
Zine Culture(s) & Anarchist(ic) Culture(s): Intersections of Theory, Practice, & Ethics (A Community Discussion on Connections between Zines & Zine Culture(s), Anarchist Theory & Practice, and Media Production) | Presented by Dane Michael (Artificiality Distro)