Nystagmus Network Open Day 2012

Saturday, 20 October 2012 from 10:00 to 16:00
Event Details
 NN comes to Manchester
The Nystagmus Network's big day this year is in Manchester on Saturday, October 20. This will be our first Open Day in Manchester, so we're very excited about it. This is your chance to meet others of all ages with nystagmus, parents of children with nystagmus and speak to medics, researchers and other professionals in an informal setting. Last year's Open Day in London brought together 150 people and we expect a similar turn-out in Manchester. For directions, information about hotel accommodation and photos of the venue go to http://www.nystagmusnet.org/About.htm > Open Day 2012.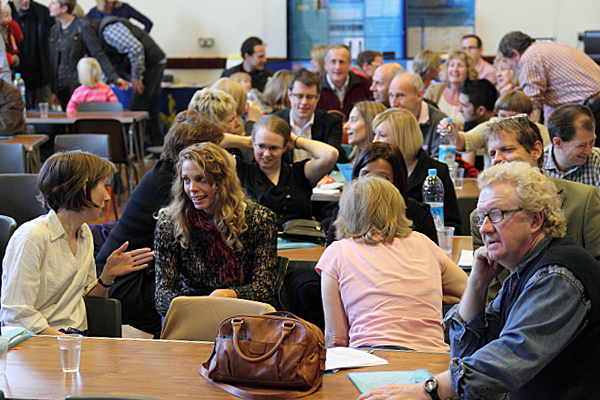 Great to meet
It's hard to describe just how positive an experience most people find these events, After the 2011 Open Day, one parent said: "For the first time in 15 years I really feel that we are not alone and that there are people working to improve the lives of people like my son. I still have questions about his condition because nystagmus affects people in different ways, but it was great to meet and to listen to all the professionals and people with nystagmus and learn from their experiences. I had a great day and did not even notice the time. It passed so quickly, I could have been there much longer!" 
Ask questions
One of the first questions parents usually ask us is: "What do people with nystagmus see?" So that's one of the things we'll be talking about this year. We'll also be discussing education and experts will be on hand (including the Leicester research team) to answer other common questions such as: "What causes nystagmus?" "What can you do about it?" and "What's the latest on research?"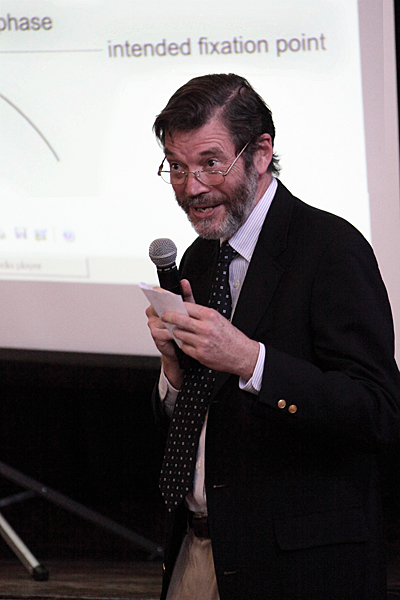 Professionals welcome
The professionals find the event as valuable as everyone else. They tell us it's really helpful to meet people affected by nystagmus outside the hospital or the classroom. One orthoptist emailed last year: "Just wanted to say that I really enjoyed the day in Harrow and I'm glad that I've been able to 'touch base' with parents outside of the clinical setting as it is often very different as you may well know!"
Facebook Warm-up
Even before this year's Open Day, we're getting things going with an interactive warm-up session on our facebook page (http://www.facebook.com/pages/Nystagmus-Network/216838805015328). You can find out how others with nystgamus get on in school and work  NN's Steve McKay say: "The interactive warm-up has provided a safe place where people can openly share their experiences of the effects of nystagmus. It is noticeable that the comments have been given in a very honest way."
Programme, Nystagmus Network Open Day
 Saturday, October 20, 2012, 10 am to 4 pm
10.00          Arrival, registration and coffee
 10.20          Welcome
 10.25          Annual General Meeting
 10.55          Getting to know you
 11.00          Choice of three discussion sessions on nystagmus   and:
 §  Parents
 §  Education
 §  The world of work
11.45 – 12.00: Coffee break
12:00          Brief feedback from three sessions on parents, education and employment
12.10          Genetic counselling and nystagmus -- Georgina Hall
 12.35          Research update from Leicester University
 12.40          Research update from Cardiff University
12.45 – 13.45: Lunch

 13.45          Introduction to afternoon sessions
 13.50          Low Vision Aids – Professor Chris Dickinson
 14.20          Research break-out sessions 
 §  Causes, cures, treatment and prevention
 §  Education and work
 §  Quality of life and awareness raising
 15.00          Feedback from research sessions
 15.10          Celebrating fundraisers
 15.30          Questions to panel of experts
 Includes Moorfields ophthalmologist Maria Theodorou and guest speakers.
 16.00          Finish and evaluation forms
Coffee and networking until 17.00
When & Where
Piccadilly Plaza
Portland Street
M1 4PH Manchester
United Kingdom


Saturday, 20 October 2012 from 10:00 to 16:00
Add to my calendar
Organiser
Nystagmus Network
The Nystagmus Network is the oldest and best recognised charity supporting those affected by nystagmus in the UK. Nystagmus is a complex eye condition that is characterised by involuntary movements of the eye. The eyes appear to wobble or flicker from side to side or up and down and it affects around 1 in 500 people.
The charity was founded in 1984 by Vivien Jones after her son was diagnosed with nystagmus when he was three months old, and has grown exponentially from very humble beginnings to the hi-tech digital online presence of today. The Nystagmus Network has been at the forefront in promoting a better understanding of nystagmus as well as leading the way in funding the research to find effective treatments. The charity offers its members the opportunity to get as much information about the condition as possible and through its support services, the Nystagmus Network ensures that after a diagnosis there is somewhere for a family to turn to.
Website: nystagmusnetwork.org
Email: info@nystagmusnet.org

Nystagmus Network Open Day 2012